Jane Marks Discovers Local Deals
Shopping Sherpa Jane Marks Leads Monthly Excursions to Local Retailers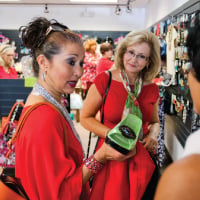 Photo by Mark Wallheiser
Jane Marks (front and center) is surrounded by her cohort, who often dress in red for their Local Shopping Saturday adventures, at Heels & Handbags on Market Street.
In case you haven't heard, the word around here is "shop local."
And Jane Marks and her merry band of "girls" have done their level best for the past two years to spread the gospel with a monthly shopping caravan that takes them to locally owned shops and restaurants throughout Tallahassee.
Shopping local is an initiative that's doubly important during the November/December holiday shopping season, because big retailers can make 20 to 25 percent of their annual sales during that time. Smaller specialty shops can see 30 to 50 percent of their sales during the two-month period, says John Fleming, communications director of the Florida Retail Federation. And it's triply important to point out local options when you consider the soaring growth of online shopping.
In January 2011, with the backing of local businesses and chambers of commerce, Mayor John Marks declared the second Saturday of each month as "Local Business Saturday." On that day, residents were encouraged to go out and buy at least one product or service from a local business. The website localbusinesssaturday.com cites statistics that show for every $100 spent at a local business, $68 stays in the community, and that for the past 10 years, 60 to 80 percent of new jobs were created by small business.
After the announcement, Tallahassee's First Lady was asked by his staff if they could follow her around while she shopped on the inaugural Local Shopping Saturday.
"We just want to follow you around when you do what you usually do," Jane Marks said they told her. "Well, what I normally do, I was out of a hair product and I go down to the Southside to get my hair products … and I said, 'Why don't I get a couple of girls to go with me?' It was four of us all together and we went down to Grace's Wigs … we went to a Caribbean shop to have lunch and then went around the side to touch base with one of my favorite barbecue places — all locally owned. One of the girls took a picture and she said, 'You know what? This is interesting. I think a lot of people would enjoy it.'"
And they have. The second month, the group mushroomed to about 18 women who took in shops at Midtown and the following month they visited Market Street. So far, the diverse group (and the occasional husband tag-along) has been making monthly forays to businesses and hasn't had to go back and visit one twice. Now, her shopping crew ranges between 15 and 45 people. (Low participation can usually be attributed to game days or rotten weather. Unfortunately, in September, it was both.)
Because Marks' Local Shopping Saturday wasn't really planned as an ongoing event, there was a bit of a learning curve. She said the group's first forays were too ambitious, trying to take in too many stores. Now the monthly shopping trips that start at 11 a.m. are limited to three or four businesses in a single area and are planned to last about three hours.
"It's lovely for so many reasons now, because each time we go it is an entirely different experience. When I started out, we were going to do it for a year, to see if businesses would pick up on it. And the beauty of it is, they have," Marks said. "What we discovered is … the businesses would call us back and say, 'We'd like for you to come to our business, would you please continue?' Now, I don't have to worry. Businesses will call us — or alternatively, if I see a new business that's opening up, I'll make an inquiry."
Marks personally contacts the owners of each establishment the group is planning to visit before the group descends, and they often roll out the red carpet, offering refreshments, swag and — best of all — special discounts.
During a visit to Market Street, Lila Jaber, owner of Heels and Handbags, provided an exceptional welcome to the group. "I had never seen such a spread she had fixed … figs and cheeses and things that were indigenous to her culture," said Marks. "The girls stayed there almost two hours because it was so inviting."
Mary Brown has been on many Saturday local shopping trips. "I think it's great because somebody keeps picking different areas, and it's fun to explore parts of town that I never get to. I hadn't been to Gaines Street at all and that was amazing." And she admits to not being much of a shopper. "Usually I don't buy anything, but … it's just fun being with the girls."
And don't tell Marks you have to travel to big cities to find unique things.
She's known for her signature style that includes on-trend separates and eye-catching, bold jewelry. All of it purchased locally.
"My girlfriends used to laugh at me because I used to get Good Housekeeping and Vogue. Years and years I've been devoted to them — I love them. I kind of learned how to put things together. You do not have to go to New York to get that look. People are always asking me, 'Where did you get it?' And I've always shopped here. I get frustrated when I go to big cities because things are so high end and basically unaffordable. Here in Tallahassee things are accessible. And they have the looks here — you just need to know where to find them."
If you're not sure about your style, the group is happy to give advice, led by an enthusiastic Marks, who calls herself a "shopping coach" and bops around each store, wrapping a scarf around someone's neck or pointing out jewelry.
"We've got shoppers who come from all over the community," Marks said. "The thing I like about this group as it has grown is its diversity. We have college students, we have business owners, we have people that work for the state, we have judges, we have attorneys, we have ministers' wives and people who work in insurance companies. It doesn't matter: If you hear about it, just come join us."
'X' Marks the Shop
If you're looking to shop local, follow in the footsteps of Jane Marks and her girls. Here's a listing of all the stores and restaurants they've visited in nearly two years of exploring the Tallahassee retail scene, broken down for you by geographic areas of town. Happy shopping!
Market Street/Market Square
Honeytree Natural Foods
Nic's Toggery
Polka Dot Press
Heels & Handbags
My Favorite Things
Lofty Pursuits
Cotton Etc.
Morelia's
Coton Colors
Simply Entertaining
Glasshopper
Tasty Pastry Bakery
Gidget's
Shaw's Athletics
Bedfellows
Tres Chic
Chrysalis Fine Fabrics and Furnishings
Ten Thousand Villages
My Kids A La Mode
Hopkin's Eatery
Fashion Pointe/Kids Pointe
Consignments by Jane
Eldridge's Kid's Shoes
Art Nails
Awards4U
Spriggs Laid Back Luxe
Midtown
Cole Couture
Paisley Café
Lucy and Leos
Narcissus
Sweat Therapy Fitness
Luna's Italian Food
Quincie Hamby Art Jewelry
Kanvas
Way Out West
Urban Thread
Divas and Devils
Quarter Moon Imports
The Grey Fox
Peculiar Goods
Uptown Café and Catering
Tre Sorelle Boutique
Prissy Lily
Cabello's Hair & Nail Studio
Bradfordville
Sweet Blue Gifts
Karla's Kloset Boutique
Spriggs Laid Back Luxe
Gaines Street
The Fat Sandwich
Savannah's Country Buffet
Olde Fields Clothing Co.
Utrecht Art Supplies
Avant Garb
Northeast
Blue Abaco
Cape Harbor
Baden Baden
Premier Health and Fitness Center
Capital Circle Northeast
Miss Mandy's
Treva's Pastries & Fine Foods
Cynthia's Wigs
Geraldine's Originals
Esposito Lawn & Garden Center
Skin Therapy of North Florida
Betton
Tomatoland
Elizabeth's Designer Resale
At Home in Tallahassee
Chocolate's Clothing & Accessory Boutique
Sweet Patina
M&M Monogramming
Governor's Square
Churritos
Bella Donna Shoes
It's In the Bag
Cellairis Cell Phone Shop
Lake Ella
Glass Work By Susan
Joe's Bike Shop
Barb's Gourmet Brittles
Head Over Heels Dancewear
Mikey's Lakeside Café
Southside
Ribit's Enchanted Cottage
Online Only
Pop Off
Fashion House Boutique