Jackie Robinson, Red Barber … and His Adopted Hometown
A Renowned Broadcaster Who Settled in Tallahassee Made History With Baseball's Trailblazer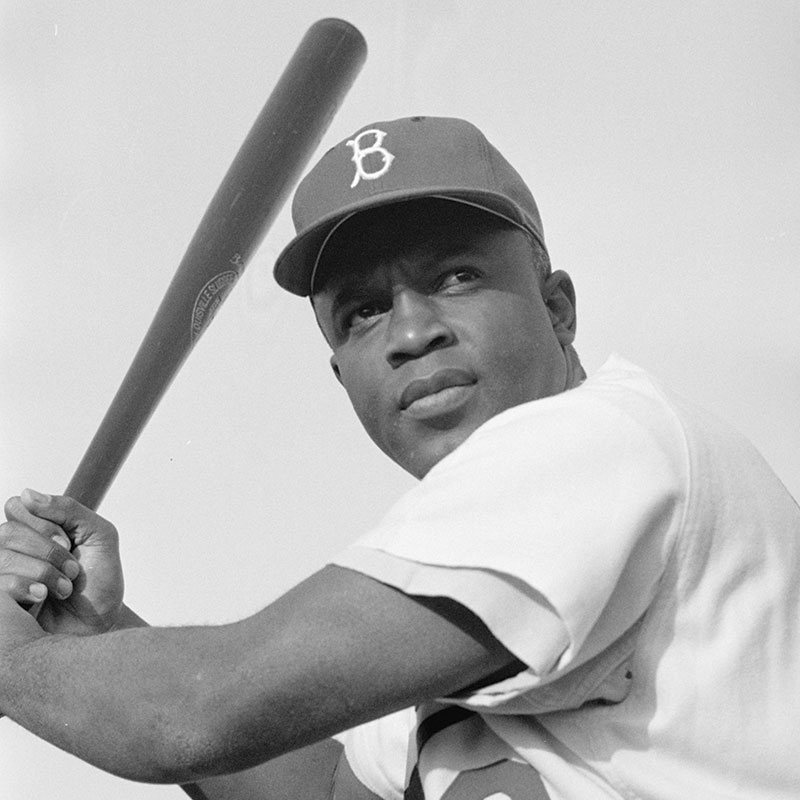 Jackie Robinson's story has been much in the news recently with the movie "42" recounting the life of this extraordinary athlete as well as several TV specials that gave Americans more information about his storied life.
Robinson did more than break the color barrier in major league baseball. His performance on and off the field brought credit to him and to many others in organized baseball. As the baseball season winds to an end, it's a good time to reflect on his accomplishments — and learn about his Tallahassee connection.
The account of Robinson's years with the Brooklyn Dodgers is one of the most fascinating stories in baseball­ — indeed, in all sports. In March 1945 at Joe's Restaurant in Brooklyn, Branch Rickey told Dodgers' radio broadcaster Red Barber that he planned to sign a black player to the team.
Rickey's commitment to racially integrating the team was based on an experience much earlier in his baseball life. In 1904 Rickey was coaching baseball at Ohio Wesleyan University when the team was checking into a hotel in South Bend, Ind., for a series of games with Notre Dame. The desk clerk wouldn't permit the team's only black player to register but grudgingly allowed him to occupy the second bed in Rickey's room. When Rickey made his way to the room, he found the black player there crying and pulling at the skin on his hands, "It's my skin, Mr. Rickey. If I could just pull it off, I'd be like everybody else." Rickey told Barber that he'd been hearing that young man's voice for many years, and now he was determined to do something about it.
And what Rickey did about it had a great influence on the character of American baseball. When he decided Robinson was the black player he would seriously consider bringing into the Brooklyn organization, Rickey knew that he must test and probe this young man. Was he the man spiritually to undertake this assignment? Could he endure the abuse that would be thrust upon him day after day, night after night? And could he handle the adulation of the black Americans whose excitement would be boundless?
Rickey felt a personal one-on-one with Robinson was an essential step, and it must be taken at once. He arranged for Robinson to be brought to Brooklyn to discuss the possibility of his playing for the Brooklyn Brown Dodgers, a team of black players that Rickey had considered forming. That was not Rickey's real intention, however, and the meeting quickly developed into a serious give-and-take about Robinson's place in the Dodgers' organization. The meeting lasted three hours, and during that time, Rickey took Robinson through every situation that he would face if he became the first black player in the majors, what he and his wife would hear in the ball parks and the hotels and restaurants and on the streets. "Can you do it?" asked Rickey, and Robinson looked deeply into Rickey's eyes and answered softly, "I've got to do it, Mr. Rickey."
Red Barber was the announcer at Brooklyn when Robinson came up in 1947. Barber stayed until 1954, when he left to work for the Yankees. In those seven years, Robinson and Barber traveled together, had meals together and Jackie related to Red many of the incidents he lived through in those turbulent times in the Brooklyn organization. Barber's name is displayed prominently in accounts of Robinson's long career in baseball. And well it should be, for Barber's job as radio announcer placed him in a key position to tell Robinson's story to the world. But there's something else unique about Barber's role; he was one of the best-qualified sports announcers in that period simply because of his command of the English language. His mother was an English teacher who quoted the classics to her children. An examination of his experiences growing up in the South reveals something of his interest in radio and broadcasting.
Walter Lanier Barber was born on Feb. 17, 1908, in Columbus, Miss. His father was a railroad engineer and his mother a schoolteacher. When Barber was 10 years old, the family moved to Sanford, Fla., where his dad had more reliable work. Barber played sports in high school and graduated with the highest academic average in his class. He was an avid reader and said he'd like to become a college professor. He worked his way through two years at the University of Florida as a janitor and a waiter. One Saturday he and some friends took a bakery truck on a joyride and the truck overturned. Barber was injured and was taken to the university infirmary. That's where he met a young nurse names Lylah Scarborough. A year and a half later, he and Lylah were married, and that marriage lasted until his death 61 years later.
Shortly after he and Lylah married, Barber launched his radio career. He was fascinated with this new invention that allowed him to hear voices and music coming from distant cities. The manager of radio station WRUF in Gainesville offered him a job reading the news, interviewing professors and spinning records. He also did sports for the university, which helped to prepare him for Cincinnati and big league baseball. The Cincinnati Reds needed a play-by-play announcer, and they remembered the Florida boy who had stopped to introduce himself and ask about doing some broadcasting. The first game Barber broadcast in Cincinnati was the first major league game he had ever seen. It was opening day 1934, and later he was there when Cincinnati's Crosley Field had lights installed and night baseball was born on May 24, 1935. After the baseball season was over, Red broadcast football games for Ohio State and the University of Cincinnati. And he got to broadcast the 1936 World Series.
Red Barber is said to have had the longest broadcasting career in American history — on the air for almost 63 years. Longtime NPR commentator Bob Edwards spoke with Red on the air each week for about 12 years.
The NPR story started in November 1979, when Ketzel Levine, a sports producer for National Public Radio, was assigned to fill two four-minute sports segments on the radio each day. February was Black History Month, and Levine wanted a story on the most prominent figure in black sports history, Jackie Robinson. And the more research she did on Robinson, the more Red Barber's name kept popping up. The Mississippi-born white man who became the voice of the Dodgers treated Robinson as the equal of Pee Wee Reese or any of the other great players of the time. He sent a signal to baseball fans everywhere: Black ballplayers are to be accepted — they're here to stay.
Levine interviewed Barber as part of the Jackie Robinson story and she made an important discovery: Barber had it all — the charm, the knowledge, the wit, the accent and the storyteller's sense of drama and timing. After the details had been worked out, Barber agreed to do a commentary each week on Morning Edition with Edwards. This was done through WFSU-FM, the public radio station in Tallahassee, where Red was then living. A line was installed to Red's house, and his voice would travel from the microphone in his study to WFSU and would then be uplinked to NPR. Barber and Edwards had an introductory conversation on New Year's Day 1981 and continued for more than 600 Friday mornings.
The Barbers sampled life in New York City during Red's broadcasting years, but one gets the feeling that they never thought of New York as home. They had, after all, both been born in the South and had lived there for several years.
After more than three decades in Cincinnati and New York, they returned home again to Florida in Miami, the land of eternal summer and endless sun. They were, however, beginning to miss the change of seasons and a bit of cool weather. Barber reminded his wife of how happy she was in Tallahassee during her college years and how she loved spring there with its explosion of camellias, dogwoods, azaleas and roses. Why don't we stop in Tallahassee and have a look around? They were shown a quite nice house in a grove of 25 pine trees and an ancient live oak, and they thought about it as they drove to Greenville, S.C. the next morning. That's where they made the call to Tallahassee and bought the house.
The Barbers were always fun to be around, and we enjoyed their company at university functions. They were our guests in the President's Box for FSU football games during my years as president of the university.
I felt greatly honored when I was asked by Barber's daughter Sarah to do the eulogy at her dad's funeral. Bob Edwards called the service at St. John's Church "an Episcopalian classic" in his book "Fridays with Red," and he included the eulogy exactly as I delivered it:
"He set new standards for speaking the language of sport. He spoke clean, uncluttered prose that cut to the heart of the action like a surgeon's scalpel. On Friday mornings for the past 12 years, the Old Redhead — that voice, the voice with the lyrical, transportational qualities — took us back to long-ago summers in our mother's kitchen or on the back porch steps or in the family car with the windows down. The sounds and sights of Ebbets Field were palpable. If Red Barber had not emerged, he would have had to be invented. His meticulous preparation, his self-assurance, his sense of what a baseball broadcaster should be and do, and should not do, provided a sense of direction to this new branch of journalism. In this, Red's effect on his craft has been profound and lasting."
The author joined the faculty of Florida State University in 1958 and served as its president from 1969 to 1976. He founded the James Madison Institute in 1987 and the company Sonitrol of Tallahassee in 1978. He co-authored a series of science textbooks and published a book about campus unrest at FSU entitled "The Tumultuous Sixties: Campus Unrest and Student Life at a Southern University" in 2006.