Jack Levine Raises Awareness With Home Cooking
Minnie's Legacy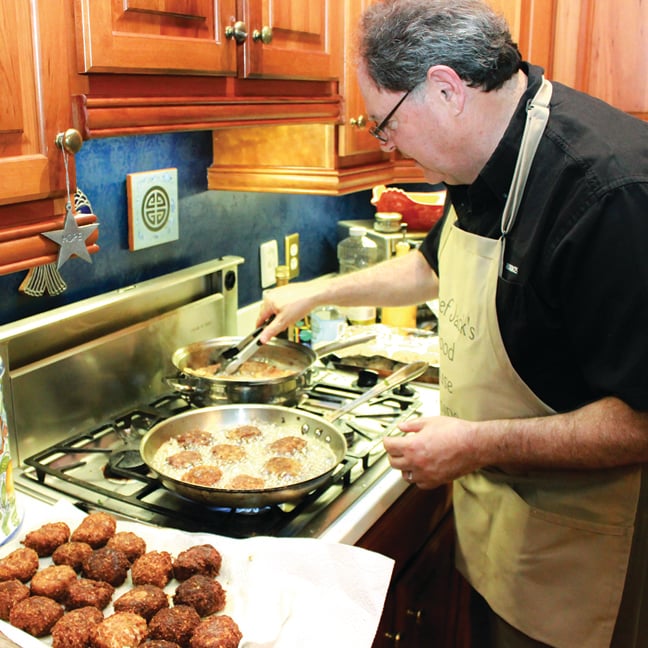 When Jack Levine cooked up his "Good Cause Cuisine" way of raising funds and awareness for nonprofits throughout Florida, let's just say it was a spirit who moved him — specifically that of his maternal grandmother, Minnie Cohen.
She was a 5-foot-tall force of nature who emigrated from Russia, a suffragette who participated in the first election where women were allowed to vote after the 19th Amendment passed — and every one after that until she died at age 92. We'll let Levine take the story from there:
"It started in the 1920s probably, when my immigrant grandmother in the Bronx came up with this very natural way … of helping different causes by feeding people at her dining table," he explained. "She fed folks (and) while they were digesting the main course, before dessert, she would very quietly look around the table … and her big line was 'You know, I have an idea.' And they all sat with Minnie's food in their bellies waiting for Minnie's idea. It was sometimes a family down the street that needed some help, some event at the temple. It wasn't global. It wasn't even citywide. It was local. But her idea was always 'let's do something good.'"
Courtesy PACE Center for Girls/Justin Moro
Jack Levine with hosts Dan and Robin Hassler Thompson; guests gather in the living room; Barby Moro and PACE Inc. CEO Mary Marx.
After a career in advocacy, mostly for child-related causes, Levine decided about seven years ago to make a "big transformation" and start his own organization, the 4Generations Institute. Its mission is to "cultivate the exchange of wisdom and energy among our generations — children/youth/young adults, parents, grandparents and elders."
Levine vowed to "channel Minnie" as he traveled the state for his fledgling nonprofit, meeting, speaking and teaching. A talented and creative "hobby" cook, his goal was to try, about once a month, to whip up a meal for a group of about 12 to 24 people, share an "idea" and raise funds for different causes. He brings the ingredients and cooks the food, the hosts provide drinks and desserts.
"I do my best to keep it healthy because that's what people are expecting," he said.
In October, he was in the kitchen of the Bobbin Brook home of Dan and Robin Hassler Thompson, creating an array of Mediterranean-inspired small plates for his 50th Good Cause Cuisine event, this time "friendraising" for the PACE Center for Girls in Leon County.
The PACE event was a departure from his usual format. A larger-than-usual crowd of 40 people were expected and, rather than a sit-down dinner, he cooked up a buffet of hors d'oeuvres, including charcuterie, pecan-crusted crab cakes served with "backyard honey" mustard, lamb meatballs with freshly-made tzatziki sauce, grilled asparagus, zucchini rounds with parmesan and roasted red pepper, and a bake featuring eggplant, tomatoes and fresh mozzarella.
A frenzy of activity swirled in the crowded kitchen as Levine and his two assistants chopped, assembled, fried, baked and plated while guests wandered by to see what was cooking. "Chef Jack" remained cool; after all, he had done this 49 times before.
Rather than collecting donations for the meal, PACE decided to round up local opinion leaders to hear about the organization, which provides education, career advice and counseling to middle and high-school-age girls who, because of their personal circumstances, are at risk of failing in school or becoming victimized. PACE, which started in Jacksonville and has 18 other locations statewide in addition to Tallahassee, has a particular identity crisis locally. There is a "last chance" secondary school in town with the same name, and people are constantly confusing the two. And, said executive director Kelly Otte, it's hard for people to understand the nonprofit's mission.
"People have a lot of misperceptions about PACE. They get this correctional kind of feeling," Otte said.
She described talking to a potential donor: "She couldn't get her brain around the idea … that very few of our kids are in foster care, very few are involved in the juvenile justice system. The whole point of (PACE) is to keep them out of the juvenile justice system. You have to be in the facility to understand the atmosphere, because you walk in the door and you trip over these girls who are acting like girls — giggly, a little bit crazy, a little high energy and fun-loving."
When seeking support, "it's a constant stream of educating, educating, educating," she said, which was made easy by the Levine's Minnie-inspired presentation format.
Now that he's reached the half-century mark with these dinners, Levine said he wants to expand the Good Cause Cuisine model.
"I'm just one guy, and what I'm hoping to do is have this in many communities," he said. "Now that it's been 50 go-rounds, I kind of know the routine and I want some protégés to learn the cooking skills and the management, not only for fun like I do it but as a career path."