It's Time To Tee Off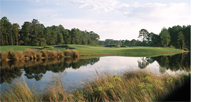 Everything you need to know about Golf in our region – and then someThe Dream 18Tallahassee's Sweetest Round for the Weekend Golfer
By Danny Cobb 
Weekends are made for serious golfers … serious weekend golfers, that is.
You know who you are. Weekend golfers are different from their competitive professional counterparts, hitting the first tee straight from their cars and enjoying a beverage (or two or three) during their round. Their day on the course usually ends in the 19th hole for some bonding, bragging about the great shots they made – and lamenting the many others they should have made.
In Tallahassee, the weekend golfer can choose between nine courses – that's 153 holes in all. Collectively, the courses offer something for everyone, but not everyone likes the same something. So if I were going to create a virtual golf course, designed especially to suit the weekend golfer's taste, what holes would I choose? Should the main consideration be the most scenic 18 holes or the most challenging? Or should I appeal to a more discriminating palate and spice things up with hole topology, ball movement requirements, course length and such?
To serve up what weekend patrons want, you have to know your patrons, and so:
• Weekend golfers probably are more interested in 19th-hole socializing following play than spending time on the range or practice tee before they play.
• They are capable of an occasional birdie and make their fair share of bogeys and double bogeys.
• Most aren't likely to break 100 but enjoy the challenge of a difficult hole as much as Tiger Woods or Annika Sorenstam.
• They are able to convince themselves that a new $500 driver or $200 putter will improve their game.
• They don't have the time to indulge their passion seriously.
• Training is of the self-induced variety and occurs during play.
• Their game is inconsistent, putting well one day and driving the ball well the next – but never both on the same day.
Considering the weekenders' traits, I decided on a pretty simple recipe for my course.
Step 1: Since the average golfer isn't likely to allocate adequate preparation time prior to stepping onto the first tee, the first few holes should be fairly easy and forgiving of a poor shot. Let's not destroy their confidence and ruin their round before they are able to get that latest work or family issue out of their mind.
Step 2: Increase the difficulty and prepare them for a few of those challenging holes they enjoy while continuing to intersperse intermediate and difficult holes through the heart of the course. There will be several opportunities for even the best of weekend golfers to crash and burn through this stretch of holes.
Step 3: Let's make their 19th-hole experience more enjoyable by giving them a few birdie opportunities on the last few inward holes. Send them home to their families in a good mood and help them fight off the urge to purchase that $500 driver for another week.
Describing all 18 holes proved fairly easy once the recipe was complete; mapping 18 of the 153 available holes to the descriptions was another story. I decided to collaborate with my 18-year-old son, Kyle, on this process. Playing to a +2 handicap and with a golf scholarship awaiting him at the University of Central Florida this fall, he hardly qualifies as an average weekend golfer. But I found his extensive experience and knowledge of most Tallahassee courses to be invaluable as I tried to narrow down the choices.
Several Tallahassee courses have many great golf holes, and limiting each to two or three on our course was agonizing. I hope you'll find a few of your favorite holes on our layout.
1.  Don Veller Seminole Golf Course
Hole No. 3 – Par 4
No stretching, no range balls, no practice green – no problem. Go ahead, step up to this first tee and rip it. Just avoid the bunker on the right side of the fairway and you should have a short iron to the elevated green. The green is bunkered left front, short right and long. But a decent short iron approach will take them out of play and pave the way for an easy opening par.
2.  Cross Creek Golf Course
Hole No. 2 – Par 3
A very short, easy hole. But don't miss too far left, as water lurks just down the short embankment. A small bunker guards the front of the green. The bunker off the back of the green shouldn't come into play. A smooth wedge to the center of the generous green will provide a reasonable birdie putt. If you feel the need to play away from the water, a tee shot short and right will leave an easy up-and-down opportunity.
3.  Don Veller Seminole Golf Course
Hole No. 1 – Par 5
A solid tee shot down this short straightaway 5 par will provide the longer hitters with an opportunity to get home in two. The fairway is wide and the lone bunker on the left side of the fairway shouldn't come into play. Whether you go for it in two or lay up, this hole should provide an excellent birdie opportunity.
4.  SouthWood Golf Club
Hole No. 2 – Par 4
A long iron or fairway metal downhill to a narrow landing area on this dogleg-left hole will leave you with a mid iron into a large green. Miss the tee shot or approach shot to the left and you will find sand. Find the fairway and the hole's only remaining defense should be the undulating green.
5.  Golf Club at Summerbrooke
Hole No. 4 – Par 4
This long straightaway uphill 4 par requires length and accuracy off the tee. The fairway is narrow and mounded on both sides. The mounds give you some opportunity to keep a slightly errant tee shot in play, but miss the mounds and you are looking at a double bogey or worse. The green is large and tiered. Leave yourself a long putt and a 3 jack is likely.
6.  Killearn Country Club
Hole No. 4 (South Course) – Par 4
This long 4 par requires length and accuracy off the tee. A tee shot left or right will find water. Take the water out of play by hitting it shorter off the tee and reaching the green is next to impossible, not to mention the fact that there is additional water to carry with the approach shot. The green is guarded short left and long right by sand. Put your approach shot on the right side of the green, take your two putts and move on. Four is an excellent score, and most weekenders should be OK with bogey 5 here.
7.  Golden Eagle Country Club
Hole No. 17 – Par 3
This long downhill 3 par is likely the toughest in Tallahassee. Miss the peninsula green slightly to the left or right and the best you can hope for is sand – water is the more likely destination. Miss it long and you will be wet. Short hitters might consider taking most of the trouble out of play by hitting it a little short. You will be left with a reasonable up-and-down chance for par and most likely take double bogey out of the equation.
8.  Hilaman Golf Course
Hole No. 2 – Par 4
This dogleg-left provides an excellent challenge for the weekend player. Making 4 on this hole requires distance and accuracy off the tee. The ideal tee shot is straight, but the longer hitters can start it a little right and move it back to the left into the fairway that slopes to the right. A miss to the left will leave you OB or in the trees with little chance of getting to the green. There is some room to the right side of the fairway. A good tee shot will leave you with a mid iron up the hill to a large green well guarded by bunkers short and right. Miss the approach shot short left for a reasonable up-and-down opportunity.
9.  Golden Eagle Country Club
Hole No. 18 – Par 5
Without a doubt the prettiest finishing hole in Tallahassee! The most difficult part of this assignment was the decision to place this hole somewhere other than the No. 18 slot. But doing that would have meant throwing my recipe out the window, as the lake that runs from tee to green down this hole, which constantly turns to the right, offers too many opportunities to get wet. The ideal tee shot is long down the right side, avoiding the tree on the left side of the fairway. Longer hitters will have the opportunity to get home in two, but danger lurks in every direction. A lay up to your preferred wedge distance is recommended. The approach leaves no margin for error, with sand guarding the left side of the green and sand and water on the right.
10.  Killearn Country Club
Hole No. 7 (East Course) – Par 4
This sharp dogleg right hole will tempt you to cut the corner, but only those of you who hit it long and high should give it a go. A left-to-right tee shot up the hill can get you around the corner. Miss the tee shot right and you are in heavy woods. Miss it left and you won't reach the green. A good tee shot will leave you with a long downhill approach to a large green heavily bunkered on the right. A miss short or left will leave you with a reasonable up-and-down opportunity.
11.  Capital City Country Club
Hole No. 16 – Par 3
This slightly uphill 3 par's primary defense is its length. There is a creek at the bottom of the hill, but it will only come into play with a horrendous tee shot. Don't miss this one long. Assuming you don't short-side yourself severely, up-and-down opportunities are pretty good otherwise.
12.  Jake Gaither Golf Course
Hole No. 4 – Par 4
This uphill dogleg-right hole requires length and accuracy off the tee. Both sides of the fairway are heavily wooded, and the landing area is narrow. A tee shot to the top tier of the fairway will leave you with a short iron to a small green guarded heavily by bunkers. Miss long and you will be in the woods. It is difficult to reach the green if you don't get to the upper tier with your tee shot.
13.  Killearn Country Club
Hole No. 3 (East Course) – Par 4
This short dogleg-right hole requires accuracy off the tee. The pond down the right side will grab pretty much everything hit weak and right. Hit it right and carry the pond and you most likely won't have a shot, even if you find your ball in the brush and trees. Bail out left and you will likely hit the fairway bunker. A good tee shot will leave you with an easy short iron to a green with no defense other than a front left bunker. Miss the approach long and your ball might kick across the cart path and down into the trees.
14.  Golden Eagle Country Club
Hole No. 10 – Par 4
This short dogleg-left hole requires accuracy off the tee. Hit it left and you will find a waste bunker that runs the length of the hole. Hit it too far right and/or long and you will be through the fairway. A right-to-left tee shot that finds the fairway will leave you with a short iron to an elevated green bunkered in the front. Miss this green and up-and-down will most likely be a challenge. 
15.  SouthWood Golf Club
Hole No. 16 – Par 5
A good tee shot down the hill to the right side of the fairway will leave you with an opportunity to get home in two. A tee shot in the left side of the fairway will leave you blocked out by a big tree. Miss the fairway left and you will find a fairway bunker. Going for the green requires a shot over a pond to a fairly shallow green guarded by a front bunker. If you elect to lay up, a short to mid iron out to the right side of the pond will leave you with a wedge in. From the lay-up area, the green opens up and the approach is much easier.
16.  Hilaman Golf Course
Hole No. 8 – Par 3
This short downhill par 3 should provide a good birdie opportunity. The large green is well guarded by bunkers, but a good tee shot will take them out of play. Attack the pin! 
17.  SouthWood Golf Club
Hole No. 11 – Par 4
This short uphill par 4 provides another good birdie opportunity on the way in. You longer hitters can give yourself an eagle opportunity by hitting the green with your tee shot. For those of you that can't reach the green, a good tee shot will leave you with a good opportunity for an up-and-down birdie.
18.  Capital City Country Club
Hole No. 15 – Par 5
This short par 5 should provide all with an excellent birdie opportunity and possible eagle. The tee shot is uphill to a wide fairway with no bunkers. Take one back here and hit the 19th hole feeling good!
Tallahassee Golf Courses 
Capital City Country Club
Phone: (850) 224-1815
Address: 1601 Golf Terrace Drive
Amenities: Par 72, 18-hole golf course. Has a full fleet of golf carts, men's and women's locker rooms, a fully stocked pro shop, a driving range and a putting green. Located in Myers Park historic district.
Fees: Unlimited golf for Executive Membership holders.
Hours: The pro shop is open from 7 a.m. to 7 p.m. during the spring and summer and 7 a.m. to 5:30 p.m. in fall and winter.
Web site: capitalcitycc.com
Public, private or semi-private: Private, member-owned country club.
Reservations: Tee times are taken up to a week in advance.
Cross Creek Driving Range and Par 3 Golf
Phone: (850) 656-4653
Address: 6701 Mahan Drive
Amenities: A short-game facility, Cross Creek features a full practice green, practice sand traps, practice chipping areas, a target green and a three-story driving range. Next year, staff will book instruction packages. Cross Creek also has a nine-hole, par-3, PGA-recognized golf course that is considered to be very difficult. The course is fully lit for nighttime play, and instruction is available. In addition, there is a snack bar serving drinks.
Fees: Driving-range buckets start at 60 balls for $5.40; the largest bucket is 115 balls for $9.40. Monthly specials also are offered, along with discounts for juniors and senior citizens. When you buy a bucket of balls at the driving range, you can play a round of golf for $6.
Hours: Open 8 a.m. until 9 p.m., but stays open to 10 p.m. in the summer.
Public, private or semi-private: Public.
Reservations: Not needed. Tee times aren't booked in advance.
Golden Eagle Golf & Country Club
Phone: (850) 893-7700
Address: 3700 Golden Eagle Drive East
Amenities: Tom Fazio 18-hole course with a driving range, practice green and practice sand trap.
Fees: For guests, on weekends, $50 greens fee and $15 cart fee. On weekdays, $40 greens fee and $15 cart fee.
Hours: Typically open 7:30 a.m. to 8:30 p.m.
Web site: goldeneaglecc.org
Public, private or semi-private: Private.
Reservations: Only members, or guests of members, can make tee time reservations.
Golf Club at Summerbrooke
Phone: (850) 894-4653
Address: 7505 Preservation Road
Amenities: Par 72, 18-hole golf course. Has a pro shop with adjoining restaurant that serves sandwiches, snacks, mixed drinks and beer. Banquet facilities available. Driving range open to members only.
Fees: Monday through Thursday, $33; Friday, $40; holidays and weekends, $50.
Hours: Open 7 a.m. to 7 p.m.
Web site: summerbrookegolf.com
Public, private or semi-private: Semi-private.
Reservations: Recommended.
Hilaman Park Municipal Golf Course
Phone: (850) 891-3935
Address: 2737 Blair Stone Road
Amenities: Par 72, 18-hole golf course formally known as the Winewood Country Club. Has a pro shop and driving range.
Fees: Weekday fees with cart are $31 for 18 holes, $21 after 4 p.m., and $28 for Hilaman Park members. Weekends and holidays are $36 for 18 holes, $25 for twilight and $33 for Hilaman Park members.
Hours: Open 7 a.m. to dark, Monday through Sunday.
Web site: talgov.com
Public, private or semi-private: Public.
Reservations: Tee times are recommended during the week and are required on the weekends.
Jake Gaither Municipal Golf Course
Phone: (850) 891-3942
Address: 801 Tanner Drive
Amenities: Nine-hole, par 36 course. Has a pro shop with golf merchandise and snacks, a practice putting green and rental clubs.
Fees: $8.07 for nine holes and $11.83 for 18 holes during the week; $9.14 for nine holes and $13.98 for 18 on weekends. Passes available.
Hours: Open 7:30 a.m. to dark except Tuesdays, when it opens at 11 a.m. Closed Christmas.
Web site: talgov.com/parks/jggolf.cfm
Public, private or semi-private: Public.
Reservations: There is open play during the week. Tee times are available on holidays and weekends. 
Killearn Country Club & Inn
Phone: (850) 893-2144 (pro shop)
Address: 100 Tyron Pass
Amenities: 27 holes, driving range, short-game practice area, hotel, restaurant.
Fees: Members, member guests and hotel guests, $47 Monday through Wednesday. Thursday, $36, and $64 Friday, Saturday and Sunday. Non-member guest is $74.25.
Hours: Pro shop hours are 7 a.m. to 7 p.m.
Open seven days a week.
Web site: americangolf.com
Public, private or semi-private: Private.
Reservations needed: Tee times are accepted up to seven days in advance.
Seminole Golf Course
Phone: (850) 644-2583  
Seminole Grill: (850) 644-5388
Address: 2550 Pottsdamer Street
Amenities: Owned and operated by Florida State University. Eighteen-hole championship golf course, five different sets of tees, par 73, 30-station driving range with new mats. Carts available. Players who want to walk can do so Monday through Thursday and after 3 p.m. on weekends. Has a pro shop and restaurant with full bar.
Fees: Prices range from $12 to $42, depending on several factors. Average price is around $35. Driving range fee is from $4.50 to $8.50.
Hours: Open 6 a.m. to 8:30 p.m.
Web site: seminolegolfcourse.com
Public, private or semi-private: Public.
Reservations: Tee times can be made up to seven days in advance.
SouthWood Golf Club
Phone: (850) 942-4653
Address: 3750 Grove Park Drive
Amenities: Championship 18-hole course designed by PGA pro Fred Couples. Has a driving range, a private teaching area, large practice greens, a pro shop and bag storage.
Fees: Public rates are $55 for 18 holes Monday through Thursday and $70 for 18 holes Friday through Sunday.
Hours: Open 7 a.m. to sunset seven days a week.
Web site: southwoodflorida.com
Public, private or semi-private: Semi-private.
Reservations needed: Tee times are accepted up to seven days in advance.
The Golfing Architecture Legacy
of Robert Trent Jones
By Sidney Matthew
Ever since Mother Nature fashioned the Old Course at St. Andrews as the first and most celebrated golf course in the world, men have tried in vain to duplicate the effort. They have used their imaginations in myriad ways to capture that singular sense of adventure which acts both as a tonic for the soul and a challenge for the ego.
For the first several hundred years of golfing history, the art of golf-course design was left primarily to the best golfers, who identified the best tee and green areas. The notion of building a golf course was easy enough: Put a tee on that sand dune over there. And put a flag in the hollow between the dunes where the bent grass is relatively flat. In the 19th century, there were no bulldozers capable of moving millions of cubic feet of earth to effect a virtual transformation of the landscape.
As a result, golf courses in Scotland, England and Ireland were carved out of the natural seaside dunes on the "links" land that connected beaches to the farmland containing the rich soil suitable for growing crops and fattening up animals. Sheep kept the fairways and greens short enough to make play enjoyable on the fast fescue and bent grasses indigenous to the islands.
Over time, railroads were established, linking the heartland with the links lands. The spurs lines brought golfers from the cities to the links courses on the coast and returned them to their homes satisfied with a good day's recreation.
As popularity increased, so too did the demand for challenging courses. The clamor for new courses was met with an enthusiastic throng of caddies who made golf their profession, and who added golf course design to their resumes. The discipline of golf course architecture, however, was many years away. A resulting hodgepodge of courses was created over the centuries. Some continue to be celebrated for their brilliant characteristics, while others receded into the mists of the ages.
Golf's popularity was exported to America in the late 19th century when some thoughtful Scots remembered to pack their golf clubs for the voyage across the pond. They established links-style courses on Long Island, N.Y., including Shinnecock Hills (1891) and the Country Club (1893), as well as St. Andrews Golf Club in Yonkers, N.Y. (1888), Chicago Golf Club (1892) and the Country Club at Brookline (Mass.) (1893).
In Florida, John Hamilton Gillespie struck the first golf stroke in 1886 when he established a two-hole course on Sarasota's Main Street. The first Florida course, the Bellair Golf Club in Clearwater, was built in 1899. The second oldest was established across Florida's peninsula as the Ocean Course at the Breakers in West Palm Beach.
Florida's initial courses were built on coastal links land not unlike that in Great Britain. At the turn of the 20th century, the railroads transformed Florida. In 1885, Henry Flagler began building his Florida East Coast Railway, along with a hotel and golf-course empire, from Jacksonville to Key West. Henry Plant built his railroad line from Jacksonville to Tampa. And William D. Chipley extended the railroad from Pensacola east to Jacksonville.
Precious few golf courses were built in the Florida Panhandle until the middle 1920s. The land adjacent to Florida's sugar-white beaches in the Emerald Coast were a perfect venue. The Florida economy in the early 1920s attracted 2.5 million tourists in 1925 alone. Property prices soared with inflated land values. Several important courses were built by legendary Scottish designer Donald Ross in Panama City and Fort Walton Beach. Unfortunately, the economic bubble burst in 1926 with a devastating hurricane and subsequent banking crisis that caused many banks to fail. The stock market crash of October 1929 and the Great Depression soon delivered a coup de grâce.
As Florida's Panhandle and the Emerald Coast picked themselves up after the Depression years, an enterprising young man named Robert Trent Jones emigrated with his parents from Ince, England. He was born near the Trent River – thus the middle name – which he would use to distinguish himself from another fellow with the same name, heralded golfer Bobby Jones.
Trent's parents settled in Rochester, N.Y., and it wasn't long before he began caddying at the local golf course for soon-to-be famous golfers such as Walter Hagen, an assistant professional at the club. He became fascinated with the art of golf-course design and construction when he watched Donald Ross build Oak Hill Golf Club in Rochester. But at that time, there was no school to formally learn the craft. When Trent established himself as one of the area's best players, however, he caught the attention of a wealthy club member. The patron sponsored Trent as he pursued a course of study at Cornell University that today is recognized as golf-course design.
After his college courses, Trent joined legendary Canadian course designer Stanley Thompson. Thompson's masterpieces at Jasper Park and Banff, both located in Alberta, Canada, are breathtakingly stunning even today. Trent acknowledged the lessons he learned from Thompson in his autobiography "Golf's Magnificent Challenge":
"It was his philosophy that drew us together. He said Nature must always be the architect's model. The lines of bunkers and greens must not be sharp or harsh but easy and rolling. In clearing fairways, it is good to have an eye to the beautiful. Oftentimes the natural beauty of many a golf course, which the average player assumes was always present, has been created by the skill of the engineer, who can see the opportunities for beauty in the rough woods, swamps or fields that mean nothing to the unskilled eye."
It wasn't long before Trent was on his way to creating a legacy that today embraces 450 course designs throughout the world. His sons, Robert Trent Jones Jr., born in 1939, and Rees Jones, born in 1941, joined their father in a dynasty of golf-course design that continues to this day.
In 1945, Trent joined with another Jones to create perhaps his most celebrated work – the Peachtree Golf Club in Atlanta. Robert Tyre "Bobby" Jones Jr. won the Grand Slam of Golf in 1930, recognized as the supreme achievement in the history of golf. It has never been duplicated and stands as the oldest significant sporting achievement in the past 75 years.
When discussing the Peachtree course design, both Joneses talked about the fact that their names were so similar.
"Where did you get the name Trent?" the elder Jones asked the designer.
"Well, I was born in England, and my parents named me after the Trent River," the designer replied. "You know, there can only be one Bobby Jones. From now on I'll be Trent."
Trent's design features at Peachtree became his lifelong trademarks.
"A good architect will avoid making a hole too difficult simply by building in trouble around the green," he said. "The green should be well guarded, but the fairway should open up short of the green to provide a lay-up area for those who don't want to risk bunkers or other hazards. For everybody, the hole should become a difficult par but easy bogey."
Trent agreed with Bobby Jones that every course should be challenging for the professional as well as the ordinary player. The course should not be too difficult for the older player who can't hit his tee shot as far as the limber backs could. Thus Trent began building long tees up to 70 yards and multiple tees that could accommodate four or five tee positions. He also designed some of the country's largest greens to allow for several possible flagstick locations. The 10th green at Peachtree GC in Atlanta was once the largest in America at more than 10,000 square feet. This yielded enough variety for players of all calibers so that everyone who plays the course has maximum challenge, adventure and enjoyment.
"I decided long ago that the better way was a design I labeled 'heroic,' a concept that demands a heroic carry or gamble for the better player to get into that position for a birdie, but one that always leaves an option for the lesser player to take the safe route," Trent said in his book. "There must be a just reward for those attempting the heroic carry, and there must be a way around for those unwilling to take the risk. Without the alternate route, heroic carries are unfair. Without the reward, heroic carries are meaningless."
Some of the challenges created by Trent went unappreciated in years past. After playing the 1951 U.S. Open at Oakland Hills (Calif.), which was remodeled by Trent, golf great Ben Hogan told Trent's wife, "If your husband had to play his own courses for a living, you'd starve."
Another professional golfer turned critic sent a shot across Trent's bow by complaining that one of his par-3 holes was so unfair that it was utterly unplayable. Trent took a club and ball to the tee, hit the ball into the hole for an ace, and confidently remarked, "I think this hole is eminently fair."
Trent has been consistently recognized since his death in 2000 at age 93 as the father of modern golf-course architecture. His courses force a golfer to match wits with him each time a player tees it up on a Trent design.
"His golf is half chess, half archery," wrote legendary golf writer Peter Dobrenner. "I had never before perceived golf as a battle of wits between player and architect. The golf course as an intelligence test was a new concept altogether."
Sons Robert Trent Jones Jr. and Rees Jones have done well to further their father's legacy in creating fun golf courses to play. The Raven at Sandestin by Robert Trent Jones Jr. and Burnt Pine by Rees Jones are only two examples of courses that feature the Jones legacy initiated by their famous father. Robert Trent Jones Jr. has become well known for his picturesque designs, in which the golfer stands upon a bluff and enjoys a wide, panoramic view of the surrounding vistas below. The course then winds down to the lower levels taking advantage of the elevations. His designs at Waikoloa Beach and Mauna Kea in Hawaii are prime examples.
Brother Rees Jones has become famous as the "U.S. Open doctor" for his efforts in revising U.S. Open venues for championship play. His work at Shinnecock Hills Golf Club (1986), the Country Club at Brookline (1988), Hazeltine National Golf Club (Chaska, Minn.) (1991) and Congressional  Country Club (Bethesda, Md.) (1996) have been widely celebrated. Rees also has restored Bobby Jones' ancestral home course, East Lake (1995), in Atlanta, in addition to his own unique creative designs.
Every golfer should appreciate the privilege of facing the challenge presented by a Jones-designed course. They clearly are unlike any others.
Sidney Matthew is a local attorney and the author of 14 books, most on the history of golf. His most recent book was the story of the Glen Arven Country Club, Georgia's oldest golf course, in Thomasville, Ga.
I Played in AugustaThis Southern city is worth a visit, even if you never see the main attraction
By Chuck Beard
Golf legends descend on Augusta, Ga., during the first full week in April for the Masters Tournament, but a ticket to the moon would be easier to come by.
So if you're within putting distance of the Masters' Amen Corner but not close enough to sing in the choir, Augusta has much more to offer.
Georgia's second-oldest and second-largest city, Augusta has a rich history. Established in 1736 by the British and named after Augusta of Saxe-Gotha, the Princess of Wales, the city has twice been the state's capital. (Atlanta now holds that honor.) At least 10 Confederate generals either were born in Augusta, called the city home or are buried there.
The Augusta Chronicle is the South's oldest newspaper, and famous sons and daughters include singer James Brown ("The Godfather of Soul") and opera star Jessye Norman. Comic Oliver Hardy was born in nearby Harlem, Ga., where the annual Laurel and Hardy Festival is held.
A modest brick building on Seventh Street was the boyhood home of Woodrow Wilson, 28th president of the United States. Listed in the National Register of Historic Places and now owned and operated by Historic Augusta, the house's 14 rooms are furnished in 1860s Victorian style and contain 13 original pieces of furniture used by the family. Wilson's father was pastor of the nearby First Presbyterian Church in the 1860s.
The Lucy Craft Laney Museum of Black History continues the mission of this ambitious woman who dedicated her life to education. Born into slavery, Laney (1854-1933) rose to become an influential teacher and community activist in Augusta, founding the Haines Normal and Industrial Institute and the Lamar School of Nursing. After working with Laney for just one year, Mary McLeod Bethune was inspired to found Bethune-Cookman College in Daytona Beach.
The museum's mission is to promote Laney's legacy through art, history and the preservation of her home.
Stroll the Riverwalk

The Savannah River acts as a natural boundary separating Augusta from North Augusta, S.C. Augusta's Riverwalk is a red-brick, two-tiered promenade (known as the city's "front porch") that winds along the river's banks between 6th and 10th streets. You can spend an entire day there, with shops, restaurants, pubs, hotels and historic sites dotting the way and the Savannah River as your guide. Riverwalk attractions include:
Augusta Museum of History: Take a journey through 10,000 years of local history. The building was constructed around a 1914 steam locomotive, coal tender and passenger car – quite an impressive site. Other scenes explore Augusta through the Colonial, Revolutionary, Federal and Antebellum periods.
Saint Paul's Church: Established in 1750 by the Church of England at the site of Fort Augusta, the current building (Georgian Colonial, completed in 1919) is the fourth structure on the site. The neoclassical pillar-and-bowl baptismal font, seen in the narthex, or lobby area, is the only relic surviving from the first church. Outside, a Celtic cross marks the location of the former fort.
National Science Center's Fort Discovery: Walk through the doors of Fort Discovery and you're a wide-eyed, curious child again. Play with pendulums, lightning, magnets and high-wire bikes and discover that science really is fun.
Augusta Cotton Exchange: This grand 1886 building once was the second-largest cotton market in the world. Artifacts from the cotton era include a trading board and an 1880s-era walnut bank-teller line.
Morris Museum of Art: Artists with a Southern connection are on display at the museum, drawn from its extensive permanent collection. You'll see a range of styles from Antebellum portraiture to Southern Impressionism to contemporary abstracts.
Life on the Canal
The Enterprise Mill, originally built as a flour mill in 1848 and later converted for use in textiles, now is home to the Augusta Canal Museum. There you will get a fascinating look at memorabilia from a time when working factories dominated life in Augusta.
Life in Augusta once centered around the canal. Built in 1845, the canal provided power, water and transportation, and quickly lured factories to the area. As the factories gradually converted from hydromechanical to electrical power in the 20th century, the canal entered a period of neglect. Concerned citizens lobbied to preserve the historic canal, and in 1996 the U.S. Congress designated the Augusta Canal one of 18 National Heritage Areas.
After touring the Augusta Canal Museum, buy your ticket to tour the canal on a reproduction of a Petersburg Boat, once a popular means of transport on the waterway. You'll see some of the now-closed textile mills standing guard along the bank, great hulking brick monstrosities of the Industrial Age, and hear lively tales of Augusta's past and present.
The canal is a popular recreation site for hikers and bikers, and canoes and kayaks often are seen. Look for egrets, gray and green herons, otters and turtles along the way.
Teeing Off

Of course, golf is king in Augusta, and the Georgia Golf Hall of Fame is a must-see for fans of the sport. Created by an act of the Georgia General Assembly in 1982, the Hall of Fame now has 75 members, including such greats as Bobby Jones, Tom Cousins, Jim Dent, Nancy Lopez and Larry Mize. All inductees must claim a significant connection to the state either by birth, residence or participation in a local golf activity.
Take a walk through the Georgia Golf Hall of Fame's lovely Botanical Gardens and come face to face with golf greats Arnold Palmer, Byron Nelson, Raymond Floyd, Ben Hogan, Bobby Jones and Jack Nicklaus in sculpture form. The gardens were created in themed areas to represent horticultural styles; garden segments include Cottage, Formal, Aquatic, Butterfly, Asian, Coastal, Bulb, Turf and Grass, and more.
The Augusta National Golf Club, home of the prestigious Masters Golf Tournament, was founded by the legendary Bobby Jones in 1913. Seeking to create the golf course of his dreams, Jones designed each hole to mimic those found at other courses he had played throughout the world. The course is reserved for club members only, but other local courses offer play to non-members (see sidebar), including the scenic River Golf Club and the hilly Jones Creek Golf Course, rated one of Golf Digest's premier public courses.
Augusta After Dark

After a day on the links or the canal, head downtown to sample Augusta's restaurants. Blue Sky Kitchen's Barry Blackstone finds inspiration in Asian, Greek and Cuban cuisine to satisfy all tastes. A heady mix of ingredients are offered as Cuban Bread Sandwiches, including Jerk Chicken, Creole Meatloaf, Basil Pesto BLT and Portobello.
If you're seeking good Southern barbecue, try Sconyers, founded in 1956 and still in the family. When Jimmy Carter was in the White House, he satisfied a hankering and had Sconyers barbecue flown up to Washington, D.C.
On your second night, why limit yourself to just one restaurant? Host your own progressive dinner and a make a night of it.
Tapas fanatics will find heaven at Las Maison, where Chef Heinz J. Sowinski weaves the thread of his French, German and Swiss roots through a tapestry of the New South.
From Sensational Crab Cakes to Smoked Ostrich Carpaccio to Escargots à la Bourguignonne – who can choose?
Calvert's is consistently voted "Best in Augusta for Elegant Dining," and if lobster is on the menu, look no further. Other creations by Chef Craig Calvert include Chicken Cordon Brie and the famous Calvert's Filet.
Downtown Augusta comes alive at night, with great live music, funky and fun shops and cozy coffee houses. On the first Friday of each month you'll find gallery and studio tours, demonstrations and entertainment showcasing the city's rich artistic side. Artists' Row, mainly the 700 to 1200 blocks of Broad Street, is brimming with art galleries and boutiques, housed in revitalized 19th- and 20th-century storefronts.
And what's better than a late-night dessert? Chef Bardley Czajka of the Partridge Inn's Verandah Grill presents a tray of sweets that would tempt any dieter to cheat more than just a little bit. Vanilla Bean Crème Brulee, Peach Bread Pudding with Crème Anglaise and Warm Grand Marnier Chocolate Cake didn't last long at our table.
After dessert, bask in Southern style on one of the Partridge Inn's fabled verandahs. The first hotel in Georgia selected for inclusion on the Historic Hotels of America list, the five-story landmark was renovated recently and has garnered awards for its charming features, classic columns, stately magnolia trees and unparalleled personal service.
After the recent multimillion-dollar renovation, no two of the Partridge Inn's rooms are exactly alike. So even if you're only watching the Masters from your hotel room, you'll be doing it in style.
For More Info
• Augusta Canal Interpretive Center at Enterprise Mill, (706) 823-0440, augustacanal.com
• Augusta Cotton Exchange, (706) 432-3332
• Augusta Museum of History, (706) 722-8454, augustamuseum.org
• Augusta Visitor Information Center, (706) 724-4067, augustaga.org
• Boyhood Home of President Woodrow Wilson, (706) 722-9828, wilsonboyhoodhome.org
• Georgia Golf Hall of Fame and Botanical Gardens, (888) 874-4443, gghf.org
• Lucy Craft Laney Museum of Black History, (706) 724-3576, lucycraftlaneymuseum.com
• Morris Museum of Art, (706) 724-7501, themorris.org
• National Science Center's Fort Discovery, (800) 325-5446, nationalsciencecenter.org
• Partridge Inn, (706) 262-1111, partridgeinn.com
• Riverwalk Marina, (706) 722-1388
• Saint Paul's Church, (706) 724-2485, saintpauls.org
Golf
You have to be a member (or a guest of one) to play at the Augusta National Golf Club (706-667-6000, masters.org), but these courses allow non-member play:
• Augusta Country Club, (706) 736-532
• Augusta Municipal, (706) 731-9344
• Forest Hills, (706) 736-8431
• First Tee, (706) 364-4653
• Green Meadows, (706) 798-1533
• West Lake Country Club, (706) 863-4640
• Goshen Plantation, (706) 793-1168
• The River (North Augusta, S.C.), (803) 202-0110
• North Augusta Country Club, (803) 278-1198