It's No Video Game
High-Tech Simulators Take StarMetro to Next Level of Safety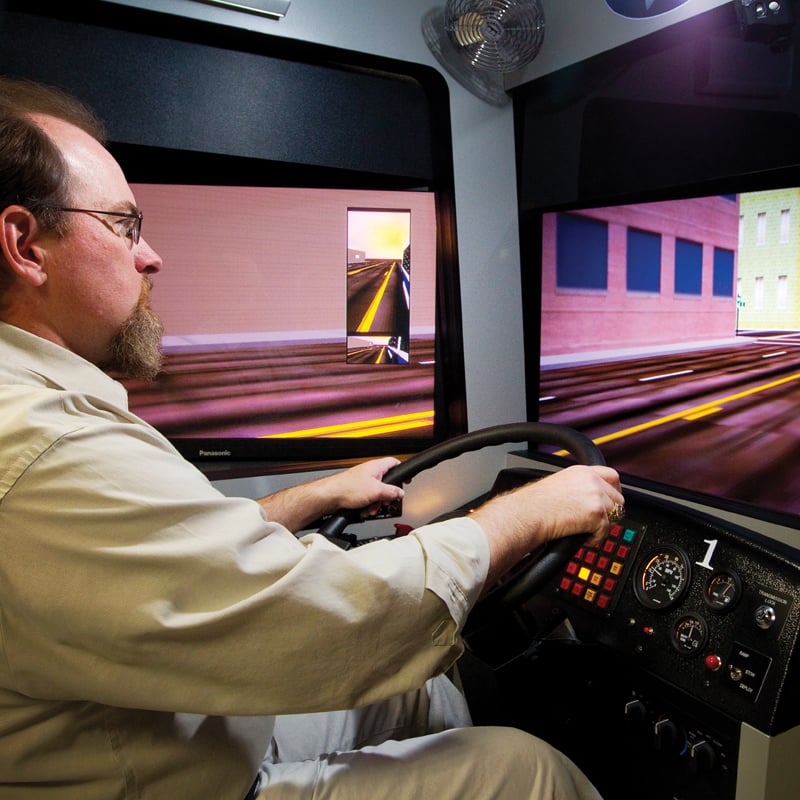 They may look like a bank of arcade games, but there is a lot more riding on the success of the players.
In a room at Tallahassee's StarMetro Appleyard Drive headquarters, three large boxes sit side by side. Inside the boxes, the engineers of Doron Precision Systems have replicated the cab and steering controls of a typical StarMetro bus. These half-million-dollar, computerized driving simulators were recently purchased by the city to help keep its bus drivers on their toes.
I was recently invited to take one of the "buses" out for a virtual spin. That began with getting familiar with the push-button environment of the cab. Everything one might find in a real bus cab is found in the simulator. All the appropriate dials, switches, dash-mounted gauges, air brake knobs, adjustable (digital) mirrors and seat belts are in place. There is even a door-opening actuator so trainees can practice picking up virtual passengers. One feature I found distracting was the lack of a conventional gearshift, which is replaced by a keypad on the upper left-hand side of the dash.
"They have the same exact cab; feels, looks and sounds like a real bus," said StarMetro Executive Director Ron Garrison.
Wrap-around screens provide "windows" into a computerized world of busy urban streets, rural two-lane roads, expressways, downtown areas and parking lots. An instructor controls the scenarios from a computer station at the back of the room. Anything from bad weather to blinding morning and evening glare can be controlled from this station. A separate personal computer with its own arcade-style steering wheel is set up so trainers can insert themselves into the scenarios and play havoc with the bus driver's reactions.
After a quick tutorial on how to crank up the bus and put it gear (after, of course, buckling up), I'm given a chance to get a feel for the steering of the 40-foot behemoths in the StarMetro fleet. Buses have big steering wheels mounted almost horizontally, and they take some getting used to. Following instructions, I get up to 30 miles an hour and slalom around a series of barricades, scraping only one in the process.
That wasn't bad, but another scenario is a bit trickier.
This one has me driving along a stretch of open highway outside a city. I'm focused — perhaps too much so — on the road in front of me, and I easily pick up the small pickup truck careening into the intersection ahead. I barely avoid the reckless driver. But what I don't see until it's too late is the guy on a bicycle speeding toward me from the edge of my peripheral vision and right into my … crunch!
The three-dimensional, full-color cityscape goes dark and an instructor gives me the rundown. Lesson learned? Be alert in all directions, and don't get tunnel vision.
There are plenty of other lessons to be learned from these devices. The setups are modular so drivers of vehicles other than buses also can train and retrain. All one has to do is swap out the bus controls for the cab of a police car, fire truck, ambulance or school bus.
Garrison said he has been waiting for the arrival of these machines for five years. Now, new drivers, as well as old hands, are going to be tested in driving scenarios that can't be performed in the real world.
"We already have a great safety record," Garrison said, "but there's always room for improvement. The integration of these simulators into our six- to eight-week training curriculum will improve safety."