It's Game On for Party People When the Nation's Biggest College Football Town Takes a Breather
The Bye Week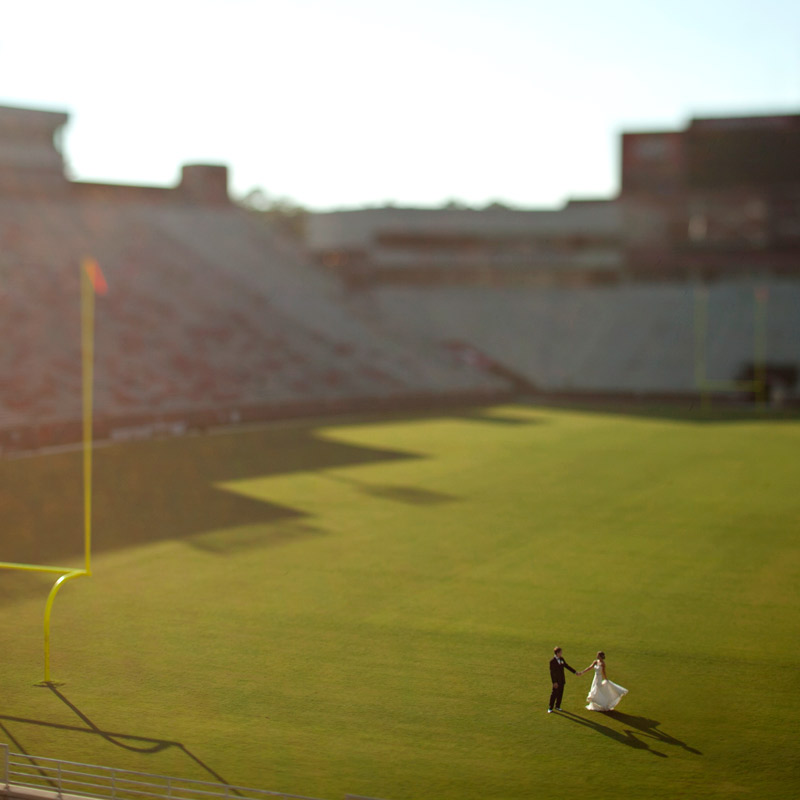 Terri Smith Photo
In Tallahassee, fall is a pretty magical time.
The summer sizzle is finally starting to dissipate, replaced by the humming war chants of thousands cloaked in garnet and gold mobbing the city's streets. It's the highly anticipated season of salted-caramel-everything, pulpy pumpkins, comfort food, trees adorned in beautifully rusted golden hues and ever-shortening breezy days that melt into brisk nights.
For many of the capital's professional event planners, the newly betrothed and charitable organizations, the attributes that make fall, well … fall, align perfectly with hosting a major soiree.
However, there is one small problem.
"The fall is dictated and totally ruled by the football schedule," stated John Gandy, of John Gandy Events.
From September until the season's end, it's a well-known fact among event professionals that orchestrating a function on a Seminole game day — particularly a home game day — is total madness. Traffic jams abound, hotel room rates skyrocket and require minimum stays, caterers are either booked or enjoying the festivities themselves and much of the city is already committed to one tailgate or another.
Whilst some of these issues resolve themselves during away games, the truth is, half the town's heart will always be where their 'Noles are playing — making the team's annual bye weeks a highly coveted occurrence.
Hollie Bearden and Matt Henshaw knew to plan their November 2012 wedding for FSU's bye week because he was a university grad — and a former player for the Seminole football team.
For hosts in general, it's a difficult time. But for brides, it can be an excruciating process.
In 2012, Hollie Bearden and Matt Henshaw were freshly engaged and desperately wanted a fall ceremony. Luckily, Hollie's family estate presented the perfect backdrop and venue — but there were a few other obstacles for the lovebirds to contend with.
"The first thing we did is pull out the Florida State schedule," said Hollie, whose now-husband is an FSU alumnus and former college football star. The next thing on the couple's to-do list was to contact a wedding planning professional — in their case, Gandy.
From there, things seemed to go pretty smoothly.
"We chose November because we like the weather, but also because I have really bad allergies, so we didn't want to be fighting with the pollen," continued Hollie.
When planning a fall event, ignoring the elephant in the room won't help the process. Gandy has an array of horror stories where a bride has "requested" that no television sets or game day communications be present on the blessed day, only to find the groom and his groomsmen have gone AWOL and are glued to the tube.
"I've had plenty of brides who have banned televisions at their wedding site or any type of outside communications at their wedding because they simply don't want it, and they're not worried about it," admitted Gandy. "But, in the back, the guys are watching TV. We had an Auburn fan a couple of years ago who did that."
If and when a fall date is deemed essential, intendeds wait with baited breath till the schedule is released — which could be as late as early March. The second it makes its debut, phones all across the city start ringing off the hook, refusing to subside until every last possibility has been exhausted.
To this team-spirited lunacy, the "battle of the brides," or an annual bout where only those possessing a vast amount of dialing dexterity emerge victorious, was born.
"It's crazy," admitted Cheryl Horne, director of sales and marketing at Four Points by Sheraton Downtown Tallahassee. "Of course brides are anxiously waiting for the schedule to come out, because they have to book their venue and their sleeping rooms and it's the difference of a $100 rate or a $400 rate with a two-night minimum stay."
On home game weekends, the 164 rooms at Four Points are generally filled to capacity. On bye weeks, though, you can all but guarantee it.
"Every week in the fall," shared Bo Schmitz, Four Points' general manager, "whether there's a game or not, we're pretty much at capacity."
FSU's University Center Club is a popular event venue, but nothing can be planned for football weekend when it's crowded with fans.
For brides, getting a block of rooms at a discounted rate for their guests has become a standard practice. Having family and friends fork over nearly a grand in accommodations, however, has not. Thus, the monetary aspect to attending the pending nuptials is a major concern, making the intensity of their quest a matter of logistics.
"You want to be responsible," said Gandy. "We had three brides this year that moved their dates once the football schedule came out."
While the entire city is at the mercy of FSU's football schedule, no venue is more obligated than the University Center Club — nestled squarely inside Doak Campbell Stadium. At the Club, not only do they advise their patrons not to book on home game days, they explicitly forbid it.
With multiple ballrooms and countless elegant and true "Tallahassee" vistas to choose from, the restriction is hard for some hosts to grasp.
But according to Kaley King, the private event director at the University Center Club, there's simply no possible way to accommodate a large party's needs on top of catering to over 4,000 of their own members and guests.
And parking? Forget about it.
"Typically, we suggest and recommend for them to book at least three Saturdays in the fall months so that if one or two of them are not available, we still have a third option," advised King.
That ruling goes for all functions, including large banquets and fundraisers. For weddings and receptions, where the norm is to reserve vendors more than a year in advance, the uncertainty can be a monumental issue.
"We try to say, 'I understand that you have other vendors that you want to secure as well, but it is most important to have the reception site that you want,'" she tells prospective brides. "That comes first. It's going to be about the food, the ambiance and the great service that we provide. Does that mean that you have to go to your B photographer or your second–choice band? That might happen. But we try to stress that the bride gets the reception location that she wants."
For events geared primarily to locals, the rules are a little more lax.
Tallahassee Sunrise Rotary
Being aware of the Seminoles' schedule is important to the Tallahassee Sunrise Rotary when planning their annual Brewfest, which — without the counterprogramming of football — sells out every year.
Randy Nicklaus is the president of the nonprofit 2-1-1 Big Bend and an active member of the Tallahassee Sunrise Rotary. As such, he's been intimately involved in event planning in Seminole stomping ground for over a decade, primarily with one of the fall's most beloved events: Brewfest.
"That's what we wait for every year," shared Nicklaus. "As soon as the schedule comes out, we're immediately booking. Usually we use the open football week, the bye week."
Another important factor for indoor/outdoor events like Brewfest, which is held annually at the Tallahassee Automobile Museum in October, is weather. If the bye week is too early, and the weather too hot, then it's ill advised to continue; conversely, a date that falls too late could potentially interfere with holiday travel plans, or the night's air could be a bit too crisp.
In those instances, the folks at Sunrise turn to an away game weekend with an early kickoff time and a meeker adversary.
"Attendance is a big issue," admitted Nicklaus. "Plus, most of our members are football fans, so it's a direct competition with the interest of the members of Sunrise. Not all of them are Seminole fans, but a good number of them are. They'd certainly go a home game, and away games they'd at least want to watch. It makes it very hard for the volunteers."
All bodies of the debate agree: The prospect of an event successfully competing with the Seminoles is indeed bleak. The team's recent national championship win, which was superb for the local economy as well as region-wide morale, didn't help the situation, either.
So, if you can't beat them? …
"You have to respect it," reminded Gandy, "because that's what (people in Tallahassee) love. There's a lot of people who live and breathe it, and they're not going to miss it for anything."