It Keeps You Running
Robin Safley Talks about Health, Nutrition and Making Sure Kids Eat Right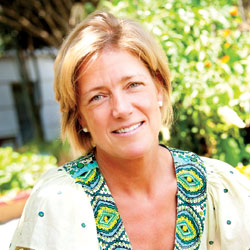 Kay Meyer
As the newly appointed director of the state's school lunch program, Robin Safley is focusing on bringing farm-fresh food to cafeterias.
Robin Safley is quite busy these days, settling into her new gig as director of the state's Division of Food, Nutrition and Wellness.
Once part of the Department of Education, Florida's school lunch program was transferred to the Department of Agriculture and Consumer Services late last year.
Commissioner Adam Putnam appointed Safley to its leadership post last September.
Putnam's philosophy is "children are our most important crop," and Safley said she is eager to promote his commitment to child nutrition and exercise. Delivering that kind of message is her specialty. The 48-year-old triathlon competitor was chairperson of the Florida Sports Foundation and also served as a Capital Health Plan exercise consultant on a project that evolved into the CHP Champions Program. This exercise initiative reached out to children in surrounding counties, but now she plans to take the wellness message statewide. Aside from promoting exercise, a big part of her new job will be working with farmers and school districts to provide fresh-from-the-farm veggies to school cafeterias.
"We can bring a collaborative effort and align resources to promote school lunches and ensure they're the healthiest and most nutritious for our children," she said.
What makes you an expert on nutrition and wellness?
I've done four Ironman events, and I understand and believe in the power of eating healthy and exercising. I am passionate about empowering individuals, so that they know they don't have to wait for a doctor, that (they) can make the decision what to eat and how and when to move.
Why is the school lunch program now called the Division of Food, Nutrition and Wellness?
When you're educating people on nutrition, you have to also take into account the fitness aspect of it. Food is a fuel for the body. If I run an Ironman, I need to be consuming 400 calories an hour to maintain my endurance. But if it's a rainy day and I'm reading a book, I don't need those calories.
How can people think differently about exercise?
I don't like to call it "exercise." People think that means biking five miles. It's really about being active. That can mean taking the stairs, or it can be parking further away from the front of the store. Incremental changes that we make every day that keep us moving and active.
What are your thoughts about nutrition and obesity?
We could spend all our time making food "wrong" or "right," but the bottom line is educating kids on what their nutritional needs are and educating them about the choices and let them make those choices. My personal opinion is a lot of obesity comes from not the food itself but the amount of food. By nature we are a society that consumes more calories than we need. I don't think fries are bad, but overeating fries and having too much of them in your diet is a bad thing.
How do you approach life?
I equate (an Ironman) to life. If you looked at life in total, and at all the big issues all at once, it can be overwhelming. So I look at it as "What do I need to do today?" and I do that. Step by step, you have your goal achieved. You just have to break it down. That's how I approach life. Just doing the best you can with each step. You have to do everything to its fullest in that moment. There's nothing you can't overcome. You just have to strategize.