Is Tallahassee's Growth Part of a Master Plan, or a Natural Evolution?
Two sides of the tracks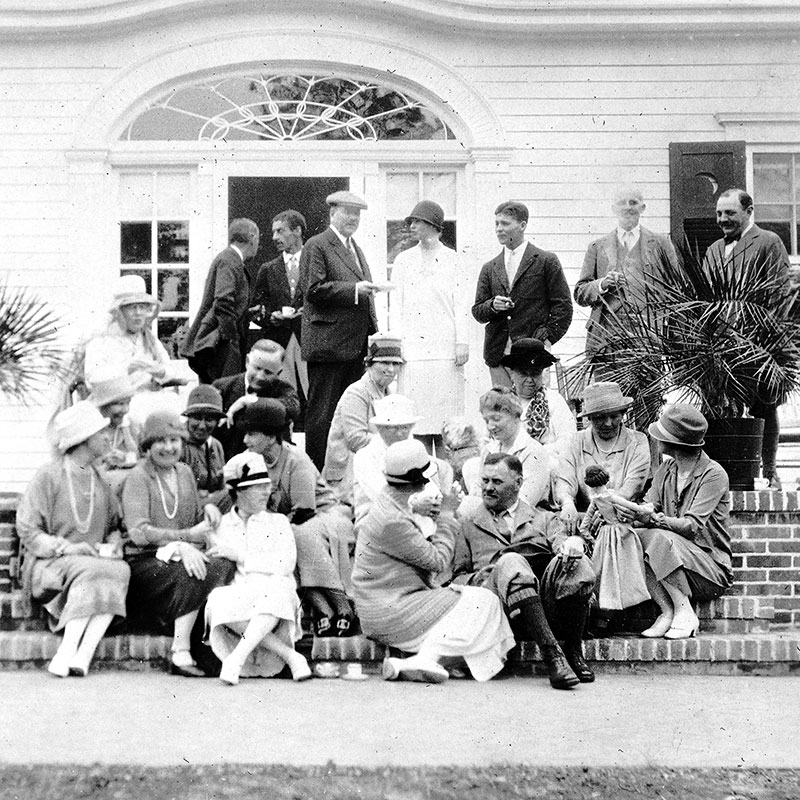 The letter was angry in its tone …
''I am a production expert with street smarts. I want those idle rich in Killearn to dig up that blasted golf course and plant potatoes. They aren't producing anything. All they do is hold a stopwatch over other people and dance their lives away at country clubs and resorts."
Published as a letter to the editor in the Tallahassee Democrat, it raised the ire of those on the north side who read or heard about it. Once again, the wedge that divides the north and south was being driven ever deeper.
The northeast side of town, with Killearn as its representative, was being positioned as home to the affluent and privileged class. But people who live there disagree with the portrayal.
Dorothy Reiner, a resident of Killearn Estates for five years, says, "Everybody targets Killearn, and it's unwarranted. These are not rich here; they are hard-working people. And some have a lot more money than others."
The perception that all people with money are somehow privileged is also misguided.
"The so-called 'idle rich' are the ones who create jobs," she says.
Reiner isn't surprised by the resentment, though. Her experience has been that every town or community has a north and south boundary that serves as a divider of social classes.
The reason is that often the land on one side of town is developed later and conforms to more stringent regulations, making it inevitable that the homes and buildings are more modern. Aesthetics alone act as a conduit for newer development, which often leaves another part of town lagging.
But trying to blame the people who make their homes in the newer areas for the decline is ludicrous, says Reiner.
Land Quality Starts the Trend
Will Butler, a real estate consultant and appraiser with Boutin, Brown, Butler Real Estate Services, says he's also seen the north-versus-south mentality in other communities.
"It's one side of the tracks versus the other side of the tracks in just about every community," he says. "It's a natural progression for residential developments."
A quality development like Killearn can start a chain reaction, and people will pay a premium to be next to the Joneses.
"Atlanta and Orlando are good examples," he says. More desirable developments become a magnet for growth, and they can drastically alter the demographics of an area.
Even with the phenomena occurring time and again in other communities throughout the United States, there's no way to predict where and why it's going to happen. The trend can start as a result of any number of factors, including land ownership and historical uses. It's fueled by politics, community leaders and sometimes the perception of the people who reside in that community.
As in Tallahassee's case, often the trend is started by the quality of land.
More affluent growth to the north was driven by unique topographical characteristics in Leon County. There's sandier and scrubbier types of topography on the south end, Butler says, whereas the northeast was plantation property with spring-fed lakes and better-quality soil.
"There's always been more affluent residential growth to the north and northeast," he says. "In turn, that's going to be followed by commercial growth, while more industrial uses have traditionally been located to the south due to the quality of land."
This natural progression is viewed as a problem, mainly when schools are affected negatively in the older parts of town. It's not that they have less resources, necessarily; it's the perception people have about the backgrounds of students enrolled there.
"Everyone wants their kids to grow up in a certain kind of environment," Butler explains. The financial status of families whose children attend schools in less affluent areas of the city comes into question, even if the teachers are equally qualified. It's a stigma that's hard to erase.
Getting Their Share
What can the south side do to reverse the trend?
"Fight like crazy — that's the only thing you can do to make a difference," says Butler.
Residents from south-side neighborhoods are doing just that, and they're winning support from both city and county government.
"Our community seems to be more aware and more sensitive than most," Butler says. "We have commissioners who represent those areas and are vocal." That can boost efforts on behalf of the cause.
Economic development will help reverse the trend, too. The state's satellite office complex, scheduled to be completed in January 1995, will increase the commercial demand for services to support the employment base. And Butler believes the SouthWood project — a huge planned community originally proposed by St. Joe Paper Company in 1988 for southeast Tallahassee — is likely to be revisited in the late 1990s.
Wendy Grey, director of the Tallahassee-Leon County Planning Department, says positive changes are already underway. With the National High Magnetic Field Laboratory, a facility with international stature, opening in the south side's Innovation Park, there is tremendous potential for new support businesses to move into the area.
Florida State University is undergoing major expansions, as is Florida A&M with student housing. So the future looks bright on the south side. There is no comparable development being planned anywhere on the north side, she points out.
One of the things over the past 20 years about which you can't argue is that urban development on the south side has seen an increase in percentage of lower-income population. It's also gone from high home ownership to high rental.
"That can indicate a disinvestment in the area," Grey says, and it's a negative trend that will take time to reverse.
Southern Inequities: True or False?
Economic development or not, there's still a perception of past inequities for the south side, as compared to its northern neighbors.
Tom Flagg, who lives on Capital Circle Southwest, outlines how many south-side residents feel about southern projects: "The south side has the airport, the sewer plant, the effluent spray fields, and the now covered-up garbage dump, which was filled prior to separation of hazardous waste. The south side has the Humane Society, with its dead animals, hazardous-waste incinerators, Munson Slough, Lake Munson, the Potter's Field and more."
Doug Osborne, too, would like to hear more announcements of positive development on the south side like ones the north-side neighborhoods seem to be in opposition of, including a Publix in Bradfordville and a putt-putt/go-kart facility near Eastgate. Osborne's solution? "Build the putt-putt/go-kart facility and the Publix Shopping Center both in south Tallahassee. And in return, the next wastewater-treatment facility and landfill can be built at Thomasville Road … It seems that would better balance the locations of consumption and disposal anyway."
Osborne, a computer-systems programmer for the state, defends his reasoning: "I just get fed up with the 'not in my backyard' mentality," especially when it involves projects that can enhance an area. And having been a south-side resident for many years, he says, "There is a feeling of being dumped on."
The perception of a lack of positive projects is echoed by Ruby Fay, who doesn't live on the south side but believes it needs more recreational facilities. Expressing her concern in a letter to the editor, she proposed using funding for the cultural arts center to enhance recreational opportunities for south-side children.
''With this large city of Tallahassee, we could certainly use a decent and nice recreation area on the south side," she wrote.
The truth is that the majority of Tallahassee Parks and Recreation Department community centers are located on the south side. Jake Gaither Community Center, Palmer Monroe and Walker Ford are all located south of Apalachee Parkway. Only one community center, Lafayette Park, falls in the northeast quadrant. The northwest is served by Dade Street and Fourth Avenue, located close to the center of Tallahassee in Frenchtown. Five playgrounds on the south side have summer programs, while the northeast has two and the northwest, three.
The problem, then, is not that the south side has less. It just has needs that differ from those of its northerly neighbors. That's the way Penny Herman, a city commissioner who lives on the northeast side of town, likes to look at it.
"I see this as one community, and I see each quadrant of the community with different needs," she says. "What one end of town may need does not necessarily coincide with what the other side needs.
"What I strive for is balance."    
Economic vibrancy in the northeast brings with it a completely different set of problems: traffic, development encroaching on neighborhoods and overcrowded schools, to name a few. Infrastructure to keep up with the volumes of people moving in is also a continuous struggle.
A good example is a group of northwest homeowners who brought to the city commission's attention that they lack an adequate recreational facility to serve them. It turns out that Forest Meadows Swim and Racquet Club was considered to be adequately serving their needs. Not so, with Lake Jackson acting as a huge divider of the northwest and northeast parts of town. Funding is currently being sought to resolve the problem.
Like northwest residents, the best thing the south-side property owners can do is make their needs known, says Herman. "Who better knows their needs that the people who live in that area?"
Residents need to prioritize their needs and work with government to help them achieve their priorities. "Government can't do it all," she says.
Debbie Lightsey, a south-side resident and city commissioner, says the need for organization was the reason she initiated the southern strategy, which resulted in a compre-hensive South Side Study Report by the Tallahassee-Leon County Planning Department.
"The south side has been undervalued as an asset in the community," she says. "It has viable neighborhoods, a convenient location and thriving small businesses. It does have some problems, but then all areas do."
Including such suggestions as enforcing codes to improve external appearances of property, funding capital improvement projects and supporting crime prevention to affect change in a pilot study area, Lightsey hopes the south-side plan, completed in February 1993, will become a model for other pockets within the city.
As the plan is implemented, she predicts the next couple of years will bring positive changes for the south side. "The whole area nestles up to downtown, and it's a perfect place for expansion. We already have infrastructure in place, and it would be cheaper and better for the community to make use of already developed sites."
Stop Talking, Start Doing
Still in its infancy, the south-side plan hasn't produced tangible results to date, but big dividends have been realized by the increased sense of community between residents and merchants.
Janice Bordelon, a resident on south Gadsden Street, crossed the proverbial railroad tracks four years ago, moving from Miccosukee Road. "I bought a house because the prices were extremely low. I was told it was a transitional neighborhood, but didn't understand the meaning of the term."
It took several burglaries of her next-door neighbors' homes before she realized the transition was going the wrong way.