InZpired by Nature: Works by Karl Zerbe and Linda Van Beck
on view at the Artport Gallery and in COCA's Online Gallery from April 7 – June 14, 2021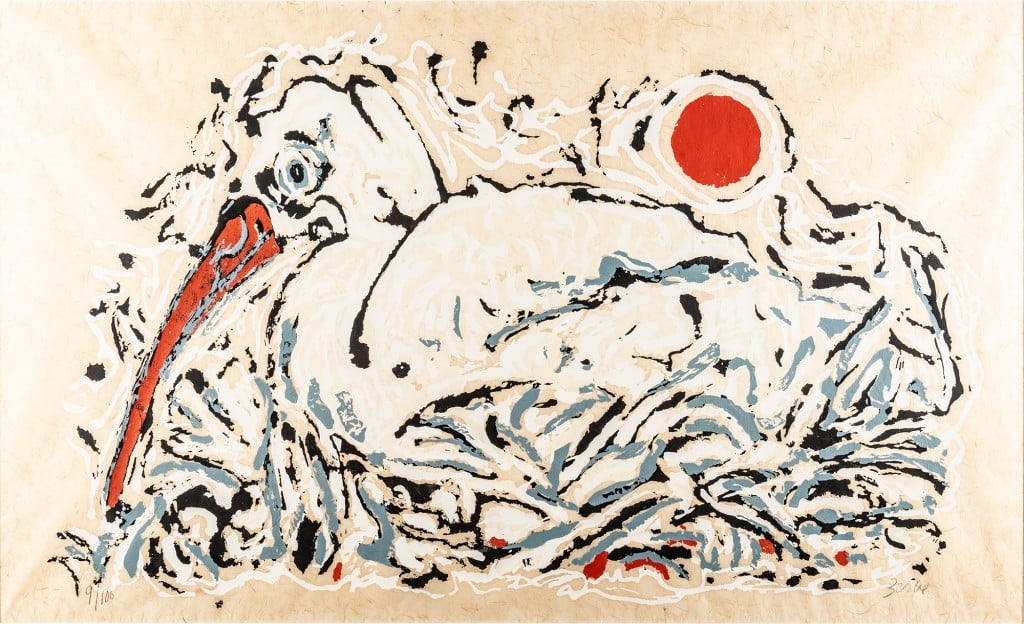 Karl Zerbe was born in Berlin in 1903 and enjoyed international artistic success as an Expressionist. In 1954, Zerbe was invited to teach at FSU for one year as a visiting professor. He loved the city, people, and climate so much that he remained in Tallahassee for the rest of his life, donating much of his time and reputation to the development of LeMoyne Arts. Zerbe died in 1972, just one year after his retirement from FSU.
An avid birder, Zerbe is best known locally for his bird serigraphs inspired by his time at the St. Marks National Wildlife Refuge. He was a long-time member of the Florida and National Audubon Societies and the American Ornithologists' Union. In 1958, he provided the first photographic proof that White-fronted Geese (Anser albifrons) could be found at St. Marks. He was also among the first to photograph and record the Eared Grebe (Podiceps caspicus) in Florida.
Zerbe used silk-screen printing techniques to create portraits of birds that he described as "not species-birds, but very free translations of birds I've seen… anthropomorphic birds." With characteristic exuberance, Zerbe rendered each bird as an individual, with relatable human qualities. Some carry themselves with regal posture and others display looks of worry or vigilance. All convey Zerbe's environmental consciousness and his deep reverence for nature.
These works and numerous others by Zerbe are part of LeMoyne Arts' permanent collection. Many were donated by Linda Van Beck, another local artist and nature enthusiast. As a Tallahassee painter who knew Zerbe, Van Beck has spent the years since his death acquiring his artworks. To ensure they'd be seen by the public, she gifted them to LeMoyne Arts.
Van Beck is an accomplished painter herself, with artworks in the City of Tallahassee's permanent collection. She began painting at a young age and now tries to communicate her daily contact with nature through her art. An avid gardener, she is well-known in horticulture circles and is widely regarded as one of the South's foremost daffodil authorities. This exhibition includes three of her artworks which evoke the excitement and promise of spring.
The Zerbe Zelebration is a citywide multi-media exhibition of Expressionist Movement artist Karl Zerbe's works marking the 50th anniversary of his retirement from FSU. This Zelebration will kick off LeMoyne's Chain of Parks Art Festival for 2021. LeMoyne Arts will be showing eight never-before-seen pieces for the Zelebration, along with hosting lectures and round table discussions on civil rights, Zerbe's art journey, and birding. Additionally, the community will encounter engaging social media activities, video interviews, and educational material on the chainofparks.org website and social platforms.
This exhibition will be on view at the Artport Gallery through June 14.
To see a digital version of this exhibit, visit COCA's Online Gallery at cocaonlinegallery.zenfolio.com.
This is one of many rotating exhibitions curated by the Council on Culture & Arts on behalf of the City of Tallahassee as part of the Art in Public Places program.
The Artport Gallery itself is located in the Tallahassee International Airport, 3300 Capital Circle SW, and is open daily from 8:00 am until 11:30 pm. The first 30 minutes of parking is free for both the short-term parking lot.
For more information about COCA, this program, or to sign up to receive COCA's email blasts visit www.coca.tallahasseearts.org.
For a schedule of other exhibitions and arts and culture programs throughout north Florida, visit www.tallahasseearts.org.