International Program Seeks to Get Local Schoolgirls Moving and Motivated
You Go, Girls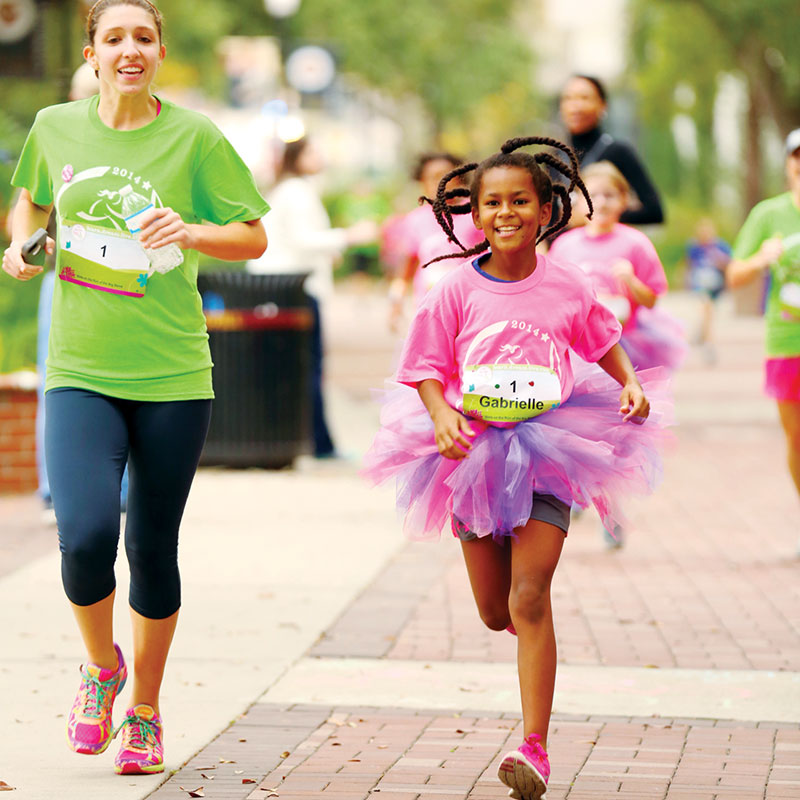 When local fourth-grader Sarah first joined an after-school running program called Girls on the Run, she wanted absolutely nothing to do with it. Before being signed up by her parents, she was content to spend her waking hours staring at a screen. She would conveniently "forget" to bring her running shoes or take the bus home on the two days a week when she was supposed to report to Girls on the Run after school. The coaches had trouble getting her to so much as walk two laps around the field, much less run them.
Kylene & Ryan Studios
But gradually, something shifted. Not only did she complete all 3.1 of the miles in the final run, but she did it with such a look of exuberance that she has since become something of a Girls on the Run poster child, with a picture of her crossing the finish line now gracing the cover of the program's informational brochures. She even wrote her parents a note at the season's end thanking them for signing her up and begging them to let her participate in another season.
"We are so much more than a running program," said Girls on the Run executive director Ericka McKibbin.
Girls on the Run is an international nonprofit organization with a unique approach to an age-old goal — to empower third- through eight-grade girls to be the healthiest and happiest possible versions of themselves.
Instead of achieving this goal through tired, static lectures, however, the program integrates high-energy running games. These games culminate in a non-competitive, untimed 5K run around Tallahassee at the end of the program's season (10-week spans from February to May and September to December). Last year's race zigged and zagged through the rolling hills of Florida State University's campus, with some hills proving a bit too challenging. The difficulty of the route has sparked discussion of taking a different route for this year's run, which will take place Saturday, May 9. After all, McKibbin pointed out, the program's aim isn't to turn its participants into Olympians.
"A lot of people think this is a running program," she said. "We're not competitive. If you want a track program, don't come to Girls on the Run. Our goal isn't to make lifelong runners, just active, healthy girls."
That is not to say that all of the girls involved share Sarah's initial distaste for the activity. There are girls who sign up seeking an outlet for their boundless energy and fall so in love with the running element they go on to run track for their schools. This diversity in types of girls involved is something that McKibbin explained is very common.
"Our program is for all girls," she said. "All shapes and sizes come to be a part of it. Girls come for different reasons. Some want to do it because they love running and they want to get out and run. Others join because they want to have friends. Motivation is different."
Girls on the Run Executive Director; Ericka McKibbin
Ericka McKibbin
What makes Girls on the Run so widely accessible is its inclusive curriculum, which includes universal issues such as bullying, peer pressure, healthy eating and drug use. The program focuses on three areas: the girl as an individual and her goals, teamwork and service. Trained and certified coaches — all volunteers from the community — touch on these issues in a series of biweekly, hour-and-a-half-long meetings. The service element of the program is a favorite with the girls, who are responsible for conceiving and executing service projects. Last year's service projects ranged from donating blankets and food to local animal shelters and the homeless shelter to writing letters to service people overseas.
Although much of the program's success at an international level belongs naturally to its spirited young girls, the importance of community involvement at a local level cannot be overstated. The program depends on volunteers at every level, from the coaches to the 5K organizers.
The backgrounds of past coaches have run the gamut, from Gamma Phi Beta sorority sisters to fitness industry professionals. The same can be said of the local businesses that have generously supported the organization, with organizations from the Paisley Café to the Capital City Bank Foundation backing the ideal of a physically and emotionally strong community.
McKibbin believes it is this balance of both a sense of community and a strong sense of self that makes the program so special.
"This is like nothing else (parents) have ever seen," she said. "There are tons of programs that focus on sports. There are programs out there that focus on empowerment. But we are the perfect combination of both. We strengthen girls to be their best selves and to be healthy and active and find a path that is good for them."
Interested participants can register at gotrbigbend.org for a fee of $150. Scholarships are available. Those who don't quite fit the description of an eligible participant but would still like to volunteer or donate can also visit the website.
Here are some stats from the local Girls on the Run program for 2014:
131 girls

31 coaches

1,220 coaching hours

180-plus running buddies who volunteered more than 480 hours

540 volunteer hours for the end-of-season 5K

7 sites in Leon County (with plans to expand to 10 this fall)