Inspiring Young Musicians
Tallahassee Youth Orchestras Offers Lessons in Performance — and in Life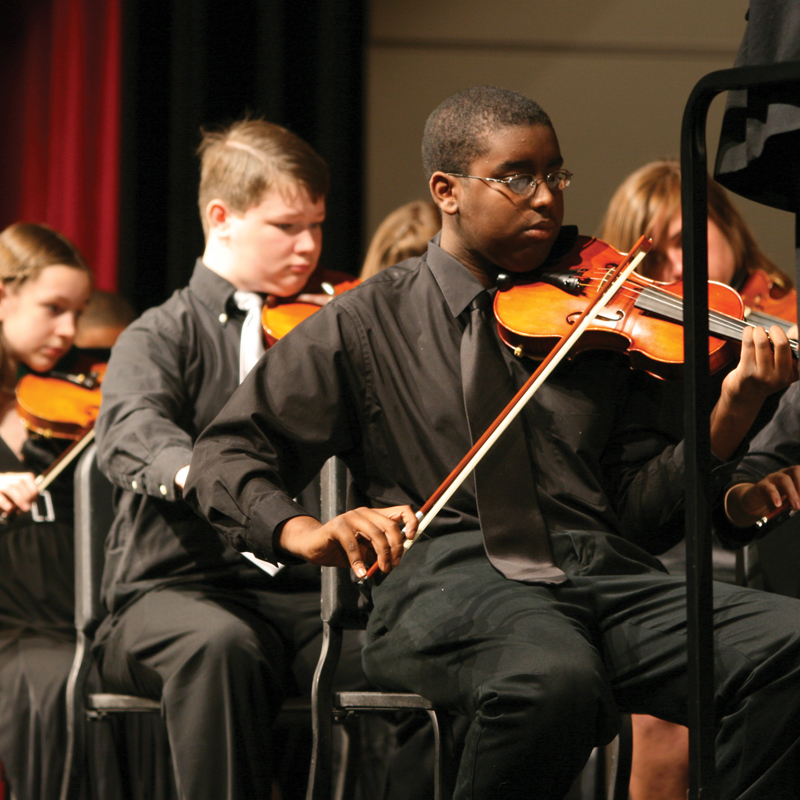 There's only one place in Tallahassee where children can learn to play instruments such as the flute, violin or trombone with a full orchestra. And it's not a local high school.
Tallahassee Youth Orchestras offers the city's only full orchestra — string instruments, woodwinds, brass and percussion — for youth. Founded in 1991, the Tallahassee Youth Orchestras offers programs for children in elementary school all the way up to high school seniors. Its goal is to plug gaps in orchestral programs in Leon County's public schools.
"It's something none of the high schools have," said David Pope, the executive director of Tallahassee Youth Orchestras. Pope said only a handful of Leon County schools offer any orchestral programs. Other Florida county school systems have more substantial offerings.
The orchestra program is not inexpensive. It costs anywhere from $320 to $340 a year, which can be paid monthly or by semester, and they offer scholarships.
"For that you get a lot of bang for your buck," Pope said. The national average for youth orchestras is $500 a year, he said. By that measure, the TYO is a bargain.
Students do have to audition to join the TYO, and are generally expected to have at least a year of instruction under their belt. Rehearsals are on Sundays, so not to conflict with students' busy, demanding schedules. Students perform between four and five times a year.
The Tallahassee Youth Orchestras has five separate programs for children, depending on ability. There is a fundamental ensemble for younger players that teaches some of the basics. The most advanced program is the Symphony Orchestra, which has an enrollment of 60 students and is predominantly made up of high school students. There are also smaller groups-within-groups, such as the Tallahassee Fiddlers, and string, woodwind and brass quartets.
The Youth Orchestras was, until last year, affiliated with the Tallahassee Symphony Orchestra. But after 19 years and huge growth, the youth orchestra program sought to become its own entity, separate from the "parent" symphony. Alex Jiménez, the music director of TYO, said the program had grown to the point where it needed its own board and governing structure.
The TYO now is separately incorporated as its own nonprofit organization with its own board of directors and a budget of about $100,000 a year. However, it still operates in partnership with FSU's College of Music, under the musical leadership of Jiménez and direction of Pope.
The TYO's revenue comes from a combination of student fees, fundraisers and grants. "No one is getting rich," Jimenez joked. He and Pope both work for the organization part-time.
Some of the changes that have come to the TYO are more paid staff members; new rehearsal locations; a move from a variety of rehearsal locations and times to rehearsals only at FSU on Sundays and new rehearsal schedules to benefit students.
"We've gone from fundraising concerts at the mall to having international artists such as Daniel Bernard Roumain and Project Trio," Jiménez said. Roumain is an internationally known Haitian violinist, and Project Trio is known for its highly eclectic beat-boxing flute player.
Both Jiménez and Pope believe learning an instrument can be beneficial in a child's life, helping them make better grades, learn teamwork and develop a special skill. Jiménez mentions studies that indicate better academic performance for students who play a musical instrument. "There is no lack of evidence that music has a direct correlation to academic achievement," Jiménez said. "It's because music involves the left and right brain hemispheres working together."
The stated goal of the TYO is to encourage a lifelong love and appreciation of music. While the TYO has had several successful alumni attend music conservatories across the country, Jiménez said the intention is not necessarily to breed future symphony members. He's happy if a seed is planted within students encouraging them to support musical arts.
"This is the only opportunity young students have to work not only with other children their own age but with instructors from different types of musical background and with different instruments ranging from viola to cello," said Colleen Manseau, director of orchestra fundamentals. "It motivates them and gives them a chance to stick together."
It is unusual to allow younger children the opportunity to perform with a full symphony ensemble, but that is what TYO offers, allowing children as young as 8 to join. Any person under the age of 18 who wishes to join TYO must pass an audition first. Pope explains the audition is not a high-pressure environment, it's just to ensure the student understands the basics.
"Being with TYO gives me an opportunity to express myself through music," said Kayla Williams, 13, a violinist with the Tallahassee Fiddlers. Another fiddler player concurs.
"Without TYO, I wouldn't be at the level that I am at now," said Avery Smith, 15. "It's nice to be accountable to someone, to be able to come in and say, 'I learned this part, or I have learned this,' every time I learn something good."
There are several new projects in the works at Tallahassee Youth Orchestras. Jiménez said they like to mix things up, rather than play the same traditional classical music. To that end, the youth orchestra has developed a new residency program in which visiting artists such as Roumain and Project Trio visit Tallahassee, bringing fresh, innovative styles to the students.
With these programs, the orchestra tries to open students' eyes to new, nontraditional forms of music. The students' interaction with different visiting artists gives them a chance not only to play with professional artists outside of the classroom, but to mature as musicians in their own way. For some students, having other artists visit might unleash their creative minds while enhancing their own styles as well. And it keeps students engaged in learning.
"You learn a lot about playing your instrument and playing with other people," said Alex Horton, 16, a TYO Symphony bass player. "It helps you learn your instrument when you can play with other people. And having outside professionals like Project Trio, who are so in sync to one another while they play, is a good example for us to learn from."
The members of Project Trio — Peter Seymour on bass, Greg Pattillo on flute and Eric Stephenson on cello — believe in the power of music. Their high-energy fusion of classical and hip-hop inspires students to push the boundaries of music, creating their unique sound.
It is a duty of professionals, they say, to teach up-and-coming musicians.
"Often we go into these schools, and they are very much involved in a classic tradition," Stephenson said. "We like to break down those walls and show that music is universal, that there are so many genres and so many great musicians out there, and it is our job to learn from all walks of music. We show them that we can do whatever we want as musicians because that's how we express ourselves emotionally and musically," he said.
Jiménez says the youth orchestras serve a need that would otherwise go unfulfilled.
"These kids need this," Jiménez said. "If it wasn't for us, I don't know who would do this."