Inspired by Love
Issac and Betty Williams Hope Their Special Bond Will Help Others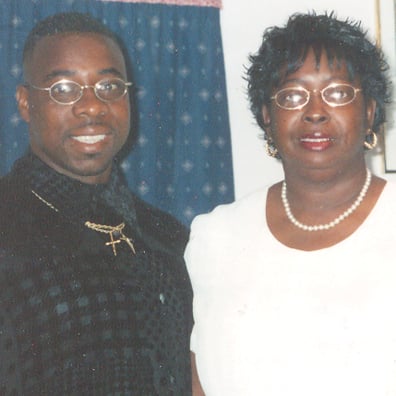 For eight years, Issac Williams did what any good husband would do. He marked every special occasion with a beautiful card and heartfelt words for his wife, letting her know just how important she was to him. He sent her pencil sketches on scrap paper, pastel collages on cotton handkerchiefs – whatever he could buy or barter from other inmates. Serving a sentence for armed robbery, the handmade cards were his messages of love from inside prison.
And his wife kept every piece. By the time he was released and came home to Tallahassee, she had a deep plastic bin stacked full of his letters and the inmate art he had sent her. Betty Williams knew there was something special in that collection, and she wanted other people to see it too.
Now, thanks in part to an instructor at Tallahassee Community College, Issac and Betty Williams have found a way to show the collection and use it to help inmates coming out of the Florida prison system.
"Prison Art: Inspired By Love" will go on display at the 621 Gallery in February. The Williamses hope that sales of the art will generate money to seed a halfway program for former inmates.
"These are people rising above the limitations of their environment to do good things," Issac said of the artists whose work will be shown.
The Williamses had been married only a couple of years when Issac discovered crack cocaine. He quickly became addicted and started committing crimes to pay for his burgeoning habit.
At first, it was relatively minor stuff – forgery and grand theft charges that earned him probation. But then it escalated to armed robbery. In 1992, he was convicted of holding up a Tallahassee convenience store and sentenced to prison.
He spent the next eight years being shuffled between state work camps, while Betty worked extra shifts at Burger King so she could travel to see him nearly every weekend.
The visits kept him focused on doing the right thing – and away from the urges that had led him to prison. Her commitment made him want to be a better man, Issac said.
Betty knew he needed her and refused to abandon him.
She said, sitting in the living room of the couple's small, neatly kept home on Delaware Street. "I knew what I had before he went on crack. I knew what kind of man he was.
While he was serving his time, dozens of those occasions that mark a marriage – the birthdays and holidays and anniversaries – came and went. There wasn't much in the way of greeting cards or gifts in the prison canteen, and Issac didn't have artistic talent, so he turned to fellow inmates.
"Every camp I went to, there were guys drawing," he said. "I was really surprised to see that a lot of these guys had this talent they'd wasted."
He began to strike deals with the inmates who could draw. They would create the art, leaving a space for him to write his message, and he would get them chips or cigarettes or anything else they wanted from the canteen.
A small card usually was about $5 worth of items, something larger went for $15 or $20 worth. Some inmates, impressed by the devotion Betty showed by visiting him weekend after weekend, year after year, did it for free.
The artists drew on whatever they could find, whether it was the backs of envelopes or white handkerchiefs from the canteen. Their work was simple but hopeful, filled with images of descending angels, butterflies, swans and flowers.
The mediums were varied: colored pencils when they could get them, crayons and coffee grinds when they couldn't. One artist didn't draw, but instead handmade his work by folding and weaving a potato chip bag into an intricate model of a rocking chair, with photos of the couple's daughter Desiree framed in the seat and chair back.
Every chance he got, Issac sent something out to his wife.
"I just wanted her to know that we were still as one," he said. "No matter what the situation was, that we'd always be together."
At home in Tallahassee, Betty clung to each missive.
"I loved them," she said. "I asked for more and more."
The cards piled up and time passed. Slowly.
In 2000, Issac was transferred to the Tallahassee Road Prison, where he met Robert Simmons, who ran a prison ministry from New Mount Zion AME Church. Simmons, now deceased, helped give him hope for his post-prison future, Issac said.
Finally, eight years, nine months and 22 days after he entered the system, Issac was released.
He went home to his wife and their three girls. Determined to make his life right again, he stayed away from drugs, found himself a job in the service and detail department at Tallahassee Dodge and joined New Mount Zion.
But Issac wasn't ready to leave behind those who still were serving sentences in Florida's prisons. With Betty, he joined the church's fledgling prison ministry.
His job – where he had worked his way into management – kept him busy during the week, so he ran it on the weekends. He and Betty and volunteers from the church began visiting nearby prisons to meet with inmates.
Issac said it was his connection to Betty and his religious faith that sustained him during his sentence and kept him straight once he got out. Few inmates have that sort of support system on the outside, so the Williamses wanted to show them how it could be.
They have been doing it for several years now, traveling by church van each weekend to a different facility, rotating between the Tallahassee work camp and prisons in Liberty, Franklin and Wakulla counties, offering inmates what hope they can.
It isn't enough for Issac. He knows that former inmates with no positive influences, no useful skills and no jobs are likely to end up in trouble again. Nearly 40 percent will return to prison within five years of release.
"The system is designed to hold them back," he said.
His goal is to eventually turn the ministry into a halfway program that will offer inmates a support system of friends, advisers and job connections to help them reintegrate into the free world without slipping back into old criminal ways.
Meanwhile, his wife still has that bin full of inmate art.
"He was surprised when he came home and found out I'd kept it all," she said.
The art collection has even grown some since Issac Williams got out of prison. Inmates that the Williamses visit and trade letters with as part of their ministry sometimes give them pieces. One inmate, Robert Stinson, serving time in Walton County mails them detailed pencil sketches of famous people, from James Brown to the Rev. Martin Luther King Jr.
Betty said she always wanted to organize the collection – maybe put on a display somewhere – but she didn't quite know how. Then she took a reading and writing class at Tallahassee Community College, where she had gone to work.
An instructor gave the class an assignment to write about their dreams. Betty described her love for her husband and her wishes for the art he had sent her. The instructor was impressed and referred her to Alison Iglehart, head of the school's writing center.
Iglehart said she also was touched by the story of Issac and Betty and the prison art.
"These are two of the most amazing people you'll ever meet," Iglehart said recently.
Iglehart helped Betty apply for a grant to frame and show the art at TCC. The grant was denied, but that didn't stop them. Iglehart turned to the 621 Gallery in Railroad Square. Director Chris Hampton agreed to give them a week in February at the gallery.
The show is called "Prison Art: Inspired By Love." Its opening reception will feature music by Tallahassee jazz singer Pam Laws and food and drinks donated by a local nightclub, according to Iglehart.
Now that they have the show scheduled, the Williamses are trying to raise money to have about 20 of the art pieces professionally framed, at a cost of about $1,500. The idea is to sell the framed art and put the earnings into the nonprofit group they have started, called "Inspired By Love of N. FL."
The money will go toward funding Issac's vision: a residential program where former inmates can live for six months to a year while they save money and learn life skills and responsibility.
"We need this in the community," he said. "Although they've made mistakes, they can move on beyond that. They don't have to commit a crime and go back to prison."
---
"Prison Art: Inspired By Love" will open with a reception at the 621 Gallery on Friday, Feb. 16, from 7 to 9 p.m.