Inside Windsor Trace
Tallahassee's Newest 'Pocket' Community is a Big Hit with Empty-Nesters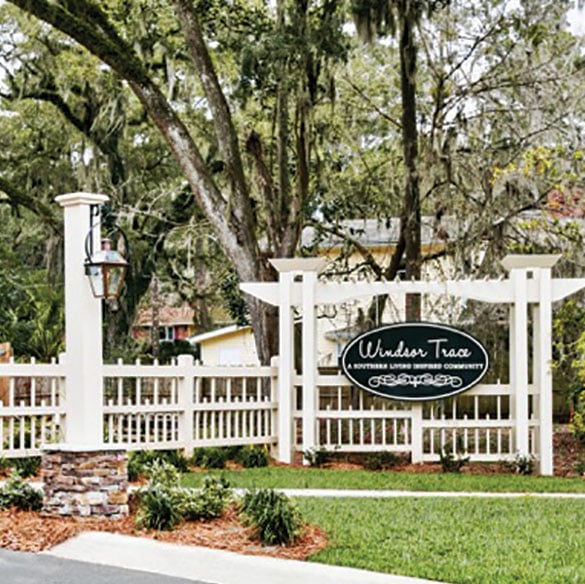 As soon as the The Naumann Group slapped a sign up on Thomasville Road, chatter began about the new "pocket park community" of Windsor Trace. Just as cozy and charming as its affectionate nickname might suggest, the new-to-market neighborhood was quickly met with high expectations.
After all, it was Florida's first ever Southern Living Inspired Community.
"I contacted Jason when I saw the first sign go up," recalled Beth Davidson, now a Windsor Trace homeowner.
For Davidson and many of her new neighbors, the prospect of owning so much home (the majority of the 12 houses inside of Windsor Trace will approach or exceed 3,000 square feet,) so close to town, with so little upkeep, was more than enough reason to sign on the dotted line.
The first wave of residents moved in during the late summer of 2014.
"I didn't want to go out, I wanted to come in," explained Davidson, on her location choice. "And I looked, and I looked, and I looked, but there were no houses that I could buy that (I) wouldn't turn around and spend $100,000 to $200,000 in updating."
Situated on the cusp of Midtown and in convenient proximity to both universities as well as the Market District, Windsor Trace's in-town location is perhaps one of the community's biggest pulls. Another major selling factor? According to the property's developer Jason Naumann, owner of The Naumann Group, it's all in a name.
"For me, it's branding," said Naumann. "(Southern Living) is a well-known name."
Designed to be a physical embodiment of the iconic magazine, Windsor Trace represents, as Naumann puts it, a "simple, rustic, Florida cottage style." That simple style doesn't come cheap, though. Prices for the homes start at $459,900.
However you want to tag it, there's no denying the houses of Windsor boast a true craftsman style vibe both inside and out. From the glistening hardwood floors to the trendy subway tile backsplashes and attractive front porches, everything about Windsor Trace seems decidedly high-end, yet approachable. Space above the attached garage can be upgraded to a guest suite.
Even the street itself, Myrtle View Drive, with its gentle twists and turns skirting carefully around the property's many giant oak trees, is well thought out.
"That was the critical design element," explained Naumann, of keeping the natural vegetation intact. "As you can tell, it all kind of meanders back here. We kept every major oak tree in the neighborhood and designed the whole community around the oak trees. Some of the big magnolias, which is a shame, we lost because they're not as hearty. But we really master planned the whole community around keeping the big oak trees so it didn't feel like it was all raw with houses just right on top of each other."
The entire Windsor Trace property sits on a compact four acres, making outdoor space a bit tight. To keep the open-air that does exist pristine and communal, the lots are set up as land condominiums — meaning everything after the homeowners' front porches is taken care of by the homeowners association.
While a serious lack of elbow room between each unit might be a deterrent for some, Naumann notes that thus far the layout of the community — which in addition to the many wonderful oaks also includes a common area complete with a fire-pit and seating — has attracted empty nesters tired of maintaining a large piece of property, but who find themselves equally unwilling to sacrifice square footage.
In other words, Windsor Trace offers the ease of in-town living without the hassle of dealing with old construction remodels or cramped living quarters. For 12 lucky homeowners, it will be the perfect fit.
"Southern Living design has maintained an iconic presence in the South for many, many years," said Kathryn Lott, assistant marketing manager at Southern Living. "One of our biggest attributes is that our readership is always looking for ways to live in the pages of the magazine."
---
Becoming The First
Southern Living approached Tallahassee real estate guru Jason Naumann after the Windsor Trace development was already underway. A member of Southern Living's Custom Builder Program, Naumann had been in communications with the company regarding various properties for many years. The timing to tie Windsor Trace together under the umbrella of their "Inspired Communities," was seamless after they launched their new neighborhood initiative in the spring of 2014. "His vision and goals epitomize what we look for in communities — the connection between neighbors and the surrounding community, the attention to the design and sense of place, etc." said Southern Living's Kathryn Lott.