Inside the Mind of Ron Sachs
The communicator talks about the presidential race, Tallahassee's future and his relationship with the hidebound rhinoceros.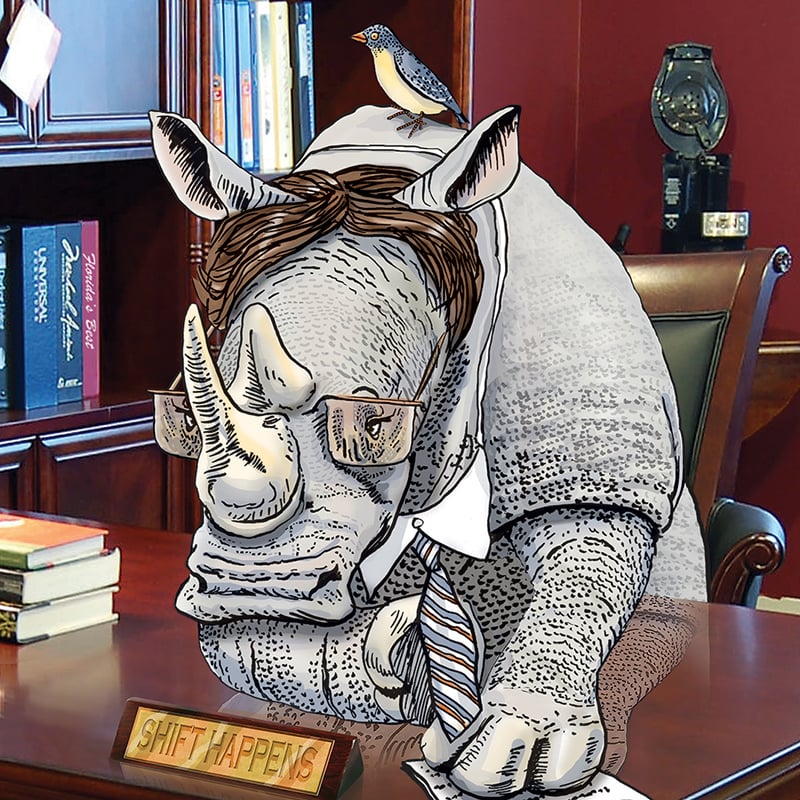 One score and a few months ago, Ron Sachs, who had served two governors as a communication director, hung out a shingle at leased space on Jefferson Street in Tallahassee. On Day One, he sat first at the receptionist's desk, but there was no receptionist, and he sat at the colleague's desk, but there was no colleague. There was only Sachs, who played solitaire on his computer for a time before he decided he should call his clients — he had three at the time — to see if anything needed doing. Today, Sachs is 65 and the Sachs Media Group is one of the most familiar and formidable public relations firms in Florida.
---
Illustration by John Russo
As someone who makes his living building campaigns, what have you made of the 2015-16 presidential, well, antics?
As terrible as the prospect of a Donald Trump or Hillary Clinton presidency may be to some, there is comfort in the checks and balances that our Founding Fathers and Mothers brilliantly conceived. No individual can do that much harm or good. It's glacial change that a president can make, not profound change.
What are the chief lessons you have learned and employed in your career?
My high-school journalism teacher, Dorothy Massey, gave me advice that is as relevant for communicators today as it was then: "Be accurate, be on time and be interesting." I abhor factual mistakes. If you have a pattern of being late and you work for me, you won't be here for long. And, life is too short to be bored or to be boring.
How profoundly has the ascendance of social media affected you and your clients?
If you are not engaged on social media for your organization today, you do not exist to a large audience. It is akin to, say, not having a microwave oven in the '80s and '90s. You need to make proactive use of those platforms and also be defensively alert because you could be hacked in your sleep by someone taking a cheap shot. 
Tell us about you and rhinos.
The rhino is our symbol. It's a significant, substantive creature that has strength, stamina, explosive power, confidence, assurance, steadiness, sure-footedness, all the things that we try to be to our clients.
What mistake is most often made by embattled persons or businesses in dealing with the media?
In crises, lawyers get involved and often advise clients to say nothing in the face of controversy. There are few absolutes in crisis management, but one is this: You absolutely never say, "No comment." People will conclude, "There must be something to it, because they won't talk about it."  
Crystal-ball Tallahassee. How will it differ 20 years from now from the Tallahassee of today.
I think the talent pool that this community will attract is what we will become most known for. Tallahassee will become the capital of cutting-edge talent and entrepreneurialism. And downtown will remain alive after 9:45.   
What's on your bucket list?
One would be to consider a run for public office. Though I am getting older, I have remained emotionally immature. (Laughs.)  Higher on my list would be taking my wife, children and extended family on a fabulous trip and creating a lifetime memory. And, thirdly, seeing to the perpetuation of this company after I'm gone.