Inshore Life
Organic fuel makes diversity possible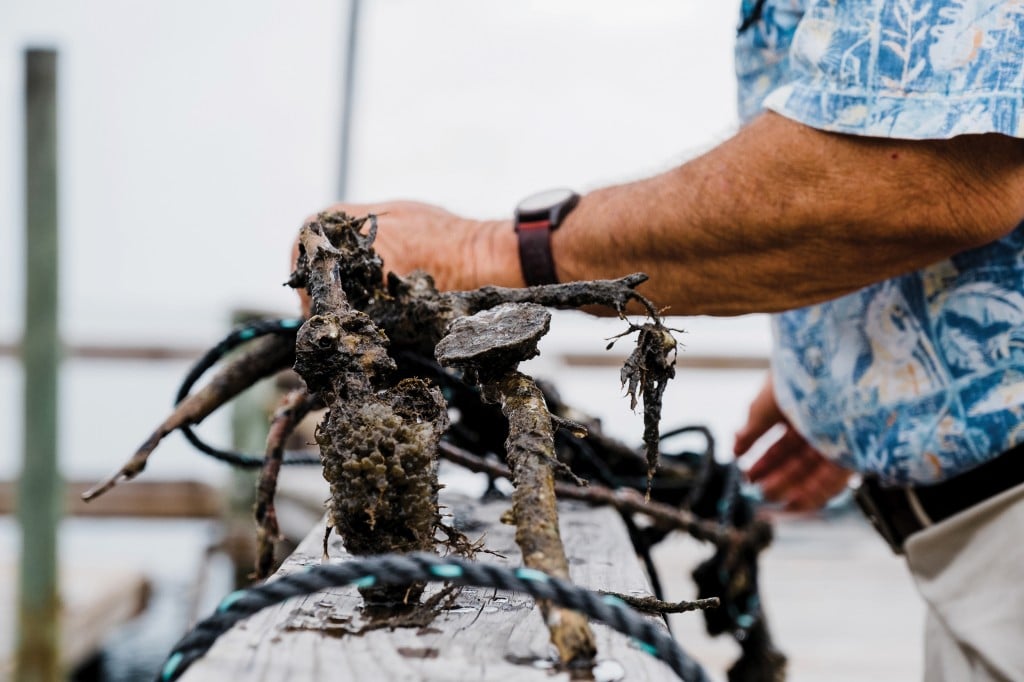 Wood makes Jack Rudloe's living dock livelier.
In what will amount to a demonstration project, if he can get people to pay attention, Rudloe and his sons, Sky and Cypress, are lashing bundles of sticks and brush to the modest structure that extends into the waters of Dickerson Bay at his Panacea property.
It about drives Rudloe crazy that so much wood is landfilled and burned when it could be used to feed water, that rivers are not permitted to wander and deliver detritus to bays as they once did.
On Aug. 24, 1851, the Great Middle Florida Hurricane, packing maximum winds of 115 miles per hour, made landfall at Panama City, Florida. Residents on the back side of the storm as far east as St. Marks were forced from their homes and clung to floating debris until winds subsided. The storm surge measured 12 feet in Apalachee Bay.
An account from the time holds that sustained, powerful winds blew for more than 20 hours in Apalachicola, "leveling houses of all sizes." The Tallahassee Sentinel reported, "Tall forest oaks were uprooted or snapped asunder." And, significantly for Rudloe, countless logs from timbering operations were swept into Apalachicola Bay.
The bay was flooded with wood.
"I can't be sure what role all that timber played in the creation of Apalachicola Bay's oyster beds, but I am convinced it was considerable," Rudloe said.
Wood, he wants you to know, is estuarine ecosystem fuel.
Blind turtle, one-eyed gator
Rudloe's Gulf Specimen Marine Lab and Aquarium are on COVID break when I stop by, making it possible for me to enjoy a private tour of exhibits. I notice especially a large triggerfish in a tank and check in with Lil' Herc, a loggerhead sea turtle that lost its sight when it was struck by a boat some 20 years ago.
Since then, it has lived in captivity — at Marineland in St. Augustine, at SeaWorld in Orlando and, since January 2017, at Jack's place. Tap on a wall of its enclosure and Lil' Herc knows it's feeding time.
We proceed, Rudloe and I, to a courtyard. There, two giant fiberglass crocodilians, Jake the Crocodile and Blinky the Alligator, dominate.
Rudloe has plans to make the replicas central to a Disneyesque diorama that will tell the tale of the "Battle of the Titans." For now, Rudloe relates that story on his website. Here's a summary …
Jake was given to wanderlust. He strayed from the Keys 300 miles or so to Lake Tarpon in Central Florida, way beyond the established range of American saltwater crocs. There, two commercial fishermen caught Jake, then 8 feet in length, in a gillnet and notified wildlife officials who thought it best to bring about crocodile distancing. They toted him to the lagoon at the Homosassa Springs Wildlife Park and released him there.
Jake commenced beating up gators at the park, had his way with them.
Blinky, the 12-foot king of Lake Mirror in Lakeland, was a sometimes ferocious beast who had lost an eye and a front foot in battles with other gators. But Blinky was good with people and the marshmallows they often fed him.
Blinky even made jaunts into town. Writes Rudloe, "Cars would stop as the big gator lumbered across the highway and headed downtown to stroll along with shoppers. Residents recalled him sleeping beneath a park bench on which a drunkard was passed out. He was seen sleeping in front of the police station and occasionally hung out in front of Maas Brothers Department Store. Once he entered a church during a wedding, and was escorted back to the lake by motorcycle police officers coaxing him along … with marshmallows."
In 1979, an 11-foot gator killed a teenager in a town not far from Lakeland, and folks started to look askance at Blinky. What might that old bull gator be capable of?
The Florida Wildlife Commission captured Blinky with ease. The agency knew about his weakness for a favorite snack. Presently, he was on his way to the Homosassa Springs Wildlife Park where Jake had grown to a massive 14 feet.
"The one-eyed bull alligator was used to having his own way and was more aggressive and agile than Jake," Rudloe writes. "For a while, he prevailed and chased the bigger Jake around the lake. The crocodile avoided him, hiding in the marshes, but Blinky kept hunting him."
Park personnel separated the two reptiles by placing them in separate enclosures, but after three nights, Blinky scaled a fence, picked a fight with Jake and lost badly. In sum, he got et, as they say. When the sun came up, but a few scraps of Blinky were found.
Hoped-for expansion
Rudloe is a blend of Blinky and Jake. Like Blinky, he can be aggressive, some would say to his own detriment at times, and often, like Jake, he is underestimated.
He probably likes marshmallows all right, but people can be slow to feed him. For some, he is too real, too cocksure and too often right. He has earned plaudits of note, to be sure. For example, he was included in the Hall of Heroes that was made part of Joel Sartore's Photo Ark exhibit at the National Geographic Museum in Washington, D.C. That distinction recognized his contributions to preserving biodiversity.
But Rudloe on the one hand and, on the other, units of government, government agencies, extensions of government and government commissions tend to collide.
Of late, the Gulf Specimen Marine Lab (GSML) made an application to the board of the statutorily created Triumph Gulf Coast, Inc., for $4.95 million to help fund a GSML Expansion, Ecotourism and Aquaculture Project. With its application, GSML proposed to contribute $4.33 million in matching funds over three years — a goodly amount of skin in the game.
Triumph Gulf Coast is the entity that disseminates BP reparations arising from the Deepwater Horizon oil spill.
GSML's application comprised three components: Training/Education, Biological Supply and Tourism.
As to Biological Supply, GSML proposed to use funds to expand its market for live marine specimens beyond the United States to Europe and Asia. While it has maintained such expansion as a goal, permitting requirements and associated costs have made it financially unfeasible absent assistance.
Regarding Tourism, GSML described plans for expanding its ecotourism program to include a wide range of outdoor recreational activities and provision for visiting scientists and artists.
Finally, as to Training/Education, GSML proposed formalizing its existing internship/practical work experience training program and making it a new aquaculture/aquarium technician/aquariologist certification program.
No such certification currently exists, the application points out while anticipating that the demand and importance of such formal training will increase as Florida's aquaculture industry grows.
GSML's application was denied on substantially technical grounds explained in a March 20 letter to Rudloe from Triumph Gulf Coast executive director Susan Skelton. Generally, Skelton wrote that the GSML proposal did not sufficiently meet "our purposes and requirements for substantially improving the economy of the eight counties disproportionately affected by the Deepwater Horizon oil spill."
More particularly, Skelton informed Rudloe that the three component parts of the proposal could not be considered together.
All of that is too bad. The community of Panacea could benefit greatly by Rudloe's potential and that of his team as a resource, an educator and an employer.
Rudloe has been disappointed before. He has had no luck in trying to convince the state to let him seed water with wood.
Had Rudloe's proposal succeeded, many more people would have learned about the importance of wood to inshore life — how it attracts an algal slime, fouling organisms, oysters and finfish, including species that anglers pursue. They would have learned how, with remarkable speed in the marine environment, shipworms that bore into wood and isopods that eat it, reduce limbs and logs and pilings and boards to nurturing material.
They would have been made to understand how important it is that rivers and creeks be permitted to meander and carry new rounds of organic material to the sea.
They may have been on their way to becoming biodiversity heroes.
---
Documenting Diversity
Joel Sartore is a photographer, speaker, author, teacher, conservationist, National Geographic Fellow and a regular contributor to National Geographic magazine. He specializes in documenting endangered species and landscapes in order to show a world worth saving. He is the founder of The Photo Ark, a multi-year documentary project to save species and habitat. In his words, "It is folly to think that we can destroy one species and ecosystem after another and not affect humanity. When we save species, we're actually saving ourselves." He has written several books, including RARE: Portraits of America's Endangered Species; Photographing Your Family; Nebraska: Under a Big Red Sky; Let's Be Reasonable; The Photo Ark; Birds of the Photo Ark and Vanishing. In addition to the work he has done for National Geographic, Joel has contributed to Audubon Magazine, Time, Life, Newsweek, Sports Illustrated and numerous book projects. Sartore and his work are the subjects of several national broadcasts including National Geographic's Explorer, the NBC Nightly News, NPR's Weekend Edition, an hour-long PBS documentary, and At Close Range. He is a contributor on the CBS Sunday Morning Show. He was also featured in a three-part series on PBS titled: RARE: Creatures of the Photo Ark. As part of an effort to photograph 10,000 species worldwide, Sartore visited the Gulf Specimen Marine Lab in Panacea, Florida. There, lab president Jack Rudloe made it possible for him to capture images of scores of invertebrates. Sartore lives in Lincoln, Nebraska, with his wife Kathy and their three children.