Indianhead-Lehigh Is Like No Other
A mix of charm, community and, to nonresidents, confusion.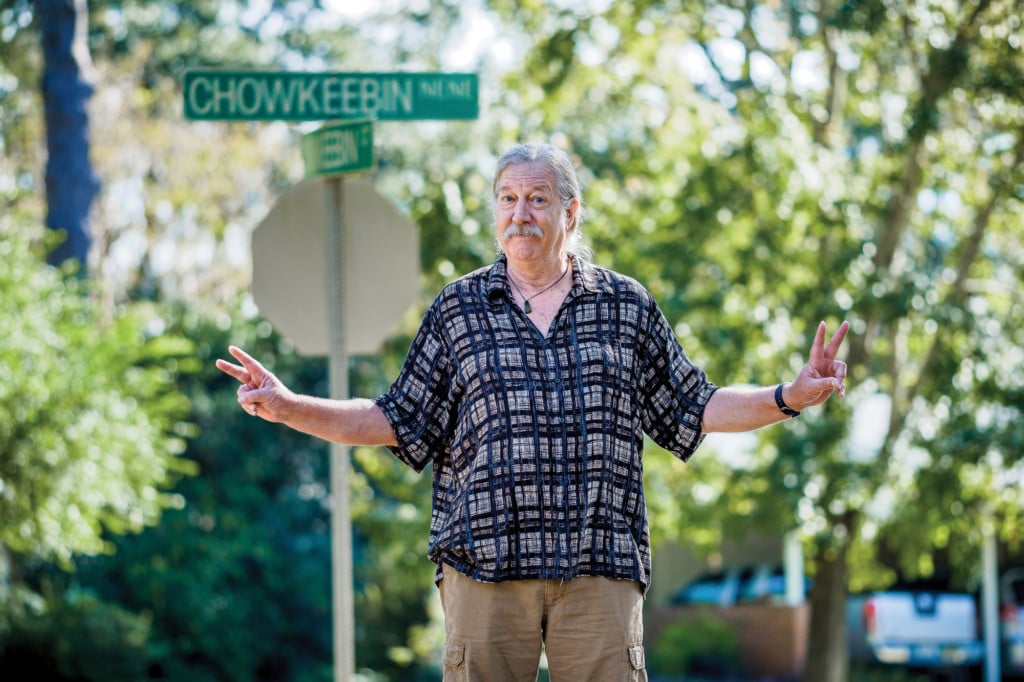 Four historic neighborhoods define the Capital City: Frenchtown a spirited and creative rebirth amid encroaching construction; Indianhead Acres an eclectic mix of homes and residents and unique street names; Lafayette Park a historic, tree-heavy setting where slow pace meets upbeat; and Myers Park a microcosm with a country club where residents unite on a cause.
We've decided to share the history, characteristics, parks, events, amenities, attributes, concerns and, in some cases, the growing pains of those neighborhoods. We share what defines them and what makes their residents proudly call them home. Here's a look at Indianhead Acres.
Friendly. Welcoming. Involved. Diverse. And just a little bit, well … quirky.
But when one mentions the in-town neighborhood of Indianhead Acres, perhaps the most common thought that springs to mind is, "Oh yeah, the place with all the weird names and Nenes."
"Nene," for the uninitiated, means "trail" in the language of Florida's original Seminoles. While the street names sound romantic — Chowkeebin Nene, Heechee Nene and Chocksaka Nene, for example — the translations are fairly ordinary — Fifth Trail, Tobacco Trail and Bridle Trail.
In addition to the tongue-twisting names, the streets in Indianhead curve and meet at all angles, and they change names as one rides along them.
"It's not unusual to see somebody new to the neighborhood who's like this," said 28-year resident Sharon Kant-Rauch, as she mimicked a person quizzically looking back and forth. "They roll down their window, and you immediately know they're 'lost in the Nenes.' "
Residents embrace their streets and their neighborhood.
"I'm always proud to say that I'm a 'Nene-lander,'" said Grant Gelhardt, president of the Indianhead-Lehigh Neighborhood Association. "We like it that the roads are a little confusing. It keeps people from using the neighborhood as a shortcut."
The Indianhead neighborhood dates to the early 1950s when builder George Koucky constructed about 200 homes there. During construction, the neighborhood association says on its website, "Indian artifacts were forever turning up."
While the houses were similar when originally built, homes in Indianhead now are an eclectic mix after a half-century of updates, additions and new construction. As families grew, residents say, carports got converted into extra living space.
Many of the homes have original wood flooring and bathroom tiles in baby blue or mint green. Although the frontage may seem small, many of the lots can be a half-acre and very deep.
The neighborhood also encompasses Lehigh Acres, built in the 1960s and beyond, with streets that connect to Indianhead but feature a different sort of house, usually brick, with smaller windows and at least a one-car garage.
But despite its close-in location, reasonably priced homes and natural beauty, what makes Indianhead-Lehigh truly unique are its residents. They include artists, musicians, state workers and employees of Florida State University and Florida A&M University. Many bike to work, Gelhardt said.
When not at work, residents here are all up in each other's business — in a very good way.
Terry Anne Kant, Kant-Rauch's wife and partner in the firm Kant Realty, recalled what happened after Hurricane Irma in 2017 as fairly typical: "Everybody's lights went out (and) somehow word got out and everybody met up the second day at Optimist Park with their grills and any leftover food they needed to get cooked and just shared with everybody. It's just that kind of thing that we just do." After Hurricane Michael in October, Gelhardt said, residents did the same thing.
Kant said she and her spouse have had their wayward dogs show up on Facebook — or just get returned because pretty much everybody knows who they belong to. "Periodically people will put up a notice, 'need help moving something' or if somebody wants to get rid of something they'll put it on the Facebook page, 'It's at my curb, come get it,' and it's gone," Kant said.
The neighborhood has sponsored a Halloween Party for decades, and Kant-Rauch and a group of friends started a monthly Sunday potluck supper. In the past 10 years or so, residents have gathered in the spring for Nene Fest, a day of music and a puppet play. The event started with larger-than-life-sized puppets that have been added onto over the years "so that every kid in the neighborhood who wants to participate, participates," Kant-Rauch said.
Election Day also is a "social thing" in which the community gathers at the polling place in Optimist Park, serves refreshments and votes, Kant said. In the 2016 election, nearly 83 percent of registered voters cast a ballot.
Indianhead-Lehigh was named the Council of Neighborhood Associations' 2017 Neighborhood of the Year. And in June 2018, the neighborhood association was named Sustainable Tallahassee's first Sustainable Neighborhood of the Year, lauded for its environmentally friendly activities.
Activities to encourage people to reduce, reuse and recycle include residents who have turned their front yards into community gardens, community compost, yards certified as Wildlife Habitat Friendly, and an informal team of "Ardisia Slayers," who work to rid the neighborhood's coral ardisia and other nuisance plants from yards and public areas.
One of the newest projects is N3, short for Neighbor-to-Neighbor in Nenes. In the multi-generational community, a group of residents is seeking out elderly neighbors who might need help to stay in their homes as long as possible as they age. The group's mission would be to refer elders to government services and to organize volunteers to help with transportation, medicine deliveries or grocery shopping.
Association dues are a voluntary $10 a year, used to pay for things such as festivals, newsletters and civic activities. In addition to gardens — organic, of course — residents keep chickens and even bees.
"I like to think of it as a nice little eclectic neighborhood," said Gelhardt, who moved to Indianhead in 1989. "That's why I'm here."