Indianhead Factory Raises the Volume in Tallahassee
Recording studio and intimate performance space located in the historic building.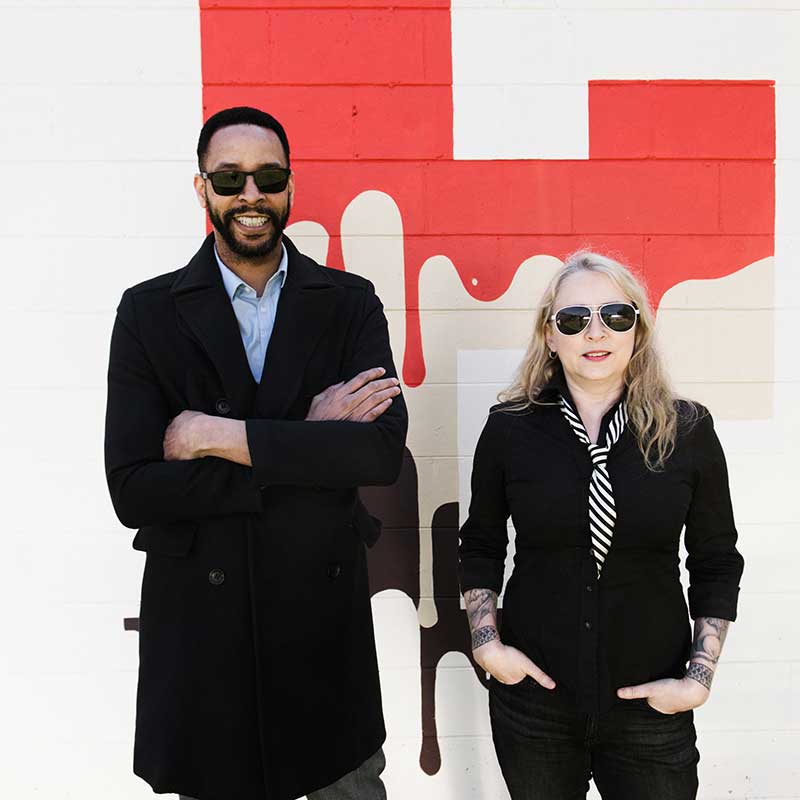 Where once hot rollers ignited bouncy curls, some of the South's most promising and original music acts are making bold new sounds.
Indianhead Factory, a recording studio and performance venue, celebrated its first anniversary in January.
The compact former storefront, which once housed a beauty parlor and a dollar store, sits adjacent to Vertigo Burgers and Fries off Apalachee Parkway, on Indianhead Drive.
Thus the name, symbolized in a bright, iconic mural painted on the building's cinder block exterior: The giant letters IF, painted in red, white and black paint that appears to drip like ice cream.
Owners Chan Leonard and Tracy Horenbein are musicians themselves.
They ran their own home studio for a decade, but it could no longer accommodate their volume of business or their artistic ambitions.
"We needed more space," says Horenbein, who currently plays guitar in the rock band Once Great Estates, "and I randomly came upon this place."
Despite the building's bargain-bin appearance, it was ideal. "In the best acoustic spaces in the world, there are no parallel walls," Leonard says. "Inside, there are no parallel walls. The price was right and the footprint was great."
The studio is nearly always humming, booked 2½ months out with a variety of acts from all genres recording tracks. IF's first client was a traditional Christian Southern bluegrass combo.
Since then, it has welcomed performers as disparate as the local Americana outfit Big Blue, doom metal bands and the indie hip-hop collective Cap 6.
The former American Idol finalist Eben also recorded at IF and recently scored a hit on iTunes. "He's our first nationally charting artist," says Horenbein proudly.
Much of the studio's appeal is its classic Neve Genesys recording console. The model, one of perhaps 100 in existence, is prized for the purity of its signal and for the ease with which the analog board synchronizes with digital technology.
"It's the best you can get," Leonard says. "The closest one to us is in Athens, Georgia, but it's not as tricked out."
Increasingly, IF is drawing clients from outside the 850 area code. Artists come to Tallahassee from Los Angeles, New Orleans and Atlanta. They include both a former Prince sideman and a rising star from the crew of underground hip-hop's Run the Jewels.
"If you're in Nashville and you can't afford to book a room of this quality, you call us," Leonard says. It's not only the price, though. Tallahassee also asserts a certain charm, especially for artists and producers from bigger markets full of noise and temptation
If, as Leonard says, "that La La Land life isn't conducive … you come here, because it's so chill there's nothing else to do but get into the music."
IF thrives on the spillover between the studio and the performance space, which has a slightly odd layout due to an extra-large bathroom installed to accommodate the disabled.
But even that allowed for more creativity. "The bathroom is the vocal booth," Horenbein says, adding that "we can fit a whole drum kit in there."
Atlanta jazz saxophonist Jeff Crompton has played IF three times and also recorded in the studio. The venue offers him a friendly, casual vibe that is especially welcoming for a musician on tour.
"I love the atmosphere," he says. "You get the feeling that Tracy and Chan are there for you and not the other way around. They do whatever it takes to make you feel comfortable."
The room's intimate scale, low-key lighting and lack of bells and whistles encourages a singular focus on the music. It shares some DNA with the Office Lounge, a now-defunct performance space in Railroad Square that the couple ran a few years ago.
"It was a funkier, shabbier version but the same kind of thing," Crompton says. "There was no reason to go there except for the music, but it had the same welcoming spirit."
As the performance space expands with an outside stage, Leonard, Horenbein and their partners – the production team known as The EthniKids (J Cruz and Kelz) – will learn how viable their enterprise really is.
"It's been 80 percent great," Leonard says. "And 20 percent fraught with uncertainty. "The next year is going to be about 'is our hunch correct?'"