In Tune and on Time
High-energy Mae West Band champions professionalism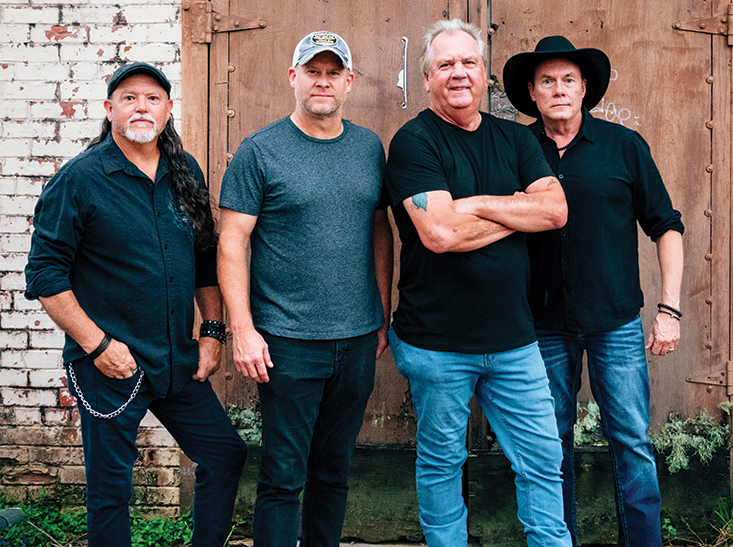 The Mae West Band shatters several cover band stereotypes. Its members are not wedding singers or devotees of a particular artist. Music is not just a hobby for Steve Lewis, Cliff Sherry, Dave Bennage and front man Dan Owens. It is a lifelong pursuit extending far beyond the band's 10 years performing in venues from Tallahassee to Orlando, Jacksonville to Mexico Beach.
The Mae West Band is often associated with country rock anthems, but it remains influenced by the heavy rockers who colored its members' early lives and musical pursuits.
"The first thing I say to any venue owner is, 'If you have 10 people in the bar, there will be at least 10 people when we leave,'" Bennage said. "We aren't going to chase anybody out. There aren't a lot of bands that cover the range of music we play. We can do new country, '90s rock, '80s rock, '70s rock, 2000s rock."
If you don't know the first song of the set, you are sure to know the next.
Performances by the Mae West Band are as interactive as they are technically proficient. Owens, typically decked out in rhinestones and a cowboy hat, has a reputation for dipping into the crowd, dancing with audience members and passing the mic to anyone bold enough to sing along.
"I have been known to be a bit of a Jekyll and Hyde," said Owens, who is a financial consultant by day.
Owens joined the band just before the COVID-19 pandemic arrived. A relatively subdued Lewis had decided to give singing a backseat and focus on bass. Over the course of a few riverside camping trips and socially distanced shows, Owens proved he was the man for the job.
"I think the biggest thing that I brought to the band was energy," Owens said. "I like to roam and interact with the crowd. They were so tight it was just a matter of jumping in and getting the vibe."
"It really does change things," Lewis said. "You see a guy running out and getting the crowd going versus someone just singing and playing. It's better for everyone."
Bennage cut his teeth during the grunge rock era in Orlando before retiring from the Postal Service and moving to Tallahassee. Not ready to hang up his guitar, Bennage advertised his services on Craigslist. Lewis immediately responded and offered up friend and former bandmate Sherry as drummer. The guys meshed. Their wives hit it off and would become part of the show. With the women dancing out front, crowds couldn't help but join in.
"At the beginning, we were playing all the time," Bennage said. "At least twice a week, every week of the year. Recently, we have decided to slow down a bit and be more picky about where we play. The product has become a lot better over the years."
At 66, Bennage is the senior member of the band. The guys call him their "house mom." When he isn't shredding on his guitar to a Jason Aldean or Blink-182 song, he handles all of the band's bookings, promotion, sound and lighting, along with the cat herding required to keep the band in tune and on time.
"You talk to any bar owner, and they will tell you how this band didn't show up or they were an hour late or they didn't have their stuff," Sherry said. "We hear that all the time, so we pledged that we would never be that band that didn't show up on time and didn't have our crap in line. We try to be really professional with it. We're going to come. We're going to bring it and light the place on fire."
---
Catch Their Act
7/21: Oyster City Brewing Co., 603 Gaines St.
8/4, 9/8, 10/13, 11/10: Stix Pool & Bar, 1225 N. Monroe St.
---