In the Audience of "An Evening with James Franco"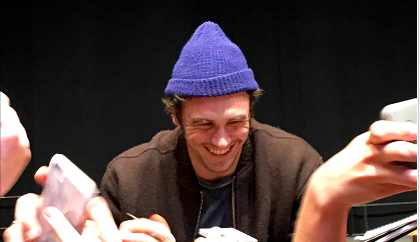 Manuela Vallejo
James Franco signed autographs & took selfies with fans.
When you hear of actor, writer, and director James Franco, it's hard to imagine published author, literature virtuoso, or Yale University doctoral graduate over The Interview debacle of 2014. But last night, as communications professor Mark Ziegler sat down with Franco for an extensive Q&A session, it was pretty easy to see.
A part of the Florida State Golden Tribe Lecture Series, An Evening With James Franco welcomed FSU students and Tallahassee residents alike to the Donald L. Tucker Civic Center on Thursday, April 14. 
Known for his mysterious and strange persona, Franco proved to be, well, normal. He spoke to an attentive audience on the beginnings of his acting career, first breaking into popular media with the '90s TV hit Freaks and Geeks. He also chatted about filming with Sean Penn in Milk, method acting in the critically acclaimed 127 Hours, and even emailing Stephen King about the rights to 11.22.63, now a popular Hulu mini-series. 
Although he initially dropped out of University of California, Los Angeles to pursue an acting career, Franco's conviction for life-long learning was quite evident. 
"I was not satisfied as an actor," explained Franco. "So I went back to school." 
Not only did he earn a bachelor's degree in creative writing from UCLA, Franco now boasts a Masters of Fine Arts degree from Columbia and a master's in filmmaking from NYU. And that's on top of enrollment at Brooklyn College, Warren Wilson College, and his Ph.D. in English from Yale.
"How do you do it all?" inquired Ziegler.
"I don't sleep much," Franco laughed. "I am fortunate that I get to make a living by doing what I love. Also, when I was going to writing schools, and even just reading Stephen King's book on writing, one of the things writers always talk about is that if you want to do something, you make time for it."
Ziegler concluded the enlightening evening with gracious words, "The mystery? I don't think there's a mystery. I think you're kind, I think you're real, and I think that's why we love the films and we love the work."