In Search of the Perfect Home-Grown Tomato
To-ma-to? To-mah-to? Say it however you like, here are tips for a delicious addition to the garden.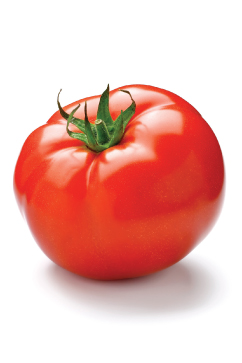 Q: What's the secret to growing good tomatoes in Tallahassee?
A: There's no single secret to growing tomatoes successfully in Tallahassee and the Florida Panhandle. Rather, it's multiple factors that combine to create beautiful, tasty fruit — yes, fruit — in your own yard. Notice I didn't say "backyard." No need to hide your crop behind the house. The best place for it might well be beside the front door, especially if your backyard is shady and the sun casts its warm glow out front for most of the day.
Before you decide where to plant your tomatoes, you must decide what tomatoes you're going to plant. Hybrids such as Better Boy, Homestead and Celebrity have proven their worth in our high heat and humidity. Heirloom varieties such as Brandywine and Arkansas Traveler are proven successes here. Both the heirloom cherry and grape tomato varieties, such as Fox Cherry and Egg Yolk, and the hybrid smaller tomatoes, such as Juliet and Tami G., continue to bear even when high heat holds the larger tomato plants in check. Your local nurseries can direct you to heat- and humidity-tolerant varieties suitable for this climate.
Tomatoes need full sun, which generally means eight hours of sun a day. Our sunlight is so strong that six hours of direct sun is sufficient to grow tomatoes, as is eight to 10 hours of high, filtered shade — the sort of shade you find under tall pines with few low branches. If you don't have a spot in your yard that gets the required amount of sunlight, watch how the sun moves through your yard during the day. You might be able to plant your tomatoes in large pots or buckets and move them around the yard. You scoff? If so, you obviously have enough sunlight somewhere in your yard to grow tomatoes. I know someone who placed potted tomatoes, and other vegetables in pots, on casters in his driveway and chased the sun from morning to midday to afternoon. That, my friends, is commitment.
Tomatoes also need ample and consistent water. One of the most common problems with tomatoes is blossom-end rot, that soft, dark spot on the bottom of tomatoes that spreads and renders the fruit inedible. It is caused by a calcium deficiency and aggravated by inconsistent watering. Letting plants dry out between watering guarantees you'll lose the fruit, so make sure you have a system, whether automatic or manual, that delivers sufficient water regularly. And make sure your soil contains enough calcium. Crushed eggshells mixed into the soil will boost the calcium level.
Tomatoes are voracious feeders and need regular fertilizing, and they need some sort of support. Mix generous amounts of composted manure with the soil when you plant the tomatoes, and apply a water-soluble all-purpose fertilizer every week or two throughout the growing season. Use a trellis, cage or stake to support your tomato plants, pinching off suckers — side shoots — that veer outside the support structure.
It also helps if tomatoes are planted at the right time, but there is a little wiggle room on that. Ideally for our area, summer tomatoes are planted in late February. Yes, you might have to cover them a night or two if frost threatens, but the early planting gives them a chance to get established before the weather warms and pests and diseases have a chance to attack. However, most of us don't plant tomatoes until March and sometimes not even until April, either because we waited until we thought the last frost was behind us or because we simply didn't get around to it. (You know which group you're in.) But you can still get a fine tomato crop if you plant now.
Every yard is different. Keep notes about your tomato crop — varieties planted, planting location, fertilizer use and watering patterns. You learn as you go and subsequent crops will be better based on what you've learned.
Q: What's the best way to add summer color to my yard?
A: To answer your question, I first must ask one: What do mean by "best?" Do you mean the quickest way to provide a splash of color? If so, the answer would probably be to incorporate summer-blooming annuals. Salvias, angelonias, zinnias and marigolds do well in full sun. For shade to part-shade areas, the blossoms of begonias and impatiens provide a burst of color. The foliage of caladiums will brighten dark corners of your yard.
If your definition of "best" means the most economical, you probably want to use flowering shrubs and perennials. Bulbine, firespike, bush daisies, agapanthus, day lilies and irises will provide flowers during summer and foliage the rest of the year. Duranta, a flowering shrub commonly known as golden dewdrop, has purple flowers in summer and yellow fruit in fall. And that standby of Southern gardens, the crape myrtle, creates a colorful display ranging from white to lilac to pink to red, depending on the cultivar.
Check with your local garden center for recommendations for your yard.