In Perfect Harmony
TV's 'Glee' Shines a Spotlight on the Talents of FSU's A Cappella Groups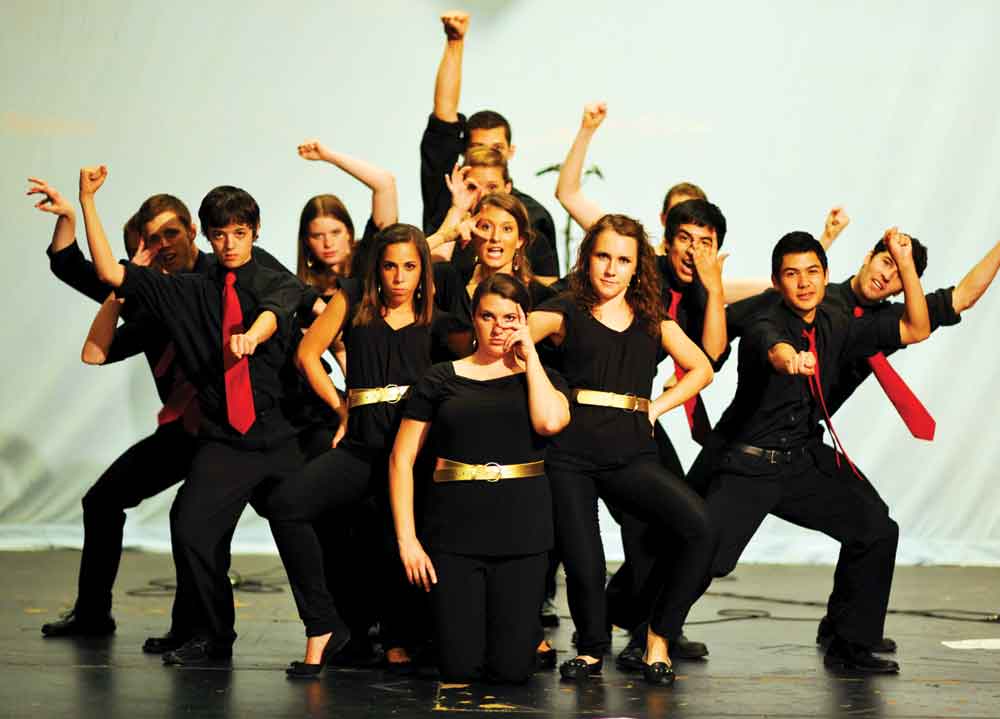 FSU's a cappella groups are in perfect harmony. And they sing well, tooIn Perfect HarmonyTV's 'Glee' Shines a Spotlight on the Talents of FSU's A Cappella GroupsBy Spencer Frankeberger
Glee" mania has gripped the world.
Once considered a less-than-cool extracurricular activity in high school and college, the show-stopping TV hit "Glee" has transformed being part of a school glee club into a hip activity.
And while chronicling the trials and tribulations of the fictional high school show choir New Directions, the show is almost singlehandedly responsible for the revival of an almost obsolete artistic endeavor.
While many viewers are getting their introduction to show choirs in the hit Fox series, they're nothing new. Glee clubs, where voices had no instrumental accompaniment, were at the height of their popularity in the 1700s and 1800s. The first glee club was established at Harrow School in London in 1787 while Harvard can boast having the first U.S. glee club, established in 1858.
Many colleges across the U.S. have their own groups, including Florida State University, which is home to award-winning groups like "The Acabelles" (all-female), "All-Night Yahtzee" (co-ed) and "Reverb" (all-male).
Each FSU ensemble has managed to find its own niche in FSU's College of Music. Though all the groups go head-to-head in local, regional and national competitions, their members support each other through their travels, competitions and local endeavors.
The ensembles have occasional get-togethers and performances, says David Ko, the newly elected music director for "Reverb" in 2011-12. "Of course, there's always a bit of competitive edge that comes out during competitions, as each group is striving to be the best. (But overall) the a cappella community gets along with each other very well."
Collegiate a cappella competitions feature groups from different regions, often competing in quarterfinals or semifinals. The finals are an international-level competition generally hosted in New York City. When it comes to rigorous competitions and such high stakes, the individual groups' competitive spirit shines, according to Eva Tacot, a senior Music Therapy major. "I think most of the members are naturally competitive, especially when it is something they have really put their heart and soul into," she says.
A typical arrangement for a co-ed a cappella group includes six parts: two sopranos, two altos, tenor and bass. For an all-male group, six parts is the norm, generally three tenor parts and three bass parts. Female groups usually have three soprano and three alto parts, with one alto part singing bass.
The music director (or anyone else who wants to try his/her hand at it) most often arranges a familiar popular song by writing six specific voice parts, a solo and a vocal percussionist, sometimes referred to as the beatboxer. Some of the more popular songs arranged for a capella performances include Queen's "Don't Stop Me Now," Sia's "Breathe Me" and The Beatles' "Hey Jude." While set lists on "Glee" have boasted show tunes, jazz standards, classical music and radio hits, the FSU groups' repertoires are normally limited to pop hits.
There is usually a lack of pre-arranged sheet music for a cappella groups, so most of the time the arranger starts out by repeatedly listening to the song to become totally familiar with it. Then comes the time to figure out the chords and the melody line. From there, the rest of the parts are filled in and harmony is added throughout the arrangement. That is why no arrangement is ever the same; an arranger may choose to include a different rhythm or different chord in a spot that another arranger of the same piece might not choose to do. The process can take anywhere from a couple of hours to a couple of days. During the performance, the vocal percussionist typically holds a microphone and, if enough microphones are available, they go to the basses and the soloist.
Though FSU's a cappella groups are similar to glee clubs, there are several differences between them and the fictional show choir on "Glee." Most notably, all a cappella groups always sing without instruments — the words "a cappella" mean without accompaniment.
Another difference is the number of people in each ensemble. Typically, collegiate a cappella groups feature 12 to 15 (usually never more than 18) students, with two or three voices per part. That allows enough breathing room for the group in tight rehearsal spaces — and also helps the group maintain tight harmony.
A big difference between a cappella groups and the New Directions in "Glee" is that most a cappella groups eschew costumes at performances and competitions because it can look unprofessional, sloppy or too "showy." During competitions, groups tend to dress nicely but with some distinction that separates them from other competitors. For example, "The Acabelles" always wear black and pink — and this past year all members wore black Converse sneakers with pink laces as their signature look.
There's also a difference in the amount of choreography between the television world and the real world. For a cappella groups, choreography is only required for competitions, and the dancing is generally very minimal.
Because they are not true show choirs, music is the focus — not the razzle-dazzle of choreography or costumes.
At FSU, there's no teacher like Mr. Schue keeping the singers in line. All FSU's groups are student-run. Along with a student music director, each ensemble elects officers — such as a business manager, treasurer and public relations chair — to help maintain a strict, tight rehearsal schedule and to keep the professionalism of the group intact.
In terms of fundraising, the groups help each other out. "They are always at each others' concerts and support any fundraising that one group might do," Tacot says.
FSU's Student Government Association (SGA) covers some of the groups' expenses, but funding comes from numerous endeavors, including ad sales, hosting off-campus concerts and word-of-mouth promotion. This past April, to raise money for plane tickets to an international collegiate competition in New York, "The Acabelles" hosted a bake sale and sang in the student union, a favorite a cappella pastime.
The choral ensembles are open to students of all majors. Students generally audition not only because of the music, but also for the camaraderie. The audition process for joining one of FSU's groups is fairly quick and simple. Aspiring members sign up for an audition time and are asked to sing a verse and chorus of his or her chosen song without musical accompaniment. The a cappella singing not only shows off a person's voice, but also gives the music director and other officers an idea of how well that person can stay in key while singing.
This is typically followed by a range-testing exercise (how high or low a person can sing) and a short, simple, melodic sight-reading example. While range and sight-reading abilities are considered in the process, they are not the deciding factor, so officers and members encourage wannabe a cappella-holics to try out and give it their best shot.
Prospective members are asked to learn one or two pieces the a cappella group sang in the past or will be singing during the new school year for a second audition. Returning members participate in these callbacks, allowing the music director to hear which potential members blend well with the older members.
Afterward, the music director and officers discuss who blends well with the group. To "blend" means exactly what it sounds like: when voices meld together to form a unified sound, as opposed to individual voices being easily distinguishable.
It's a rare handful of singers who get called back to do further auditions for more than one group. That's probably the only time when the harmony between FSU's a capella groups can go a little off key — when more than one of them is vying to win over the same voice.