In Memory Of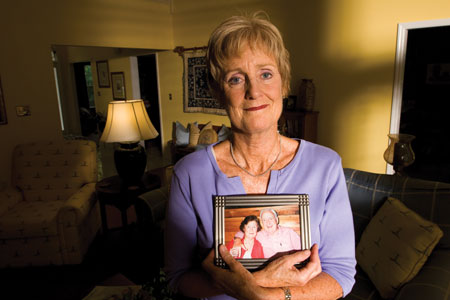 Alzheimer's disease takes a heavy toll on patients and their families
In Memory OfAlzheimer's Path of Destruction
By Triston V. Sanders
John Horton Bradford will be remembered for a lot of things. He was a father and a husband. He was a paratrooper in the Philippines in World War II, and was a  decorated veteran with two Bronze Stars and a Purple Heart. He also was a clinical psychologist for many years in Auburn, Ala. He attended church and was an outstanding Bible scholar. He enjoyed teaching as many Bible classes as they would allow at his church.
He also was a victim of Alzheimer's disease.
Tallahassee resident and high school teacher Anne Priddy remembers the first time she suspected her father had Alzheimer's.
"My father was an avid walker and a very health-oriented person," she said. "He went for a walk the day after my son graduated from high school here in Tallahassee.
"He had walked around our neighborhood for years on visits to see us. I just happened to be at the Sing store, and I noticed him looking all around. I then observed him walk into the store, amble around in the store and finally walk out of the store. He looked all around some more, and finally he showed some signs of knowing where he was. He then headed home in the right direction.
I denied anything being wrong with him. How could he be sick? He was my daddy – the strongest man I have ever known."
Alzheimer's disease is a progressive brain disorder that gradually destroys a person's memory and ability to learn, reason, make judgments, communicate and carry out daily activities.
As Alzheimer's progresses, people also may experience changes in personality and behavior, such as anxiety, suspiciousness or agitation, as well as delusions or hallucinations.
According to the Mayo Clinic, currently there is no cure for Alzheimer's disease. Doctors sometimes prescribe drugs to improve symptoms that often accompany Alzheimer's, including sleeplessness, wandering, anxiety, agitation and depression. But only two varieties of medications have been proven to potentially slow the cognitive decline associated with Alzheimer's.
Priddy says she painfully watched her father's decline.
"When my mom was diagnosed with terminal cancer in 2000, my father took a headfirst dive into that empty pool of dementia," Priddy said. "When I would go stay with him, and visit with my mom (in the hospital and later in hospice care), he would wander all night long. I would see the lights go on, go off all night long. He was always so sweet, asking me if I needed anything, yet he continued to wander throughout the night.
"As she became more and more ill, he became more and more forgetful. He began to get lost in all of his usual trips to the store, church or the hospital. The sicker my mom got, the worse my dad got. She had always been his partner, his coach, his confidant and his 'other half'. He just could not face seeing her die. In less than six months, my father forgot who she was, and demanded to know where his wife was. He was always, always polite and kind to everyone, but he was so lost."
One night, he drove their car through the neighbor's yard and straight into a road in Auburn. It was 3 a.m. That, Priddy said, is when she knew she had to get her father into an assisted living facility.
"The wonderful folks at a facility in Auburn were like a family to him," she said. "He was safe, he was loved, he was cared for, and yet he was alone.
"After my mom died, I had to make a decision, and I decided to move Daddy to Tallahassee with us in 2001. We tried having him here at our home, but after two nights of him going up and down stairs, turning on and off every light in the house, we had to secure him in a safer place. He moved into a facility here the next week, and for almost three years his home was with all the loving people there. They took care of him, and I would go visit every day. It broke my heart to have my father living in a facility, but his safety was the most important factor in this decision.
"We went on field trips together, and we celebrated holidays together," Priddy said. "We had coffee every afternoon, and we would walk to The Cake Shop for cupcakes and milk, or drive to Barnes & Noble for coffee and cookies. Everyone knew who my father was – he had that effect on everyone. The folks at these establishments always greeted him with love and respect, and I will always remember that."
Seven years after his diagnosis, Priddy's father died. While she tries to focus on the positive memories, she also is full of anger.
"I had to watch my mother die of cancer, and I had to watch my father 'fade away' into Alzheimer's," Priddy said. "I will always wish that I could have done more – been a better daughter, been a better person – anything to change the course of events. Watching someone you love forget who you are, forget who they are, forget everything about their previous life, is heartbreaking, to say the least. I hate this disease – absolutely hate it. Alzheimer's is like a thief in the night that robs everyone of everything precious or sweet in his or her life.
"This experience has made me realize how precious every moment is with your loved one," Priddy said. "Never take for granted a single moment together. This disease is like enjoying a favorite photograph, and then having to watch it slowly fade away, so that all you are left holding is the frame of the picture – everything else is gone."
Catherine Jones, executive director of The Alzheimer's Project Inc. in Tallahassee, says it is estimated more than 5 million people in the United States suffer from this devastating disease. Of those, 450,000 to 475,000 live in Florida and approximately 3,500 to 4,000 in Leon County. These numbers are expected to triple in the next 30 years as the baby boomer generation ages.
Jones said that stories like Priddy's are, sadly, all too typical.
"The most devastating part of my job is seeing the toll of this disease on the family," Jones said. "You can accept that Alzheimer's disease is a terminal illness and will slowly destroy the life and personality of its victim. However, what people don't understand is how it oftentimes destroys the life of the caregiver. Studies show us that up to 70 percent of caregivers will die before the Alzheimer's patient – likely because of the stress of caregiving. The Alzheimer's Project cannot solve the problems associated with caregiving, but we can be a support.
We can remind the caregivers that they are not alone and that we care. We provide assistance, love and a much-needed break."
The Alzheimer's Project provides a comprehensive array of services, including information and referral, counseling, support groups, in-home and facility-based respite, caregiver and professional education and training, case management, and the Leon County Project Lifesaver program. Every service provided by the organization is completely free of charge.
It is important for a physician to determine the cause of memory loss or other symptoms. Some dementia-like symptoms can be reversed if they are caused by treatable conditions, such as depression, drug interaction, thyroid problems, excess use of alcohol or certain vitamin deficiencies.
There is no single test that proves a person has Alzheimer's. The medical workup is designed to evaluate overall health and identify any conditions that could affect how well the mind works.
Experts estimate a skilled physician can diagnose Alzheimer's with more than 90 percent accuracy, according to the Alzheimer's Association. Doctors almost always can determine that a person has dementia, but sometimes it can be difficult to pin down the exact cause.
Researchers are studying whether the use of MRI and other imaging methods may be expanded to play a more direct role in diagnosing Alzheimer's. Many studies have shown that the brains of people with Alzheimer's shrink significantly as the disease progresses.
Research also has shown that shrinkage in specific brain regions may be an early sign of Alzheimer's. However, scientists have not yet agreed upon standardized values that would establish the significance of a specific amount of shrinkage for any individual at a single point in time.
The Alzheimer's Association says that although there currently is no cure for Alzheimer's, new treatments are on the horizon as a result of accelerating insight into the biology of the disease. Research also has shown that effective care and support can improve quality of life for individuals and their caregivers over the course of the disease, from diagnosis to the end of life.
Priddy said her experience has taught her a lot, and she hopes others can learn from her story.
"Enjoy every moment with those you love," she said. "Accept them as they are, and love them as much as you can. You never know when each of us could start down the path of destruction that Alzheimer's paves so cruelly."
Contributing writer Triston Sanders is a WCTV news anchor. Watch her televised medical segment, "Health Matters," weekday mornings on "The Good Morning Show" on WCTV.