In His Own Words
Rediscovering a Father's Love By Reading His Journals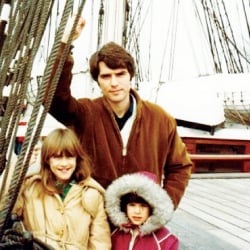 For years, one unmarked, ordinary cardboard box hid one of the greatest finds of my life. The dusty volumes — my late father's personal journals — gave me an opportunity to reconnect with an old friend gone from my life far too long.
Growing up the daughter of a Florida State University economics professor had its advantages, none of which I fully grasped until much later in life. Traveling through Europe became almost routine. And Europe came to our doorstep in the guise of visiting dignitaries and other national treasures. However, the opportunity to share a cup of coffee with the vice president of
Croatia wasn't enticing enough to keep me around. My social calendar was not going to be denied.
The author (in the tan coat) in 1982 with her father and sister, Susan Juhlin, on the historic Cutty Sark ship during a trip to Greenwich, England. Photo by Melissa Gapinski Franklin
A restless rebel, I found myself constantly searching for validation. My dreams for the future changed so rapidly at times I felt a dizzying sense of a loss of purpose, the typical teenager "fish out of water" story. I returned home, begrudgingly, after surgery left me needing my parents and family to aid in my recovery.
The relationship developed with my father during that time was a new and nice surprise. Up until that point he had been Dad: the guy who took me places, put Bactine on my scraped knee and helped me with my math homework.
This new guy was cool. He was kinda dorky, but funny and fun to be around.
My father became my friend.
Snapshots remain in my mind of a life filled with music, chocolate, dancing and laughter. He had a real knack for stringing together more corny jokes than I ever knew existed. We shared beach trips, countless nights in front of the television cheering for the Braves and watching "Perry Mason" reruns.
He was a generous and unassuming man, who never let people call him his much-deserved title of Dr. Gapinski. "Just call me Jim," he'd often say. Many told me my whole life how wonderful a person my father was, and only then did I fully understand how right they were. Being around him made you feel good. His love for life was contagious.
Then the cancer came. It was always there, lurking. We knew it would come sooner or later but maintained cautious optimism as the years passed after The Event. Back in April 1986, Dad's work travels took him to a small town somewhere near Ukraine. And on a beautiful Saturday morning, just a short distance away, the Chernobyl nuclear power plant disaster was about to unfold. A Russian publication titled "Chernobyl" concluded more than 985,000 premature cancer deaths worldwide between 1986 and 2004 were a direct result of radioactive contamination from the meltdown. My father would be one of them.
We weren't allowed to talk about it much, no one was to know — my father feared pity would mar his colleagues' perception of anything associated with him. The silent secret compounded my grief. I learned the hard way that misery not only loves company but needs it in the worst way. We also couldn't say aloud the word "cancer." The dirtiest of words was muttered not once until my father finally decided he was mentally prepared to do battle with the faceless monster that had wedged itself so firmly into all of our lives.
It wasn't the time for him to get cancer. I was pregnant with his first grandchild, my daughter Meredith, and my 30th birthday was right around the corner. I went through the classic stages of grief, offering promises of going to church more, being a better person, putting others first, if only I could have my father for a while longer. But death, like cancer, cared not.
On a quiet night in November 2000, he drew his last breath. And so I began life without my father — my friend. The strength I needed to dig deep and find the courage to go on living without him was something I dreaded I wouldn't find.
But with a stroke of his pen, 11 years later, my friend still speaks to me through the comfort of his written words. It's the journey of my life again, but this time written through a father's eyes. And heart. Amidst many new, entertaining and interesting avenues of my father's life, there is one underlying constant, entry after entry, that can never be denied: I was very loved. And there is no greater gift a father can give his daughter.