Il Lusso Brings 'Metropolitan Feel' to Downtown
Take a seat and get a taste of the big city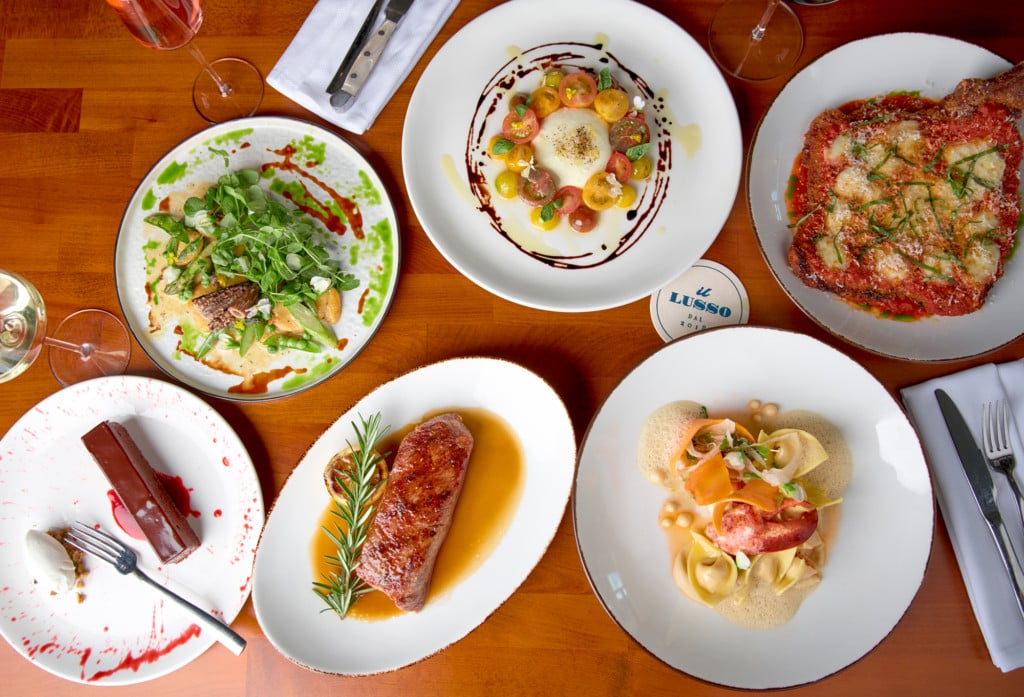 Have a seat, order a drink and gaze with your dining mate out the massive windows. You might get a sense of Atlanta, Chicago or — dare we say? — New York.
Yet you haven't left home.
Il Lusso is a new Italian restaurant that has brought big-city dining to the Capital City. Its central-downtown location offers another option for lawmakers, lobbyists and others who seek a high-end option within walking distance of the Capitol.
"We really wanted to bring a metropolitan feel to downtown Tallahassee," said chef and co-owner Terry White.
Il Lusso is the product of White and business partner Craig Richardson. They're the owners of Sage, a popular Tallahassee restaurant that opened in 2006 on the northeastern side of the city.
Seeing all the changes and construction going on in downtown Tallahassee, they wanted a bite of it. They hired architect Lewis + Whitlock and went to work on the first floor of the building at 201 E. Park Ave., where Park meets Monroe Street.
The duo ended up with a restaurant that Richardson said offers a "classic kind of steakhouse with a mid-century feel, which is coming back — pretty clean and timeless."
At Il Lusso, giant windows meet high ceilings, with medium lighting. In the bar, wood floor meets marble, with hip sofas.
Those components provide a look and feel that trumpets urban chic.
One online reviewer wrote that Il Lusso "has the ambiance of a NYC" high-end restaurant.
Diners look out at buildings, cars and pedestrians, plus tall oaks that hug the downtown Chain of Parks.
"We love our building, the view of the park," White said. "And at nighttime, it's pretty stunning."
Il Lusso opened in December and joined a growing number of higher-end restaurants in or near downtown, including Cypress Restaurant, Shula's 347 Grill, Andrew's, and Savour, which joins Il Lusso as a newcomer.
The restaurant also brings new activity near the Capitol, which sees construction of the Washington Square development and the Cascades Project, both of which aim to include upscale hotels and will change the look and feel of downtown.
"Terry and I wanted to take on a project that would benefit the city that we live in and care a lot about," Richardson said. "We wanted to be the beachhead, if you will, of the new downtown."
Richardson joined White at Sage Restaurant, which touts freshly made food in a casual environment, after a 2011 fire closed the business. They reopened it in 2012.
Sage still carries the French influence of its predecessor, Mon Pere et Moi Café, for which White worked as executive chef before he purchased the restaurant in 2006 and changed its name.
At Il Lusso, White says he focuses on Italian traditions and techniques, some rustic, some more refined, in his pastas and side dishes, which include some French influence.
"I find there's not a lot of places in town that are doing hand-made, hand-filled pastas homemade from scratch," White said. "We really try to raise the bar with the Italian cooking that we're doing here."
Diners can see it happen through another large window that reveals "where all the magic comes from," White said.
"We thought it would be a different experience for the guests to actually see what we're doing, to see the beautiful kitchen that we've created and bring them in to be a part of it," White said.
The owners promote their restaurant as high end but not exclusive. Its spring dinner menu offered veal chop Parmesan for $46 and a 24-ounce dry-aged cowboy ribeye for $75.
It also featured seared scallops or crispy skin salmon for $30 and Seminole squash triangoli for $18.
"We don't scare people off and make people think you have to come in here and spend $300, because you don't have to," Richardson said.
But he said he hopes that diners leave with a feeling that he and White came up with "kind of a cool place to put a restaurant."