Iconic Florida Flora
Palms are us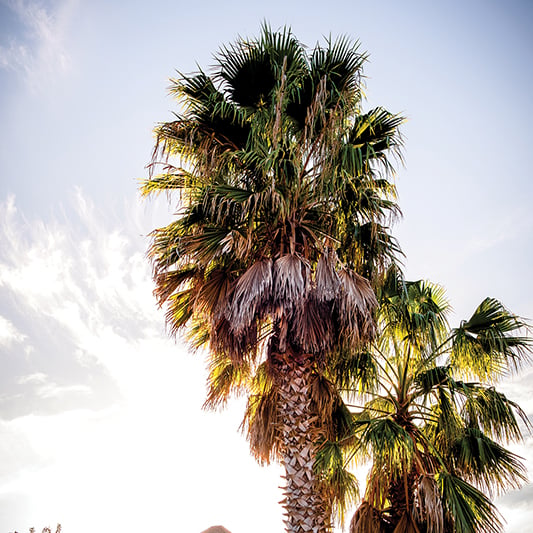 Palm trees swaying in the ocean breeze is an image that comes to the minds of many when they think of Florida, and for good reason.
"There are over 50 varieties of palms that will grow in Florida, from Miami over to Pensacola," says Nate Prosser of Tallahassee Nurseries.
Unfortunately, only 12 or so of those varieties are suited to Tallahassee's climate, which is less moderate than that of other regions of Florida. In the winter, temperatures dip into the 10s and 20s, and many palms fight to survive.
Florida's state tree, the Sabal Palm — otherwise known as a Cabbage Palm — is the species of palm that grows best in the Tallahassee area. According to Prosser and to Timothy Roop of Native Nurseries, the Sabal Palm can be found naturally near the Wakulla River.
Another species of palm that grows well in Tallahassee is the Needle Palm, which can be found near the Apalachicola River and Torreya State Park. Because Needle Palms can grow to be 70–80 feet tall, Roop advises homeowners not to plant them too close to a home.
Some temperature-sensitive palms can be kept on a screen porch or indoors during the winter, and Prosser recommends the Rhapis Palm, or Lady Palm, for this environment. Of course, porch-kept palms are more suited for the hot, humid climate of southern Florida; but with the right care, especially during the winter, these palms can thrive in North Florida.
What does it take to care for a palm? During the spring and summer months, make sure that non-native species are kept inside a screened porch where they can have indirect exposure to sunlight. During the winter months, keep non-native palms inside.
Roop says that "palms need plenty of water to get established," but aside from that, they are easy to care for and grow. Another point in their favor, according to Prosser, is that palms are "fairly insect and disease resistant, especially the native ones."
Prosser notes that while the native palms are easiest to care for, this doesn't prevent other non-native species from thriving. Roop names the Washington Palm as a palm that does well in Tallahassee, but he also jokes that they are not "people friendly," because they have big thorns.
Of course, these are just a few of the several varieties of palms that homeowners can incorporate into their landscaping. To learn about more species or to find out how you can raise palms in Tallahassee, call or visit Tallahassee Nurseries or Native Nurseries.
Tallahassee Nurseries
2911 Thomasville Road
(850) 385-2162
tallahasseenurseries.com
Hours
Monday–Saturday,
8 a.m.–6 p.m.; Sunday,
10 a.m.–6 p.m.
Native Nurseries
1661 Centerville Road
(850) 386-8882
nativenurseries.com
Hours
Monday–Saturday,
8 a.m.–6 p.m.; Sunday, closed regularly, but open during the holiday season