Hydrangeas
Keeping in the Pink … or Blue … or Purple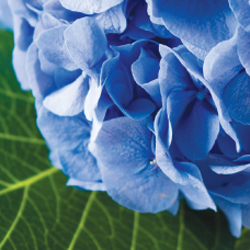 Hydrangeas, one of the most popular flowering landscape plants.
Q: I have some hydrangeas that bloom with pink flowers, but I'd like to mix them with ones that have blue flowers. How do I accomplish that? I've heard that you can control the color but I don't know how. Also, how do I get my hydrangeas to re-bloom?
A: Hydrangeas are one of the most popular flowering landscape plants. The most common, French hydrangea or hydrangea macrophylla, comes in either mophead — ball-shaped flower clusters in white, blue, pink or purple — or lacecap — flat clusters of small flowers surrounded by a ring of larger blossoms. There are other kinds of hydrangeas, including oakleaf hydrangeas with their elongated white blossoms, but if we're talking about pink or blue flowers, we're talking about the French.
The acidity or alkalinity, or pH, of your soil determines the color of your hydrangea blossoms. In general, hydrangeas grown in soil that is acidic produce blue flowers, while those grown in alkaline soil have pink flowers. Soil that's fairly neutral produces blossoms with a purple hue.
You can sometimes, but not always, change the color of your blossoms. Certain cultivars are bred to be certain colors, and no amount of manipulation will change it. For the ones whose flower color can be changed, the amount of pigment in the blossom is a big factor. While you can sometimes change pink to blue, and vice versa, you can't make a white hydrangea any other color. There can also be limitations to the degree a color can change. For example, you can never turn a red
hydrangea blue. You can make it pink or even purple, but you can't make it blue.
The other predominant factor in hydrangea color is aluminum, and this is where the pH factor comes in. Aluminum in the soil is bound and unavailable to plant roots if the pH is alkaline, or a high number. In acidic soil, the aluminum can be absorbed.
It's as though the pink is the default color and the plant must have aluminum to produce blue blooms.
So, first of all, test the soil in your hydrangea bed. Kits and boxes for mailing to the lab are available at the Leon County Extension Office at 615 Paul Russell Road. Do the complete test, not just the pH test. Here's why: Even if your soil is acidic, the aluminum might still be bound and unavailable to plant roots if the phosphorus level is high — and our soils are notorious for having high levels of phosphorus. There's no point in pouring concoctions on your hydrangea roots to raise the pH if the phosphorus is going to keep those flowers from turning blue.
If your phosphorus levels are not high, you can increase the aluminum by generously dousing the soil with a solution of aluminum sulfate and water, 1 tablespoon per gallon. Don't be tempted to mix a stronger solution, no matter what the label says, because it can be toxic to other plants.
If your phosphorus is high and your pH is high, all is not lost. You could learn to love your pink hydrangeas. Or you could grow your hydrangeas in containers or raised beds, planting them in potting mix with just the right pH balance and levels of nutrients and micronutrients. You'll need to fertilize them and water them more often, because potted plants tend to dry out quickly in our heat. Hydrangeas like some shade, particularly afternoon shade, so site your hydrangea pots or raised bed accordingly.
Since you want to mix blue and pink hydrangeas, I suggest planting them all in pots. Use the soil around the ones with pink flowers in the pots when you transplant them to make sure you get the same color.
As for re-blooming hydrangeas, that is determined by the cultivar. Older ones, such as the popular Nikko, bloom on old wood, or stems grown last year. Occasionally, one of these will re-bloom but it's rare. The ever-blooming cultivars, such as Endless Summer and Penny Mac, bloom on both new wood and old wood. If you want repeated blooms, make sure you buy a plant that was bred to do the job.
© 2012 Postscript Publishing, all rights reserved. Audrey Post is a certified Advanced Master Gardener volunteer with the University of Florida IFAS Extension in Leon County. E-mail her at Questions@MsGrowItAll.com or visit her website at msgrowitall.com. Ms. Grow-It-All® is a registered trademark of Postscript Publishing.
Garden chores for May and June
• Fertilize citrus, blackberries and figs
• Plant warm-weather vegetables such as okra, eggplant, peppers and pole beans.
• Keep tomato plants evenly moist to prevent blossom end rot.
• Mulch vegetables, shrubs and flowers to retain moisture and regulate heat.
May 2 The Florida Native Plant Society, Magnolia Chapter, hosts Dr. James P. Cuda of UF/IFAS, who will speak about "biological controls of plant pests or pesky plants" at 7:15 p.m. at United Church of Tallahassee,
1834 Mahan Drive. fnps.org.
May 4 First Friday Lecture Series, "New Plants" by Ed Blissard, landscape designer at Purple Martin Nurseries, noon to 1 p.m., Goodwood Museum and Gardens, 1600 Miccosukee Road. goodwoodmuseum.org.
May 7 and June 4 Tallahassee Edible Garden Club meets the first Monday of each month at 6 p.m. at the pavilion in Winthrop Park, 1601 Mitchell Ave.
May 8 Apalachee Beekeepers meet from 6:30-7:30 p.m., Leon County Extension Office, 615 Paul Russell Road.
May 10 Tallahassee Orchid Society meets at 7 p.m. at Leon County Extension Office, 615 Paul Russell Road. Renowned orchid grower and world traveler Bill Thoms will speak. tallyorchid.org.
May 12 Tallahassee Daylily Society's Annual Daylily Show, Dorothy Oven Park, 10 a.m. to 3 p.m. thsgardens.org.
May 17 Tallahassee Garden Club Plant Exchange and Program, plant exchange from 9:30 to 10 a.m. and program on hostas from 10 to 11:30 a.m. Afternoon plant exchange from 5:15 to 6:15 p.m. The Garden Center, 507 N. Calhoun St., tallahasseegardenclub.com/
May 19 18th Annual Tour of Gardens to benefit Alfred B. Maclay Gardens State Park, 9 a.m. to 5 p.m. Tickets are $25 and include admission to the park, breakfast at the park with silent auction and plant sale, then a self-guided tour of privately owned gardens in the Tallahassee area. Call (850) 487-4115 for more information. friendsofmaclaygardens.com/ Tenth Anniversary Demonstration Garden Spring Open House at the Leon County Extension Service, 615 Paul Russell Road, 9 a.m. to noon. Self-guided tours of vegetable gardens, landscape gardens, rose gardens; displays and information on micro-irrigation and water conservation; Florida Friendly Landscapes; attracting bats, birds, butterflies and bees; and creating floral designs from your yard. Master Gardeners will be available to answer questions. (850) 606-5202.