How You Can Get That Long Lasting Salon-Style Hairdo
How Salons Get That Long-Lasting Style and How You Can Do it Yourself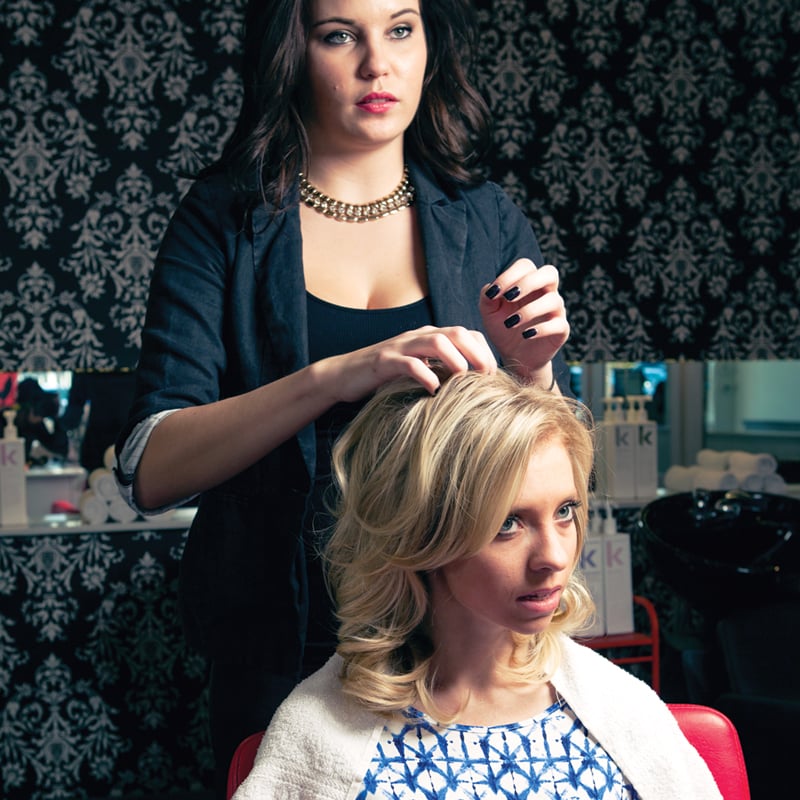 Once upon a time, your grandmother used to have a standing weekly appointment for a "shampoo and set," using satin pillows and scarves to make those curls last between visits to the beauty parlor.
With the advent of the blow dryer in the 1970s — followed by innovations such as hot rollers, curling irons and flat irons — most women began doing their hair at home. Salons were reserved for cuts, color and perhaps the special occasion.
But like so many things, what's old is new again, and the salon visit and long-lasting hairstyle is back in vogue.
Matt Burke
The modern "pin-curl" adds volume to a hairstyle using a blow dryer and a vented metal-barreled brush.
With proper shampooing, products and care, a blow dry can can last three, four and even five days to a week between shampoos. Many salons in town are jumping on the blow-dry bandwagon, offering no-appointment-needed convenience. Haute Headz salon has a blow dry "menu" with hairstyles starting at $35, says co-owner Monique Wood.
The important first step is using a clarifying shampoo that will break down dirt, oil and hair products and wash them away. Once the residue out of the products is washed away, you can start with a clean slate. The trick then is to use products — treatments, protectants, mousses and hairsprays — that will help hold the style without weighing down your hair.
One of the biggest "secrets" to prolonging a style is dry shampoo, which essentially soaks up oil on the scalp and refreshes the smell of your hair. All salon lines, such as Redken, Bumble and Bumble and Paul Mitchell, have some version of dry shampoo — usually in a powder or spray form — and it's popping up in store brands like Dove, Tresemme and L'Oreal too.
Finding the right kind of dry shampoo for your hair type is key to prolonging any style. Depending on how oily your scalp is, on day two or three you can refresh your blowout with dry shampoo and a hair dryer.
Take a look at the Complete blow out process:
Story continues below…
"I can't make my hair look as good as when it's done by the hairdresser" is a common lament among women, and in some ways, it is true. Stylists are always refining their techniques and tools and can hold the dryer at angles that are impossible to do yourself.
But, says Wood, your hairdresser should be showing you how to best work with your hair's type (thick, fine, curly, straight, coarse, etc.) and style. And she's willing to share a few tips to help you get a salon look at home.
Start with a "rough dry," she says. For some women, this can mean getting the hair about 80 percent dry just by blowing hot air on the roots while working the hair with the fingers.
Another salon technique you should be doing at home is "sectioning."
Matt Burke
Stylist Kendall Maxwell tells her client, Rebecca Padgett, how to keep her hair looking salon fresh.
If you're not putting sections of your hair up and blow-drying one section at a time, your drying isn't that effective because you'll be heating the top of your head over and over while the bottom part's not getting styled. That's directing heat right to the top of your head that's already affected by the sun's UV rays, essentially frying your hair.
The blow-drying technique is also important. Basically, you should pull hair taut with a brush, aim at the roots first to give lift, and blow air from above and below.
Wood says it is also important to work on sections of hair no wider than your brush and to move the airflow from the roots to the ends. "It helps close the hair's cuticle and make it smooth and shiny," she says.
Brushes are also important and a popular and easy-to-use option is brushes with metal, vented barrels. You can create curls and your style will hold better because the metal is heated up by the hair dryer, an effect similar to a curling iron. Boar bristle brushes are another favorite, although drying will take longer if you use them.
Even the best techniques and brushes can be negated if you don't use a nozzle on the end of your blow dryer to concentrate the airflow and keep the hair smooth as you direct the air on a smaller path.
Another key to a long-lasting style is to make sure your hair is completely dry. "There should be no dampness," Wood advises. "When you think your hair is dry, keep on going for three to five minutes longer."