How to Ring in the New Year With the Kids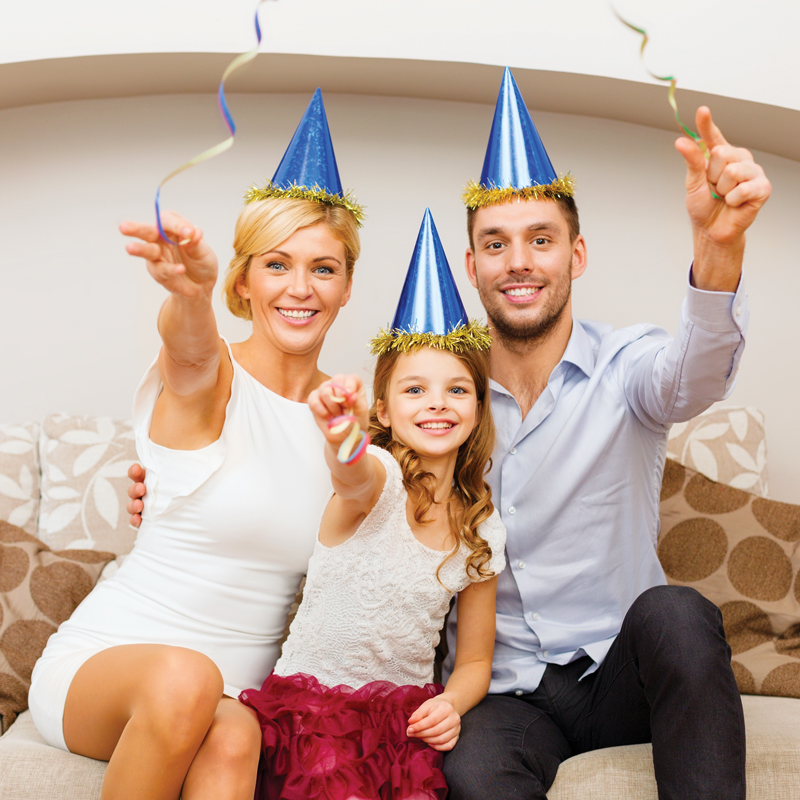 If you're spending New Year's Eve with youngsters, why not enjoy it? Instead of driving yourself crazy trying to book a babysitter on the most popular night of the year, make it an exciting time for your children. After all, how many more years are they going to want to stay in and celebrate with you? To ensure a fun celebration for them (and keep you sane) here are some tips on how to party with the youngsters.
---
Midnight or 'Midnight'?
Unless your children are teenagers, you may not want them to stay up until midnight (cranky kids do not a fun New Year make). Instead, let them stay up an hour past their regular bedtime and pick a different time zone that correlates with that time. That way, the celebration is still special for them and they get to be a part of the whole shebang.
Duo Kathleen Brennan and Claude Hendon have dubbed their party "New Years at Nine." This married couple knows how to throw an amazing event — and be in bed by 10.
"It came as this huge flash of insight," Brennan reminisced. "Time is different all over the place, so let's just say it's midnight and treat it like that. They don't know any better, they can't tell time. What they want is the buildup and the party and the countdown."
Complete with sparkling apple juice, noisemakers, fireworks and a kid's craft table, this party is the place to be on New Year's. Try throwing your own party this year, and make sure it's a hit with some advice from the party-planning duo.
"With multi-age parties, keep little ones in mind," said Brennan. "We always have crafts and toys that they can safely do on their own or with minimal supervision."
Get Fancy
Just because you are staying in doesn't mean you have to celebrate in sweatpants and a slouchy tee. Why not get dressed up? The kids will have a lot more fun if they are wearing sequined clothes and party hats. A special night requires a special wardrobe!
Arts and Crafts
Keeping kids entertained with various art projects will keep them out of your hair. Make decorations for the house, such as streamers, your own countdown ball or noisemakers (a hallmark of New Year's celebrations), even party hats. Break out the glitter and glue, there is no such thing as too much sparkle on New Year's!
Pop Bottles … of Fizzy Grape Juice
Let the kids in on the fun. Use fancy glasses and pour fizzy fruit juices in them. Find recipes for mocktails and use sparkle sugar to rim your glasses. Kids of any age will have fun pretending they are grown up.
Record the Year
Go through memories of the past year and write down your favorites, then read everyone's memories aloud. Write down favorites from the year (animal, color, etc.) and put them in a time capsule with other goodies to open next year and see what has changed. Record your child's hopes for the New Year and help to make them happen. Chronicling these moments makes for everlasting memories.
Fun and Games
Play board games, sing karaoke or play charades. Listen to your inner child, what did you like to do when you were a kid? Make a night of it, go outside for cocoa and stargazing, or camp out inside with forts, movies and microwaved s'mores.
Countdown
Make the countdown fun and keep the kids interested with something special every hour. Fill balloons with glitter or confetti and pop one on the hour, or make activity bags with a new fun activity for every hour of the countdown.
New Year's Eve is a time to reminisce about the memories of the past year but also an opportunity to make some new ones. Whatever you decide to do this New Year's, make sure it's worth remembering.