How To: Pick Up A Pen It's Time To Begin
Advice for Sharing Emotions Via Lyrical Expression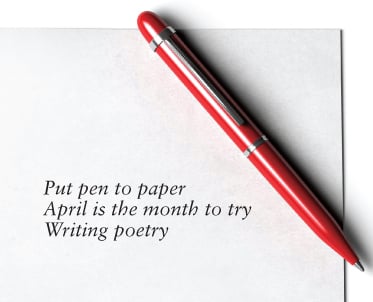 April is National Poetry Month and offers a chance to explore the rich heritage of poetry and poets throughout history. Perhaps it will even encourage the poetical neophytes among us to get in touch with their inner bard.
Getting started can appear to be a daunting task. If hesitant, there are some things first-time poets should take into account, says Florida State University English professor David Kirby. A prizewinning poet whose most recent book of poetry is "Talking About Movies With Jesus," suggests that the first step should be to sit down and do some reading. "It's easy and cheap these days. You can go to the library, or there is so much poetry online that you don't even have to stir from your desk."
Kirby, who is married to another poet and FSU professor, Barbara Hamby, also suggests joining a group like the Tallahassee Writers Association. "If you can get three, four, five people in a group just writing poems and passing them back and forth and getting suggestions, that's the best way to learn how to do it," he advises.
Kerry James Evans, a Tallahassee poet and poetry graduate student at FSU, said the best way to get started writing is "to get out and live. I can't sit down and write a poem if I don't have anything to say."
In all its forms, poetry serves chiefly as an expression of emotions. Evans agrees poetry has many roles in society, but "it's to delight. It's to surprise." The biggest key to starting is that a poem "should still maintain an element of surprise. It should live and breathe, and it should be fun just as much as it should be political and serious."
There are more than 100 recognized styles of poetry, and the possible variations are really endless. Poets use language and structure variations to create the different forms. Each style has its own guidelines for the number of stanzas and syllables and a combination of metaphors, similes and prose. Some that are popular are limerick, Haiku, ballads and rhyme.
The opening of this article was a Haiku, which is written with a syllable structure of 5-7-5. Due to Haiku's Japanese roots, the focus is usually on nature.
Ballads are stories in poetic form and often have a melodic, repeated chorus.
Limericks are meant to be funny and follow a structure of five alternating lines of rhyme. Shakespeare often wrote limericks and included them in his plays. This is an example from Othello:
"And let me the canakin clink, clink;
And let me the canakin clink.
A solider's a man; A life's but a span;
Why, then, let a soldier drink"
In addition to novels and other forms of prose, Mark Twain wrote poetry, mainly using a combination of structured styles and free form that allowed him to express a satirical take on everyday occurrences, such as this lament on bill paying that still resonates today.
These annual bills! these annual bills!
How many a song their discord trills
Of "truck" consumed, enjoyed, forgot,
Since I was skinned by last year's lot!
Those joyous beans are passed away;
Those onions blithe, O where are they?
Once loved, lost, mourned — now vexing ills
Your shades troop back in annual bills!
And so 'twill be when I'm aground
These yearly duns will still go round,
While other bards, with frantic quills,
Shall damn and damn these annual bills!
With so many forms of poetry it can be hard to decide which to write and even harder to get started, but Kirby and Evans both agree on a few key points. Reading poetry, lots of poetry, is the key to developing an appreciation for the art and finding a style that is comfortable. But the best way to start is to just sit down and begin writing.