How to Make Homemade Potato Salad
Just Like Mom (and Grandma) Makes It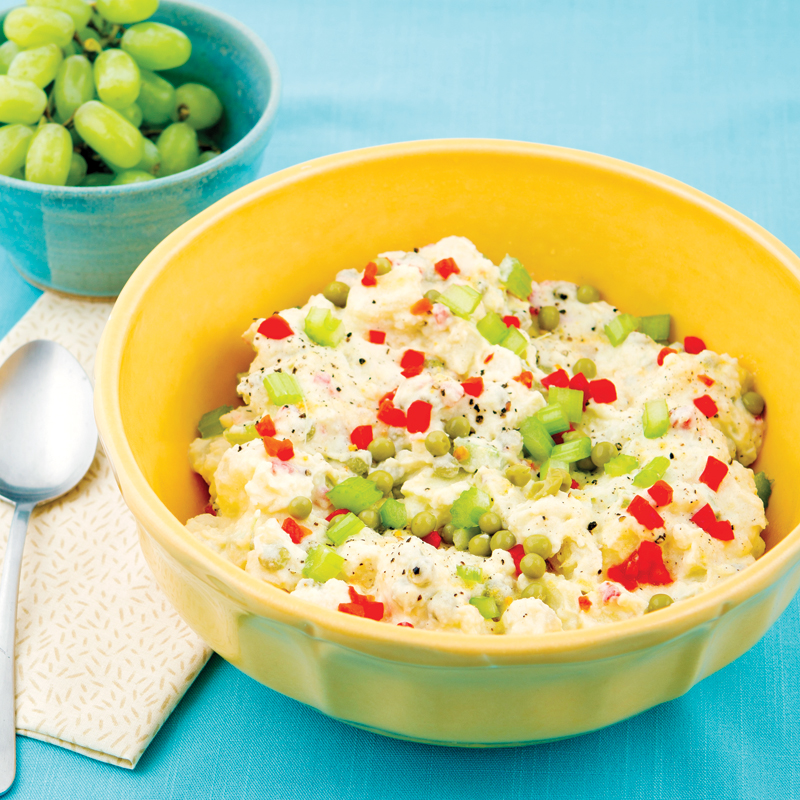 Potato salad is one of America's favorite casual side dishes, especially in the summer when we serve it up at barbecues, cookouts, pool parties and more. While it is certainly an all-American classic now, this starchy side has its origins in Europe, where many versions of the dish exist.
After the Spanish brought potatoes back from the New World, most sources point to Germany as the first country to turn these new crops into a salad. German potato salad is served warm with a dressing of vinegar, onions and bacon drippings, rather than the mayonnaise most American families know. The French, rather than using vinegar, made a full vinaigrette with vinegar, Dijon mustard and sweet tarragon. The Greeks are known to serve their potato salads warm with garlic, lemon and olive oil. If you're getting bored with your approach, perhaps give another country's take a whirl.
Potato salad as we know and love it here in the United States has its origins in the late 19th century, when European immigrants adapted their traditional recipes to use local ingredients. Mayonnaise first made its appearance in the recipes starting in the 1940s. Now, cooks add such garnishes as hard-boiled eggs, mustard, celery, pimento, onion, parsley and chives, depending on tastes and preferences.
This family recipe goes back to my grandmother. The mayonnaise is homemade and uses raw egg. The egg should be cooked by the acid in the lemon juice, and I can confirm that everyone in my family is still alive and well with no death scares, but those leery of raw eggs are welcome to use store-bought mayonnaise (if possible, give the olive oil-based mayo a try — the flavor is surprisingly different).
---
My Grandmother's Potato Salad
Salad
4 cups potatoes, cut in 1/2 inch squares

1 onion

1 apple, cut into 1/2 inch squares

1 cup mayonnaise (homemade)

1 jar sliced pimentos

1 small can early peas

1 cup celery, diced
Mayonnaise
1 raw egg

1 teaspoon lemon juice

½ teaspoon ground mustard

1/8 teaspoon ground pepper

1 clove garlic diced very fine

1 cup olive oil
Mayonnaise Preparation
In a blender, place egg, mustard, pepper, garlic and lemon juice.
Pulse to combine. Add olive oil in slow, steady stream until thickened. Chill until cold.
Salad Preparation
Peel and boil the potatoes, adding salt to taste, until just cooked. Chill the potatoes with the onion (quartered) to flavor them. Remove the onion once potatoes are completely cold. Combine the potato, apple and celery in a large bowl. Stir in mayonnaise. Chill until serving. Just before serving, garnish with pimento slices and early peas.
Stay Safe
Potato salad is a staple for outdoor dining, but it's also vulnerable to bacteria growth. While mayonnaise is usually blamed, potatoes that aren't immediately chilled after cooking can be a source of contamination, too. Carry potato salad in a well-chilled cooler that's stored out of the sunlight until serving time. The rule of thumb is that potato salad should only be left out for a maximum of two hours — and that drops to one hour if the temperature is above 90 degrees.