How The Arts Has Perfected Pandemic Pivots
The pandemic has dramatically affected musicians, orchestras, performers and artists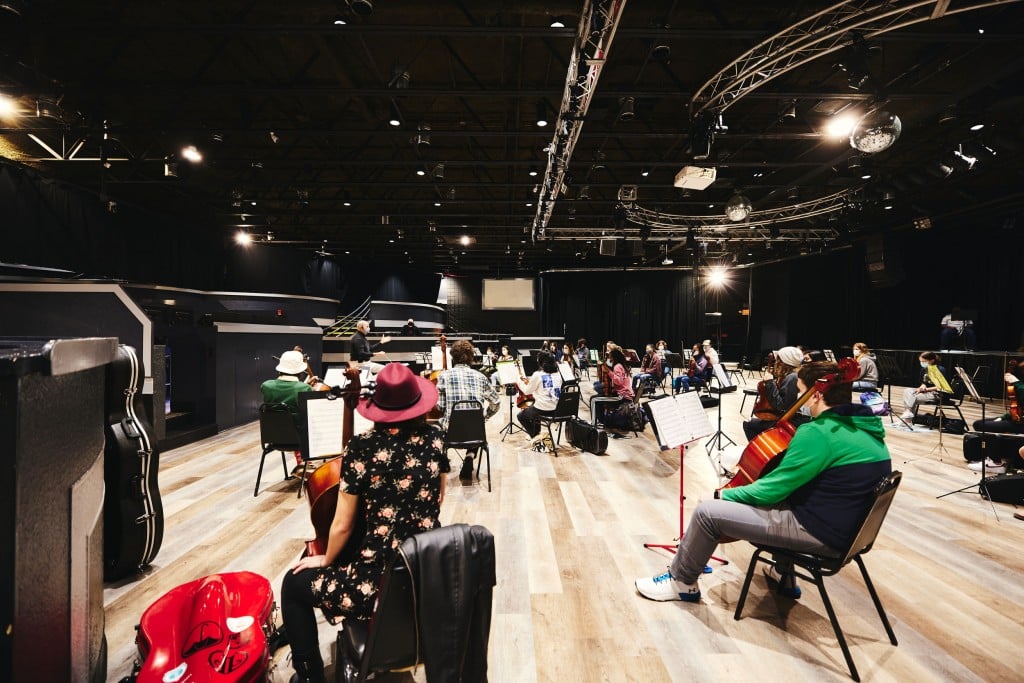 Betty Proctor began Obsessions Gifts in Railroad Square as a way to connect with her daughter, Nijah. Their small storefront showcased handcrafted items, and Betty looked to help Nijah, who is autistic, develop an interest in arts and crafts and gain entrepreneurship and communication skills.
"We have the gift shop, and we were doing arts and crafts workshops," Proctor said. "People were starting to recognize us — and then it just fell apart."
Increasing foot traffic to the shop produced optimism that was then suddenly dashed by the pandemic. Betty quickly developed a Plan B, however, turning to the sewing skills that she had learned from her mother. In turn, Betty trained Nijah to sew facemasks and jean purses.
The Proctors received help from art therapy students at Florida State, who are leading workshops.
"We started taking the workshops outside on our patio," Proctor said. "We're being safe. We're taking temperatures. We have hand sanitizer. We're social distancing. We're being safe and doing the workshops. We are offering them because people need something to do. Offering them online and in the shop. That's something that is keeping us going."
The pandemic has challenged small and large businesses and dramatically affected musicians, orchestras, performers and artists. They have all needed to find ways to move from a world that featured theaters, auditoriums and venues with every seat taken to one where social distancing has often ruled out live audiences.
If Zoom and FaceTime kept you connected to family and friends, live-streaming has been the lifeblood of musical groups and performers. The Tallahassee Youth Orchestra began rehearsing at The Moon, where owner Scott Carswell has been "fantastic" at rearranging the venue, said TYO's Jeanette Edwards.
TYO was able to accommodate a full group of 81 students in the fall for its concert series, which featured a variety of events (including a holiday performance in December). All of them were live-streamed on Facebook and available on demand. As a result, family members from around the globe have been able to watch.
"Our first concert was just amazing because it allowed us to share the concert with people that normally wouldn't be able to come," Edwards said. "We had people from different countries and all over the U.S. watching our concert. Grandparents that had never been able to watch a concert were able to watch. It was really neat."
Organizers were also able to separate the music students at The Moon so they could comfortably perform. Seven cameras at various locations allowed for sections of the orchestra to be featured without anyone being ignored.
"We have to adhere to the best information out there for distancing music students," Edwards said. "We've capped the number of people based on room size so that we can safely spread the kids out and clean between performances. We have kids who come every week, and their parents are just so grateful. It may be the only thing they're doing outside the house this year."
For countless people, going outside has been a welcome option when the weather allows. When the temperatures are comfortable and there's no rain, making music in the sunshine has provided performers with a breath of fresh air and much-needed income.
"I started playing retirement homes during the week for extra money a few years ago," musician Corey Johnson said. "Two of them started having me back in the summer because it was outdoors. I was far enough from the residents."
Johnson said a number of his winter bookings were postponed as outdoor events were scuttled due to colder weather or rain, illustrating the challenges many musicians have faced. He and other musical groups have also weighed the expense of driving to St. George Island to perform there.
Tallahassee Community College opted to stay indoors and was able to bring the classic "It's a Wonderful Life" to virtual life with a live-stream performance. The 11-member cast, featuring nine students and two alumni, offered a performance for a $12.95 streaming fee, which will help fund the school's future theater productions.
In an otherwise closed auditorium, performers stood at microphones, spaced out across the stage. Some even wore masks when they didn't have lines or weren't singing. It was very different, but the show must go on.
"I think a lot of performers are aching in these times to just get up and get to do their craft. It is live theater," said producer Eva Nielsen, the director of theater at TCC.
"Performers feed off that audience response. It is hard, but we just do what we can to somehow make the best out of what the situation is. I think the community is doing an excellent job."