How Midtown Became An Urban Dreamscape
A Glance Backward and Fast-Forward, Slowly, Please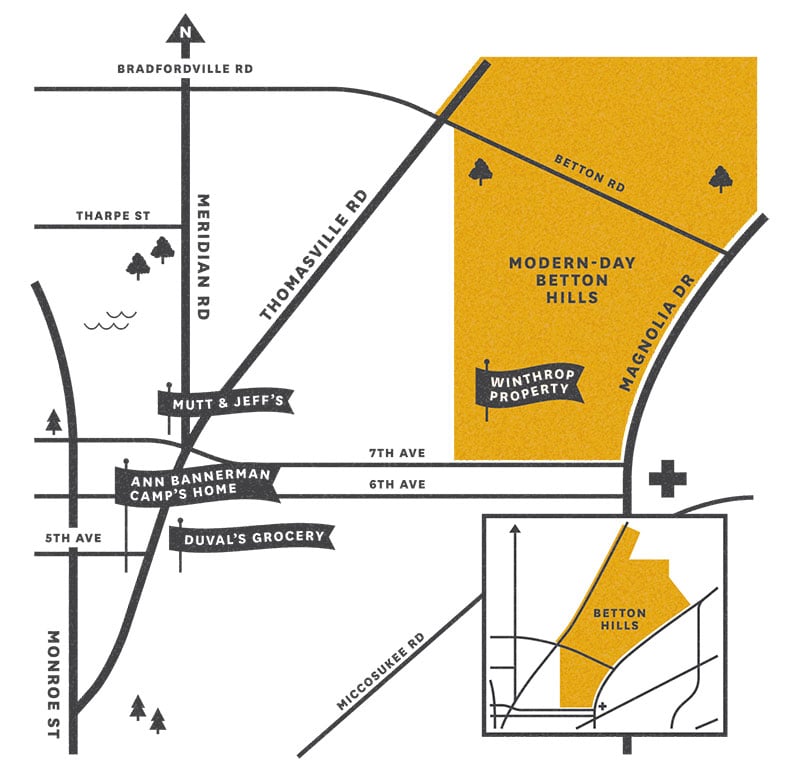 In our search for an ideal community, there's no need to go to the drawing board. In the heart of Tallahassee, the area now called Midtown is what urban planners strive to create: a living, breathing community where businesses and homes rest happily side-by-side. It's no contrived development but one that's evolved since the turn of the 20th century.
How fitting it is that an enthusiastic, visionary group of entrepreneurs realizes that with a bit of direction, what has developed spontaneously as a living and working community can surpass the efforts of the most creative urban planners and architects. Diverse architectural styles — Arts and Crafts, Bungalow, Colonial Revival, Spanish Revival, Mediterranean Revival — are a natural occurrence in Midtown, and many buildings have been spared from thoughtless destruction. Both the "natural" and the "built" environments have created a compatible diversity through the years.
Within this architectural mix is an equally diverse blend of colorful, interesting people who have lived and worked here. They spanned the income scale and formed the core of the community during each decade. What a mix it was — and is. Memories are abundant. Although it would take a book to adequately recognize all the folks who lived and worked in my immediate neighborhood — a small part of what is now designated as Midtown — a few individuals stand out as reminders of those who contributed to the business and residential community.
I grew up on the corner of Thomasville Road and Fifth Avenue, where the new Manor@Midtown is being built. My telephone number was 826. It was my privilege to witness and participate in the leisurely, gracious lifestyle that sociologists would describe as ideal.
My grandfather, William Tennant Bannerman, was first to sign a petition allowing Ralph Duval to build Duval's Grocery. The store was quite upscale for the time, on the site where Whataburger is now. Eventually, T.B. Byrd bought the business, which flourished until the 1960s. How nice it was to walk across the street from my house with my mother's groceries or to call in an order that they charged and delivered.     
Probably the only remaining continuous business is now the Paradise Grill. To the best of my knowledge, it started out as The Little Dipper, became Blue Heaven and then Mutt and Jeff's. Slaw dogs are still served at the current business in honor of Arthur Pichard and Jeff Dubose — the original Mutt and Jeff. The Chez Pierre restaurant was the home of Fred Carroll, who owned Capital City Ice Company and delivered ice in the days before widespread refrigeration. His wife, Clara, helped establish the Garden Club of Tallahassee. She made sure her yard was a fitting tribute to a variety of plant life.
Around the corner on Lafayette Circle off Sixth Avenue, Marguerite Steinmeyer taught piano. Many students went on to find successful careers in music after realizing piano lessons could actually be fun. The tinkling ivories wafted lovely melodies that could be heard in my house when our only air conditioners were wide-open windows.
Lucius Adolphus Yates, owner of Yates Grocery Company, a wholesale supplier, built his Thomasville Road home on the site that now houses an oil-changing business. He proudly owned the only private pool in town, which he generously shared with children and teenagers in the neighborhood.
All the young people in our neighborhood anticipated the few glorious days — usually in the spring and summer — when one of the two paved streets, Seventh Avenue or Williams Street, was blocked off by the city to provide a place for roller skaters to hone their skills. What a change from trying to skate in streets made of nothing more than packed red clay.
Many homeowners had detached garages with second stories that were used as garage apartments and often rented to young married couples or single professionals. Jack Culpepper, founder of the still-flourishing Culpepper Construction Company, had one of these on his Fifth Avenue property, as did Frank Winthrop on the corner of Third Avenue and Thomasville Road. His home now houses the Tallahassee Ballet and The Parlor.
Farther north, the Winthrop property, later developed as Betton Hills, was known as Horse Hill and provided many courting couples a place to "park." On moonlit nights, the hills were packed with cars. In the neighborhood, rental properties stood proudly beside those of homeowners, and many owners of fine homes rented rooms and served meals to a more temporary population. Mrs. Ethel Bell, whose lovely home sat where the Waterworks is now, was one of those who did so.
Even then the value of mixed land and home use was apparent. Monroe Street, always a bit ahead of Thomasville Road in commercial development, was home to both Tully's and Gatlin's stores. These predecessors to today's quick-stop stores offered a little bit of many kinds of merchandise, and many proprietors lived next to the businesses. It makes just as good sense today for innovators Julian Mathis and Phil Summers to live happily above the Midtown Design Center. A great old idea — creating a sense of community and reducing urban sprawl — is reborn.
How fitting that Midtown is enjoying a revival as the successful living and working environment it has always been. What was once one of the most beautiful and successful mixed-use areas in Tallahassee is enjoying a renaissance. Those of us who have been a part of its history applaud the effort. What has worked for more than a century is bound to be successful again.