How an Austin Expat Finds Romance and a New Town to Call Home
Not Quite Love at First Sight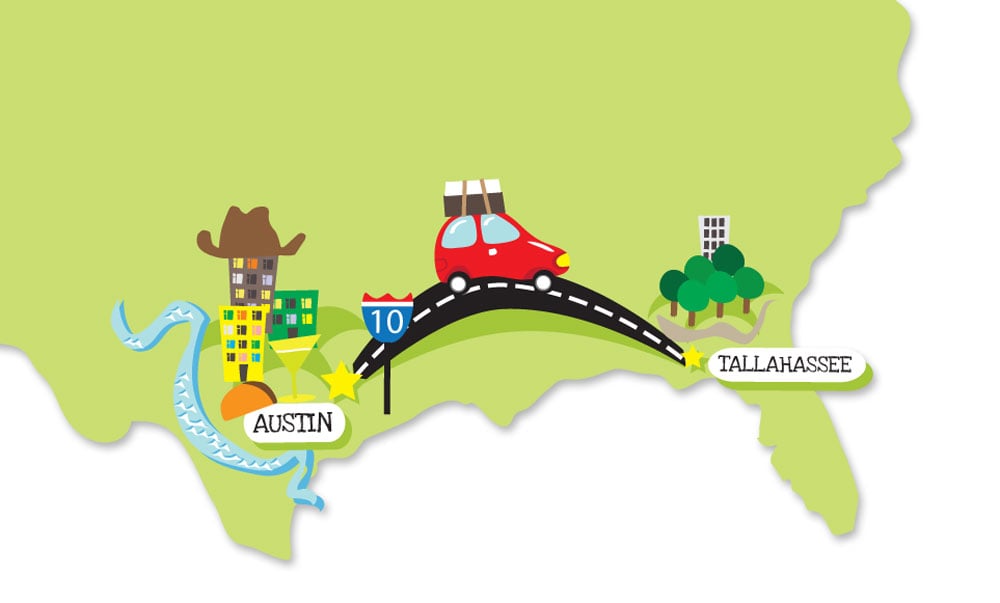 It was a Super Bowl Sunday, and my father and I were on the last stretch of a cross-country drive on Interstate 10 from Texas to Florida. I was 21 and had abandoned my last semester of college for an internship in a city I knew nothing about: Tallahassee.
We found our exit and cruised down an empty Tennessee Street, past shiny car lots, an eerily quiet Florida State University campus, and onto Monroe Street and the white columns of the old state Capitol building. I turned to my father and asked incredulously, "Is this it?"
I couldn't believe the tiny four-block area of darkened two-story buildings could possibly be the city's downtown. Where were the people, bars, clubs, shopping and restaurants?
I was born and raised in Austin — Texas' capital city, and a thriving metropolis of 1.7 million people known for its nightlife, dining, internationally acclaimed music scene, unique culture and bustling downtown.
Austin has Sixth Street, a six-block stretch of bars and clubs known for its eyebrow-raising debauchery. Tallahassee has three bars on West Tennessee Street.
Austin's South Congress Avenue is a beacon of shopping, restaurants and boutique hotels that A-list celebrities frequent.
Tallahassee's North Monroe Street has strip malls, car repair shops, sports bars and the occasional good restaurant.
I spent four months reporting on the 2005 legislative session for the Florida Times-Union. By the end of my internship, I had secured a Tallahassee boyfriend, but leaving town in May to move back to Texas, I privately swore I would never live in boring Tallahassee again.
Four years later, I'm on another Interstate 10 road trip from Texas, this time with my mother behind me driving a U-Haul. My Tallahassee boyfriend is now my Tallahassee husband, and he did what Florida governors Jeb Bush and Charlie Crist could not: convinced his wife to move to Tallahassee full time.
My first morning as a permanent Tallahassee resident, I woke up with tears in my eyes, thinking about all the reasons why my new hometown was lacking.
I ran almost daily on Austin's popular hike-and-bike trail, which outlines the river that winds through downtown Austin and offers pause-worthy views of the Hill Country and the skyscrapers of downtown. There are also amenities such as free water stations, bathrooms and nearby restaurants for a post-run margarita.
In Tallahassee, I was facing a humid run, lugging a heavy water bottle along a gray sidewalk with views of the traffic on Capital Circle.
The city didn't have my favorite clothing store (Anthropologie) or a running store. I missed the sweeping vistas of Austin's Hill Country. Many local running races were poorly attended and lacked volunteers or cheering spectators.
Trail running left me unsettled. I felt as if I was on the brink of being kidnapped.
My favorite bands never traveled to Tallahassee, there were no large music festivals, and finding a place to watch a Texas Longhorns game on TV is next to impossible. Don't even get me started on Tex-Mex, and the appalling lack of breakfast tacos, good queso or horchata. (Note to Mexican restaurants: just melting cheese is not queso.)
But as the months wore on, my perspective began to change. We bought a house in SouthWood, a neighborhood I love, with plenty of running trails and a large park. There was no Hill Country, but there were tall trees dripping with Spanish moss. I discovered Urban Thread, a store that sells catalog returns from Anthropologie. A new running store called Capital City Runners opened in October.
I accepted that while Tallahassee's races were smaller and had fewer volunteers, that also meant I actually had a shot at placing in my age group! I got third place in my age group at the Wakulla Springs 5K and second at the Tails and Trails 10K.
I learned to love Tallahassee's local cuisine. There may not be Tex-Mex, but Bella Bella has its bubble bread, Samrat makes a mean Tofu Matar and Riccardo's pizza is divine.
Once I got over my fear of kidnapping, I learned to appreciate the beauty of the sky-kissing trees, peace, tranquility and rolling pastureland of the Miccosukee Greenway. It's now my favorite running spot, even rivaling Austin's hike-and-bike trail.
And I have found one irreplaceable thing this city offers: my lovely husband, who wipes my tears when I cry, tolerates turning our office into a shrine to Austin, and without a doubt makes the best Tex-Mex in Tallahassee.