Houck on Humility and Humanity
A scholar of Civil Rights history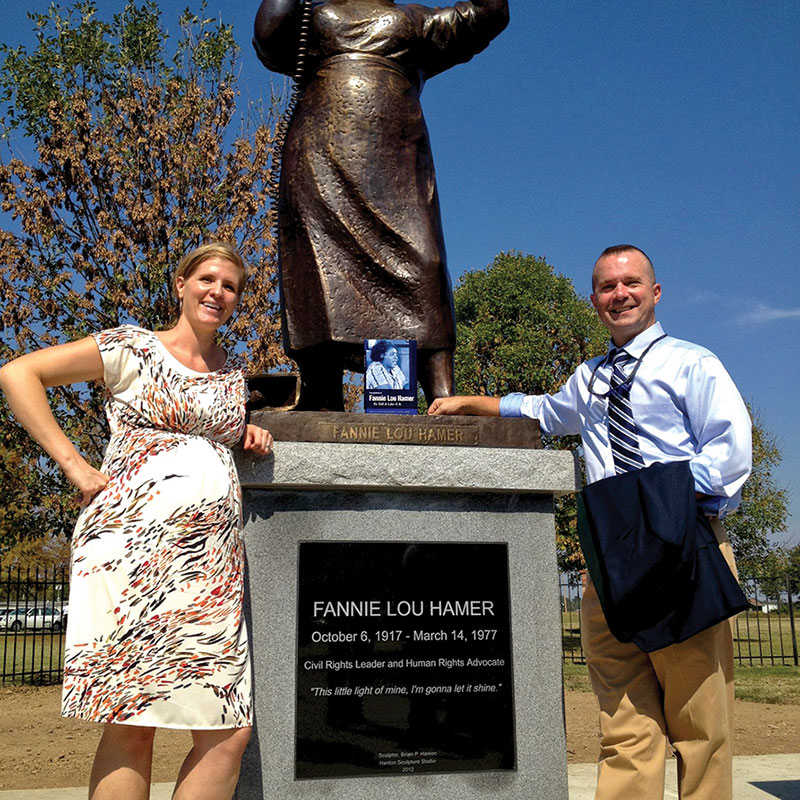 As a scholar who looks into the past to better understand the present, Dr. Davis Houck believes in the power of words to propel movements and shape history.
A professor of communications at Florida State University, Dr. Houck embraces the detective work that comes with studying history and rhetoric. He often drives hundreds of miles to small towns across the Mississippi Delta to conduct interviews and to comb through troves of "dusty and musty" research papers in what he calls, "a treasure hunt."
Over the years, Dr. Houck has built an academic career out of researching a historic period that tested America's soul: the Civil Rights Era of the 1950s and '60s.
Fresh from a year-long sabbatical, Dr. Houck taught on "Race and Rhetoric in America" over the fall. In class, he pushes his students to unravel the "master narratives" of the Civil Rights Movement, with a focus on Mississippi — the heart of the Jim Crow South.
Dr. Houck's approach to teaching such a difficult subject has been shaped by honest self-reflection and humility, which are traits he derives from long-held Christian beliefs.
"It's easy to be condemnatory and think, 'How could they be so stupid?'" Dr. Houck says. "It's like, 'Well, let me walk in their shoes to try and understand this.' … I'm guessing if I was born in that climate, I would be one of them."
Having been raised in a family of engineers, Dr. Houck never imagined a future in academia. He says that the "cosmopolitan campus" at the College of Wooster in Ohio nourished his curiosity as a young man and led him to take his first black history course as a freshman in the fall of 1985. He read "The Autobiography of Malcolm X" from cover to cover in one night.
He graduated four years later, with a degree in speech communication, and went on to earn an M.A. in rhetoric and communication from the University of California, Davis in 1992 and a Ph.D. in speech communication from Penn State University in 1995. Though Dr. Houck initially researched presidential rhetoric, his interests soon returned to civil rights history.
"That's the cool thing about this particular job … that you can reinvent yourself," Dr. Houck says. "Being in a major research university with colleagues from all over the world, if you're ›› at all a curious person, your research is going to morph and change."
Dr. Houck has taught at FSU since 2000 and has established himself as a leading scholar of civil rights history. He counts his friendship with Lawrence Guyot, a prominent activist who fought for the voting rights of blacks in Mississippi in the 1960s, as one of his greatest treasures. Before Guyot passed away in 2012, when Dr. Houck fielded a question in class that he couldn't answer, he would simply call Guyot and put him on speakerphone for everyone to hear.
On campus, Dr. Houck is working with Strozier Library's Special Collections and Archives Division and with author Devery Anderson and filmmaker Keith Beauchamp to establish the Emmett Till Research Collection: an accessible archive that is devoted to Till, who, in 1955 and at the age of 14, was kidnapped and lynched in Mississippi after allegedly flirting with a white woman. Till's death and the trial that acquitted the two white men who were charged with murdering him was widely publicized and served as an impetus for the Civil Rights Movement.
The Emmett Till Research Collection will feature newspaper coverage of Till's death and murder trial as well as court records, oral histories and materials from an FBI investigation. Dr. Houck hopes that access to these records will encourage students to act as shepherds to preserve the stories from the Civil Rights Era.
"We need to write the history in its most fulsome way," Dr. Houck says, "which is the good guys, bad guys and the guys in-between, because that was American history."