Hot and Cold in Northwest Wisconsin
Beat the Heat and Humidity — and Enjoy Year-Round Nature and Hospitality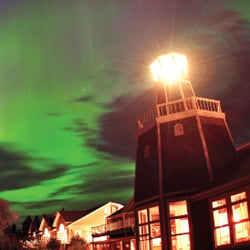 Dustin Scholl
Northwest Wisconsin, enjoy year-round nature and hospitality
While our home state's attractions and weather remain fairly constant throughout the year, I was given the unique opportunity to enjoy two very different vacation experiences in the same place — Northwest Wisconsin — by traveling there in the winter and the summer.
The pleasures during my warm-weather vacation included biking, hiking, paddling and visiting historic sites. The highlight of my winter trip was a snowmobiling adventure through Wisconsin's Northwoods region. In the summer, I ferried over to Madeline Island in Lake Superior. In the winter, I made the trip via snowmobile over an ice bridge, truly a once-in-a-lifetime experience.
Read on and pick your favorite time to visit. Better yet, try both!
Hot
We all know how challenging Northwest Florida can be during the summer months. That blanket of heat and humidity covers the Tallahassee area with nonstop 95-degree heat and 95-percent humidity for three to four months. A nearby escape to the coast can be difficult, with areas inundated by tourists from throughout the Southeastern U.S.
When you're planning this summer's vacation at the shore, try another state's Northwest region — Wisconsin. The state's Lake Superior area is a hidden gem full of outdoor activities, history, sports and so much more, just waiting to be discovered.
This region's history is found in and defined by the expanding timber industry of the late 1800s, which was centered on the western edge of the mighty Lake Superior. It has been a family and outdoor enthusiasts' destination for generations of Midwesterners seeking recreation and year-round adventure.
Summer recreational treats include a visit to the sea caves of the Apostle Islands (below left) or taking a swim off Madeline Island, the only Apostle Island with year-round residents.
Many a winter the National Weather Service reports that Duluth, Minn. (just across the river from Superior, Wisc., and the most logical airport to fly into when visiting) as the coldest spot in America. And for Midwesterners, that's when the fun begins, as ice fishing, cross country skiing, snowmobiling and the general enjoyment of winter brings cold-weather enthusiasts in droves.
For us Southerners, Northwest Wisconsin's spring, summer and fall make it a perfect, undiscovered playground. Daytime temperatures in the summer average a comfortable 75 to 80 degrees. And for those of us used to Southern hospitality, the gracious welcome is translated perfectly through the genuine hearts and great attitude of Wisconsin residents.
If you've listened to the charm of Garrison Kellior and his radio show about the fictional town of Lake Wobegon, you've gotten a preview of the Northwest Wisconsin experience — where life is simple, the people are real and you know you've journeyed to a very special "above average" place.
The region is a popular destination for the angler, mountain biker and hiker. This area on and around Lake Superior is home to a treasure trove of freshwater game fishing experiences, whether trolling for Muskie on the lake or fly-fishing in the stream for trout. (The fishing is still good in the winter, except for the fact you'll be sitting in a temporary "house" and dropping a line through a hole in the ice.)
Inland, hikers and mountain bikers from around the country descend on the Chippewa Valley with its miles of groomed trails graded for all levels of ability and interest. The state and national parks provide scores of campgrounds inland in the forest or along the coast.
Whatever your outdoor activity of choice, be sure to set aside a day for sea kayaking around Lake Superior's Apostle Islands. You can explore the fabulous lake ecosystem and the fascinating natural sea caves along the red cliffs of Lake Superior.
Numerous outfitters will suit you up in a single or tandem kayak and guide you to the national wonder, where you can slip into the caves and see close up what Mother Nature has created over the centuries of water movement by the lake.
This island area is easily accessed from Bayfield, a small, Apalachicola-like community where you won't find a single national chain — Americana at its best.
Book a room on Madeline Island, the only one of the 22 Apostle Islands with fulltime residents. The small, cozy town has a couple dining establishments and Tom's Burned Down Café, one of the more unique taverns — and barkeeps — you'll ever encounter. If the weather gets tricky, then the ferry could cease operations for a while, leaving you delightfully marooned. Not to worry — sit back and just let it all go.
Cold
Are you ready to experience a new adventure, have a change of scenery, transport yourself through some of the most beautiful ecosystems in America and have a winter experience that doesn't require the constitution of an athlete? Then consider a "snowventure" in the snowmobile capital of the world.
Imagine taking a road trip from Tallahassee to Pensacola along Interstate 10, then dropping down to U.S. 98 and returning along the coast back to St. Marks and up to Tallahassee. Now, transpose that to a journey among the well-groomed Northwoods of Wisconsin on a snowmobile.
Snowmobile technology has changed drastically over the past decade and they are now as comfortable and easy as riding in a golf cart on any North Florida course. Decades ago, there were hundreds of companies building and selling snowmobiles.
Ice fishing is a Wisconsin favorite.
Today, the world is supplied by four: Arctic Cat, Polaris, Ski-doo and Yamaha. And the ease of operation and safety allow most anyone of any age or physical ability to have an enjoyable experience. The handgrips and footpads have adjustable heat settings, a windshield mitigates the wind chill of cruising at moderate speed levels, the maneuverability is about as simple and easy as riding a large tricycle. The vibration and sound level is significantly reduced by the new technology of a four-stroke engine, the seating is soft and quite comfortable — which together allow the pure and exhilarating experience of a full day of trail riding in winter.
Eagle River is where it all begins. About a two-hour drive from Wausau, this area has the highest concentration of lake systems in the entire world. State and national forests cover much of the area, and through the cooperation of area snowmobile clubs and private landholders, a well-marked and maintained trail system allows these multiple-day snow-cations to happen. Many are old logging roads and abandoned rail corridors that have been transformed into backwoods, year-round trail systems that in the summer become hiking and mountain bike trails.
The outfitter company does all the work. A couple of well-trained and emergency-equipped guides escort you for the entire six-day journey. Every day, a support vehicle transports your baggage from your hotel door to the next hotel's lobby. All lodging, breakfasts, dinners, taxes and tips are included. Your trail permit and lunches are not specifically included. For this trip, we were escorted by Decker Sno-Venture Tours — they have been doing this business for 31 years and have it down to a science.
Each day we rode 100 to 150 miles through some of the most beautiful backcountry in America — the Chequamegon National Forest was filled with deer, wolf, elk, black bear and the skies came to life with many bird species, including American bald eagles.
The company chooses the nicest hotel at each overnight stopping point with one very close to a brand new casino in Bayfield. After a full day in nature, you will be hungry, and Decker makes sure you have plenty of great regional food each day.
Your day of riding is made easy with the guide stopping on a regular basis to walk, absorb the scenery, observe wildlife, have potty breaks at rest areas, hydrate and snack. Midday, you'll arrive and park in front of a local restaurant to warm up on soup and a hot meal of choice. The group size averages 15–20 people, so over the week, friendships will be forged and a unique sense of camaraderie will develop.
The cost of the trip runs $895 per person (double occupancy); add $250 for single occupancy. The sled rental is $700 plus the cost of gas, which averages $50 to $100 a day.
So think about how you feel in Florida's August months … when you are just about done with heat, humidity and the mosquitoes, think about Wisconsin for a unique, safe winter adventure.
Average daytime high temperatures range from 60 degrees in May, to the upper 80s in mid-summer, to the mid-60s in September. Average lows vary from 40 degrees in May, to the upper 50s in mid-summer, to 50 degrees in September. Average water temperatures in May and June are only in the 40s. Even in late summer, surface temperatures rarely exceed 60 degrees, except in protected bays. Average summer winds blow at from 5 to 20 knots with waves of from one to four feet. Winds of 30 to 40 knots and 6- to 12-foot seas are possible.
TravelWisconsin.com
Warm-weather amusements include sightseeing and kayaking, while fishing, snowmobiling and sledding are wintertime favorites.
Lake Superior Big Top Chautauqua
A special treat for summer visitors is the Big Top Chautauqua ( pronounced sha-ta-qwa), held in a 900-seat, all-canvas, state-of-the-art tent theater located three miles south of Bayfield, Wisc. Entertainments are held from mid-June through early September, including concerts, plays, lectures, and a highly acclaimed professional local troupe which performs original multi-media musicals in the tent and on tour. Guest artists on the schedule this summer include Emmylou Harris, Glen Campbell, the Little River Band and Mary Chapin Carpenter.
On balmy summer nights, the tent sidewalls can be lifted and people may sit outside and on the nearby hillside. The sound is still superb and on clear nights you can see the Milky Way and sometimes even the Northern Lights. For more information, visit bigtop.org.
Snow boots Wear water-resistant boots with a rubber toe. Make sure they offer enough ankle support, traction, shock absorption and moisture protection. Don't forget waterproof socks.
Under clothing Choose dry fit clothing that is offered by many brands such as Nike, Under Armour or Columbia. Its important not to wear cotton as cotton stays wet when you sweat and ends up making you colder, no matter how many layers you are wearing.
Snow Pants Choose pants that are water resistant and made of Gore-Tex or other specialty fabrics.
Snow Coat Choose a coat that is also water resistant and can withstand zero-degree weather. Silver lining also reflects heat, creating more heat to your body. Because you are not actively moving on a snowmobile like you would skiing or snowmobiling, you want to dress extra warm.
Snow Gloves Choose gloves that offer maximum hand mobility while ensuring adequate protection from the cold.
Sunglasses Choose sunglasses with polarizing lenses to reduce the glare cast by the bright winter sun on white snow. The lenses you choose should also be shatterproof and scratch-resistant.
Other items to consider (if not provided): Hat, Helmet, Face protector and Neck protector.
For More Information
Wisconsin Department of Tourism
travelwisconsin.com
Bayfield County Tourism & Recreation
travelbayfieldcounty.com
Madeline Island Chamber of Commerce
madelineisland.com
Living Adventure Kayaking
livingadventure.com
Wausau/Central Wisconsin
Convention & Visitors Bureau
visitwausau.com
Eagle River
snowmobileeagleriver.com
eagleriver.org
Decker Sno-Venture Tours
sno-venture.com
Bill Demlow, Ice Fishing Guide
monheimguideservice.com