Honoring Tallahassee's Best and Brightest
Scholarships for Accomplishments and Service Even Sweeter in Local Competition's Third Year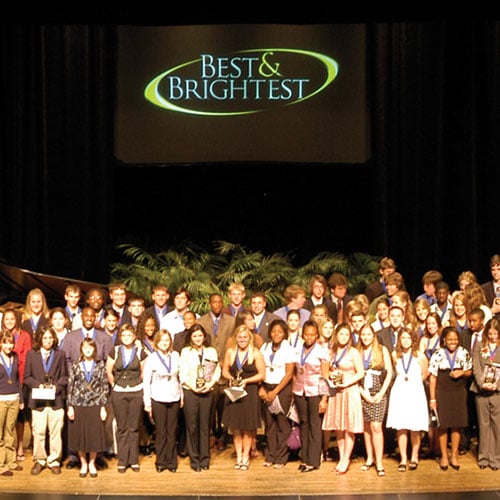 The Best & Brightest Awards are getting even better for Leon County's high-achieving high school seniors.
In the past, only the top three students in 15 different categories were given cash scholarships. Now in its third year, every student nominated – all 180 of them – will take home a scholarship of at least $100. More than $39,000 will be given out during the awards ceremony, set for Thursday, May 15. All public and private schools in Leon County are eligible to nominate students, who fill out extensive applications listing their accomplishments.
Community leaders interview each nominee, gaining insight to the student's character, poise and community and school involvement, and choose a first-place winner in each category who gets a $1,000 scholarship, as well as a runner-up ($500) and honorable mention ($250).
"We have always told students that just being nominated was an honor, and this year we wanted them to go beyond the praise and give them a tangible award," said Laura Rogers of World Class Schools of Leon County, which helps sponsor the ceremony.
The awards were created to recognize students who have excelled; however, it is not based on just a high grade point average.
"The common denominator most honored in the program is a genuine commitment and track record of service to their school and community," said Ron Sachs, who helped create the event.
The Best & Brightest awards ceremony will be held at Leon High School at 6:30 p.m.
The ceremony is open to the public, and the community is encouraged to attend.
Principals and guidance counselors were invited to nominate a student in these categories: Art, Athletics, Business, Career Technical, Drama/Performing Arts, English & Language Arts, Foreign Language, Journalism/Media Production, Leadership, Mathematics, Music, Public Speaking, Science, Social Science and Technology.
The number of nominees has grown each year as the contest becomes more well known. Teresa Dennis, guidance counselor and scholarship coordinator at Lawton Chiles High School, said Best & Brightest is now one of the most sought-after awards by Chiles students.
"Definitely, each year as the awareness grows, I get more kids going after it," she said. "A good number of our students walk away with the top three prizes; they do have a good record of community service."
Visit thebestandbrightest.org for more information on The Best & Brightest Awards.