Home to The Funky and Eclectic
The Dreams of an Arts Patron Live on at Railroad Square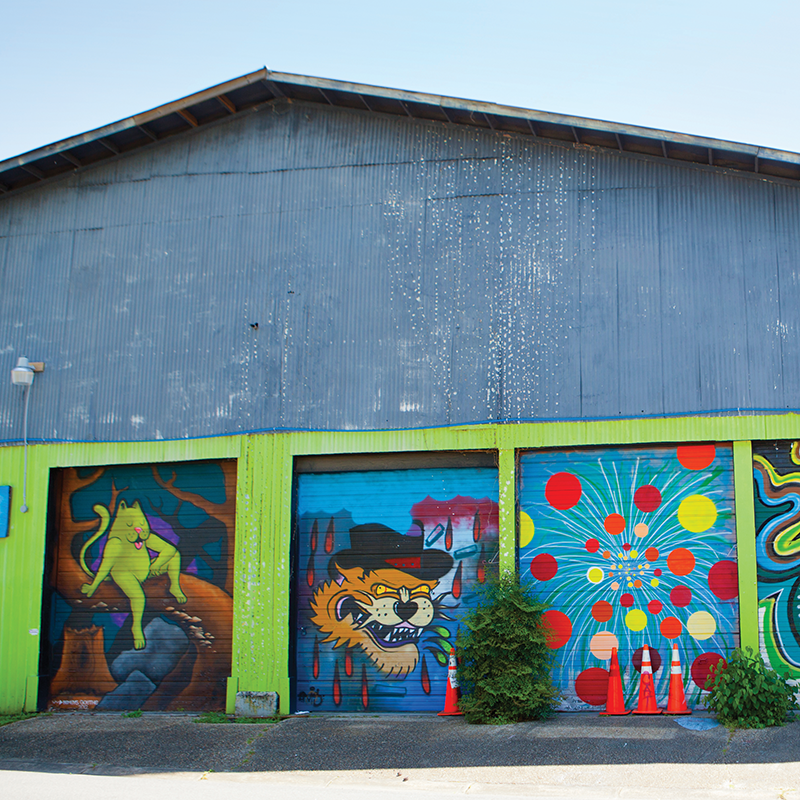 While the Gaines Street/CollegeTown/All Saints area is growing, changing and gentrifying, Railroad Square is a 10-acre artistic oasis in the midst of all the redevelopment hubbub that's staying true to its funky roots.
"Where else can you choose between walking, biking, dancing, rock climbing, shopping for unique and local art and goods, eat lunch in a cafe made out of a real railroad caboose, and enjoy a coffee on an outdoor patio or a craft beer at Tallahassee's largest production brewery facility?" breathlessly queried Lily Boynton Kaye, who co-owns the property with her brother, Adam Boynton Kaye, and his wife.
Situated off Railroad Avenue and FAMU Way between the university campuses, Railroad Square started out as a lumber yard and industrial park, owned by William Boynton Jr. and his partner, Joe Waltham. In the mid-1970s, Boynton's daughter, Nan Boynton, re-envisioned the park as a mecca for artists' studios and galleries and began replacing industrial tenants with regional artists looking for inexpensive studio spaces, including Florida State University's fine arts program.
"She was not an artist, but rather a businesswoman (her company helped develop the Ox Bottom subdivision) and a patron of the arts whose closest friends were artists," said Lily Kaye. When Nan Boynton died in 2002, her children inherited the Railroad Square property. While both have since moved away from Tallahassee, they have chosen not to sell or redevelop the property, continuing to operate the art park according to their mother's vision.
"We're surrounded by new construction, and my responsibility is to preserve who we are but get us ready for this new era," property manager Lillian Finn said. "We're going to be that little artistic island in the middle of all of the rest of it, and we're so excited about that."
In the early '80s, Boynton put on May Fair, the first arts and music festival at Railroad Square. It was the precursor to the hugely successful First Friday Gallery Hops, which for 15 years have been attracting crowds of up to 7,000 people to the art park's signature monthly event, when all the shops and galleries stay open for the evening and food, music and other fun activities abound.
Unfortunately, said Finn, Railroad Square is also the victim of its First Friday success. Some people purposefully avoid the crowds during the event and don't consider visiting at any other time. (Recall the Yogi Berraism, "It's so popular nobody goes there anymore.")
"We're proud of the event, but that's not really who we are," she said. "We have so much to offer on a day-to-day basis."
The park's aging and often colorfully painted buildings situated on a looping road — some date back to the World War II era — are usually fully occupied by a curated mix of about 50 tenants, including three vintage shops, the Mickee Faust Club theatre, artists' and craftsmen's studios, a rock climbing gym, a kayak outfitter, printers and more. Things roll at a more leisurely pace at Railroad Square, with most vendors opening "11 a.m.-ish" Wednesday through Sunday.
Two recently opened business are proving to be popular draws for Railroad Square — the Proof Brewing Co. and the second location for the Black Dog Café. Located in what used to be the FSU artist studios building, Proof is a production brewery and tasting room with a beer garden where patrons can enjoy live music, bocce ball, table tennis and other outdoor activities.
"I think it is one of the few drinking establishments in town where parents can feel comfortable bringing their children," said Kaye.
In addition to coffee, pastries and other food options (including frozen treats, some spiked with booze), Black Dog offers jazz on Saturday nights as well as a Thursday literary night. Next door, The Crum Box Gastgarden offers a menu of "grind-to-grill" sausages as well as entertainment, including screenings of bad movies accompanied by live riffs from local comedians.
For years, construction of the new FAMU Way along the south boundary — the third phase of the Capital Cascades Trail — has presented challenges to accessing the businesses in Railroad Square. But the soon-to-be-complete project should make the art park better and more accessible than ever. Construction of a roundabout at Pinellas Street provides a second entrance to Railroad Square. A "linear park" is being created alongside the roadway, creating a walking path from Cascades Park. The new park will include a playground, shaded resting areas, parking and paths leading into the art park.
"We are very excited to see it finally coming to fruition," said Kaye. "The Greenway will encourage more pedestrian activity and make Railroad Square an even more desirable place to be."
But operators say Railroad Square won't change all that much.
"We're always going to be bohemian, we're always going to be funky and eclectic, but we're also a fun, safe place to be," Finn said.