Home Away From Campus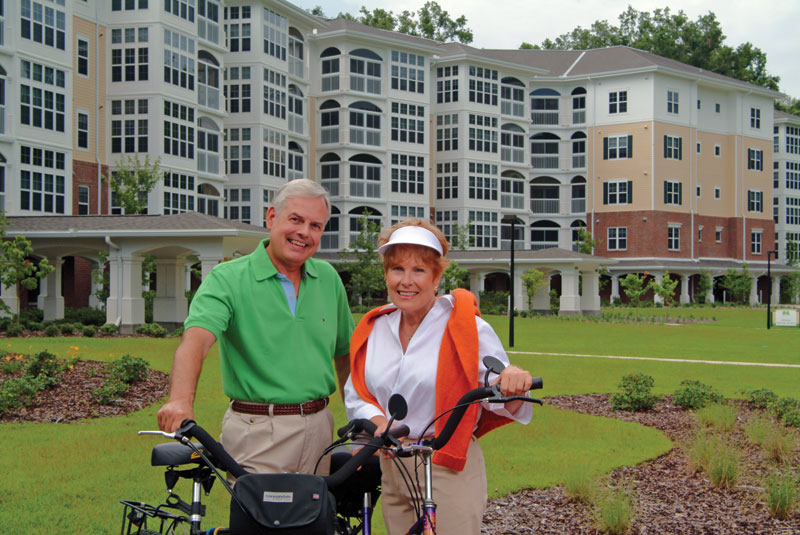 Westcott Lakes sets a new garnet-and-gold standard for adult communitiesHome Away From Campus
By Dorothy Clifford
Songwriter Johnny Mercer said it best: "You got to ac-cent-tchu-ate the positive. E-lim-i-nate the negative … .''
Harold Arlen set those words to music, a catchy tune that resonated with Americans during World War II. It was appropriate then, as the song advised, to "latch onto the affirmative," and it paid off with a victory, both in Europe and against the Japanese.
Aging Americans facing longer and longer lives will probably admit they're looking still for ways to "ac-cent-tchu-ate" the positive. They're searching for all the innovative, positive breakthroughs they can find. They may laugh a little uncomfortably when brain games and brain exercise programs that promote healthy aging are brought up, but they're welcome news.
Forget retirement centers and assisted-living and long-term nursing facilities. Or, at least, those words. Now older Americans are hearing about communities that promise a fulfilling life with a new perspective.
Today's newly retiring, health-conscious adults are looking for positives – upscale living with lifelong learning and gracious amenities, coupled with recreational and cultural opportunities.
But it's hard to ignore those negatives: A healthy lifestyle doesn't guarantee good health. Many 60-somethings already have seen firsthand the difficulties and economic uncertainty brought about by their own family members' health crises. They're planning ahead to minimize the burden of their care on their loved ones – emotionally, physically and financially.
They're looking for first-class, long-term health care, along with health care centers that have more dynamic refinements.
The Jacksonville-based development company Praxeis thinks it has found a way to beat the beating our bodies take from aging by pushing the positives to postpone many of the negatives.
Here in Tallahassee, the developer's vision is coming – in about four years – in the form of Westcott Lakes at SouthWood, a retirement community sponsored by Florida State University.
Nestled among lakes and wooded areas on 90 lakefront acres, Westcott Lakes will be about eight miles from FSU's campus.
The community, ultimately planned to house 450 people, will feature a 60,000-plus-square-foot Club Commons that includes fine dining – ordering from a menu, as in no cafeteria-style meals; a state-of-the-art fitness club; a heated pool; a library; a creative arts studio; a convenience store/ice cream parlor; a ballroom; a theater; and much more. Plans call for residents to live in apartments with from one to three bedrooms or in 44 homes with up to 2,351 square feet of space. Pets will be welcome. FSU President T.K. Wetherell and his wife, Ginger, will give Westcott Lakes as their address one day, they say.
All of this is part of an accelerating nationwide trend as the nation's 76 million baby boomers retire throughout the next two decades. As many as 60 college-linked retirement communities are sprouting up near campuses, including the University of Kentucky, the University of Michigan, Cornell, Dartmouth and Stanford.
For a glimpse of the Westcott Lakes future, one only need look southeast to That Other University, where Praxeis already has developed Oak Hammock two miles west of the University of Florida's Gainesville campus. Officials there say it will one day be home to Marshall Criser, a former University of Florida president, and his wife, Paula. E.T. York, former chancellor of Florida's State University System, already lives there with his wife.
Former Tallahasseean Bob Denny, one of the founding members of the Oak Hammock center, was an amiable host and guide on a recent visit. He is very proud of his one-bedroom apartment in the commons – the main building – and delights in pointing out Tallahassee memorabilia, including artworks of St. John's Episcopal Church.
What is the drawing card for these retirement centers? It's the health care, specifically the long-term health care.
Westcott Lakes will be modeled after the Oak Hammock center, so a look at what exists in Gainesville gives a good idea of what's in store when the Tallahassee community is operational. James W. Cater Jr., Praxeis CEO and president, says the Westcott Lakes community will be even more state of the art because of rapid changes occurring in the senior-living industry. He was part of the planning leadership for Tallahassee's prestigious Westminster Oaks retirement center more than three decades ago.
The fitness program is outstanding at Oak Hammock. Director Tim Lovins, a University of Florida faculty member, believes that a wellness program involving fitness and education will provide a fulfilling life.
Oak Hammock provides a walking test every year to check each person's gait. That tells a lot about general health, Lovins says.
Retired doctors, nurses and nurse practitioners staff the center. Therapists, interns and student observers from UF's College of Public Health and Health Professions work with the residents.
"Students love interacting with these members, and they're impressed by their knowledge," Lovins says. "Of course, they get to talk with some pretty important scholars."
About 70 percent of Oak Hammock's independent residents participate at the fitness center. The goal is to give each person individual guidance and supervision.
"The idea is to rehabilitate them to their highest skill," Lovins says.
The center has physical therapists, occupational therapists, speech and audiology therapists, as well as ergonomic specialists and a hand specialist to treat arthritis or post-surgery flexibility.
Lovins works with more than 50 doctors in the Gainesville area. The fitness center sees between 90 and 100 people a month.
The center has a lap pool and an activities pool; cardiovascular equipment and other gymnastic equipment to fit every skill; treadmills; and a gymnasium where a tai chi class was practicing. Martial arts classes also are offered.
If a resident cannot live independently, higher levels of care are available on the same site.
The assisted-living area, which offers 24-hour supervision, is attractive and free from offensive odors. A walk through the corridors is quiet and pleasant. Grand pianos in cozy niches beckon small groups to enjoy spontaneous or planned concerts.
There are tanks of turtles and fish along the way because patients like to watch them. Nursing stations all are behind closed doors.
There are two privacy-secure memory-support units where patients with Alzheimer's or other forms of dementia live in the same kind of comfort as the other residents. Their hallways look out on flower gardens. They eat the same food as the other residents, unless they happen to be in the mood for a cheeseburger that day. Then, they can have it made to order from their own private kitchen.
Unlike at Oak Hammock, the health center at Westcott Lakes will be in buildings separate from the main building and will include medical advances expected to occur before the complex is built.
Planning for long-term care makes good financial sense to Tallahassee CPA Benson Skelton. He and his wife, Betty Ann, volunteer extraordinaire, are healthy now. They love their home on Carriage Road but know they could be among the world's centenarians, so they've signed up for a home at Westcott Lakes. Benson Skelton's father, a well-known Tallahassee advocate, is 103 years old and has lived in several assisted-living and nursing homes.
"I don't want Betty Ann to have to take care of me around the clock," Skelton says. "Westcott Lakes is going to be the kind of place we want to be."
Westcott Lakes' "Type A" contract, which has a built-in long-term care component that enables residents to protect themselves against inflation down the road, sold him on the project.
"It's unique in this area," Skelton explains.
The "Type A" contract completely covers unlimited days and the resident's monthly rate for assisted living, memory support or long-term skilled nursing. The "Type B" community offers a limited number of days' coverage for those services at a discounted rate. The "Type C" community provides those services at the market rate.
Westcott Lakes' total costs consist of two components: an initial membership fee that starts under $300,000 with several refund options, and a monthly fee beginning around $3,000 that includes utilities, weekly housekeeping, maintenance, on-site security, transportation, fitness center, planned activities, and faculty-like on-campus privileges at Florida State. The allowance would cover approximately half of a resident's monthly meals.
Retired doctors Jim Pumphrey and Don Alford are impressed by the health care Westcott Lakes will offer. As physicians, they are all too aware of the unrealistic probability of avoiding all of the negatives of aging.
Pumphrey and his wife, Lois, like to play tennis, travel and keep fit. They appreciated the care Lois' father received at Westminster Oaks Retirement Center across town off Miccosukee Road, but the memories are bittersweet. When they began considering a place for themselves, they wanted a different location.
"We loved that beautiful wooded land," Lois Pumphrey says, "but it's always hard watching a loved one die."
The Pumphreys are already experiencing withdrawal symptoms at the idea of leaving Woodbrook, the prestigious neighborhood Jim Pumphrey began developing in 1993 for families ready to downscale from larger homes.
"Jim still misses riding on the tractor," Lois Pumphrey says. They lived on a farm when they first moved to Tallahassee. Since his retirement, Jim Pumphrey, an orthodontist, has developed some of the city's most popular residential sections, including Woodbrook, Bobbin Mill, Bobbin Brook and several others in northeast Tallahassee.
The couple is impressed, though, with the Praxeis company's effort to develop Westcott Lakes as a beautiful community with as many amenities possible to simplify, invigorate and enhance lives of aging residents.
Don Alford and his wife, June, are among the earliest couples to sign up for a three-bedroom apartment at Westcott Lakes.
 Alford, a retired ear, nose and throat specialist, approves of Westcott Lakes' health care emphasis. Graduates of Florida State, he and June have been active in the university's educational programs offered to the public since its inception. He fully expects to continue taking some of those courses, but he's also considering subjects and speakers for the educational program called Life College that he is spearheading for the Westcott Lakes community. His co-chair is retired FSU sociology professor Charles Nam.
June Alford is on the hospitality committee and a hostess for the many functions that explain the Westcott Lakes concept to prospective residents at its suite on Esplanade Way in SouthWood.
"This planning for old age is an adventure," Benson Skelton says with a quiet smile. "You might get lucky and just drop dead of a heart attack."