History Resides in Lafayette Park
An oasis of historic charm and recreation on the edge of trendy Midtown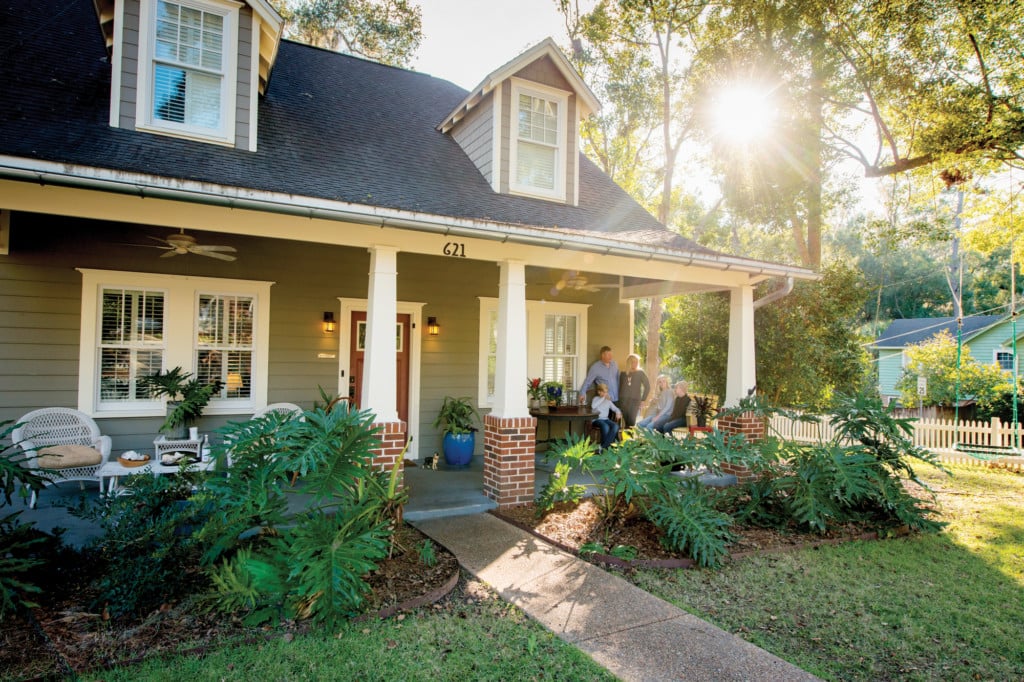 Four historic neighborhoods define the Capital City: Frenchtown a spirited and creative rebirth amid encroaching construction; Indianhead Acres an eclectic mix of homes and residents and unique street names; Lafayette Park a historic, tree-heavy setting where slow pace meets upbeat; and Myers Park a microcosm with a country club where residents unite on a cause.
We've decided to share the history, characteristics, parks, events, amenities, attributes, concerns and, in some cases, the growing pains of those neighborhoods. We share what defines them and what makes their residents proudly call them home. Here's a look at Lafayette Park.
David Chapman can trace his love for Lafayette Park to his youth, when he played Little League baseball and Pee Wee football in fields surrounded by grand oaks and tall pines. He would become a park camp counselor and eventually raise his two sons in a house right across the street.
"I basically grew up going to Lafayette Park," said Chapman, 66, former director of Tallahassee's Parks and Recreation Department. "My sons and grandkids have grown up playing in the park as well."
The popular green oasis is the heart of the Lafayette Park neighborhood, known for its charming older homes, friendly residents and walkable streets. It's the kind of place where neighbors throw potluck dinners, stop by for a chat or a glass of wine and help each other during calamities such as Hurricane Michael.
It's also a place of traditions, such as its annual Halloween celebration on Beard Street and Ingleside Avenue, which draws thousands of trick-or-treaters from throughout the city.
The neighborhood can claim an important place in Tallahassee's history. No surprise that the name comes from Gilbert du Motier, Marquis de Lafayette, who received a grant of land in Tallahassee for his help during the Revolutionary War.
Lafayette never settled here, and by 1855, his family sold all of its interests in the land grant, according to the Lafayette Park Neighborhood Association.
The neighborhood took off in the 1920s and 1930s, attracting movers and shakers such as Claude Pepper, a distinguished lawmaker who would serve as a U.S. senator and then a congressman until his death in 1989, and Mamie Eaton Green, elected to the post of railroad commissioner in 1928, the first woman elected to statewide office. The neighborhood is now home to 1,500 to 2,000 residents, many of them educators, lawyers, doctors and teachers who have young children.
"We've gotten older and the neighborhood has gotten younger," said Marge Norman, who has lived on Beard Street for 46 years with her husband, Tom. "It's nice to see the babies and people pushing strollers, little children playing."
Property values have soared on the strength of attributes such as its schools, old-Tallahassee charm and proximity to Midtown and its trendy bars, coffee shops and eateries.
"We love the organic growth of Midtown," said Rachelle Jewel McClure, secretary of the Lafayette Park Neighborhood Association.
She lauded the small, mostly locally owned collection of businesses that has emerged over the years.
The commercial district's transformation has drawn both cheers and criticism from Lafayette Park residents.
"We're a big advocate of what's happened here," said Chapman, who moved to a home on Washington Street in Lafayette Park with his wife, Diane, in 1975.
Chapman said he and his wife work out regularly at Sweat Therapy Fitness. They also like the music scene and enjoy walking to bars and restaurants, he said.
"We simply love Midtown," he said. "It might be a different viewpoint from some of our neighbors."
Indeed. Some cite increased noise and traffic.
"I liked it better before Midtown," said Tom Norman, who has lived in Lafayette Park for 46 years. His concerns include efforts "to jam in condos" in the area.
His wife, Marge, said she doesn't appreciate "cars cutting through the street, going up and down faster." She said a former restaurant used to valet park cars in front of their house, a battle the couple fought and won.
Lafayette Park residents have been vigilant about urging smart development and protesting projects that could further affect the community.
"The neighborhood is certainly currently feeling pressure from development," said Ellery Sedgwick, president of the Lafayette Park Neighborhood Association.
Some larger lots have been subdivided in recent years, and several houses have been "torn down to build anew, also sometimes to subdivide the property," he said.
At an association meeting in November, some residents expressed concern about a proposed five-level parking garage at Fifth Avenue and Thomasville Road that could accommodate more than 300 spaces.
Some see it as "out of scale" with the neighborhood and that it could bring a lot of traffic to the area, Sedgwick said.
The proposal remains in early stages and has to be considered by a new City Commission, said Wayne Tedder, an assistant city manager. "The process is designed to allow staff to work closely with citizens and get their input prior to the commission making a final decision."
One constant in Lafayette Park has been the park itself, combining a lush natural area with the Sue Herndon McCollum Community Center.
"Lafayette Park transcends Midtown," said Ashley Edwards, director of Parks, Recreation and Neighborhood Service in Tallahassee. She said the neighborhood "has its own identity."
Built in 1957, the center boasts a rich history, once teaching kids circus skills and presenting shows, thanks to McCollum, who as a student peformed in Florida State University's Flying High Circus.
The center offers an active adult coed volleyball league, kids' recreational sports, a big gymnasium, an afterschool program, a summer camp and an arts and crafts center offering an array of classes, a pottery lab and three kilns.
"You can't beat having a really beautiful, well-maintained and diverse park across the street," David Chapman said. "I was lucky to grow up having the park, and have my kids and grandkids there, too."