Historical Treasures Galore Lay Locked Up and Preserved in Tallahassee
Florida's Attic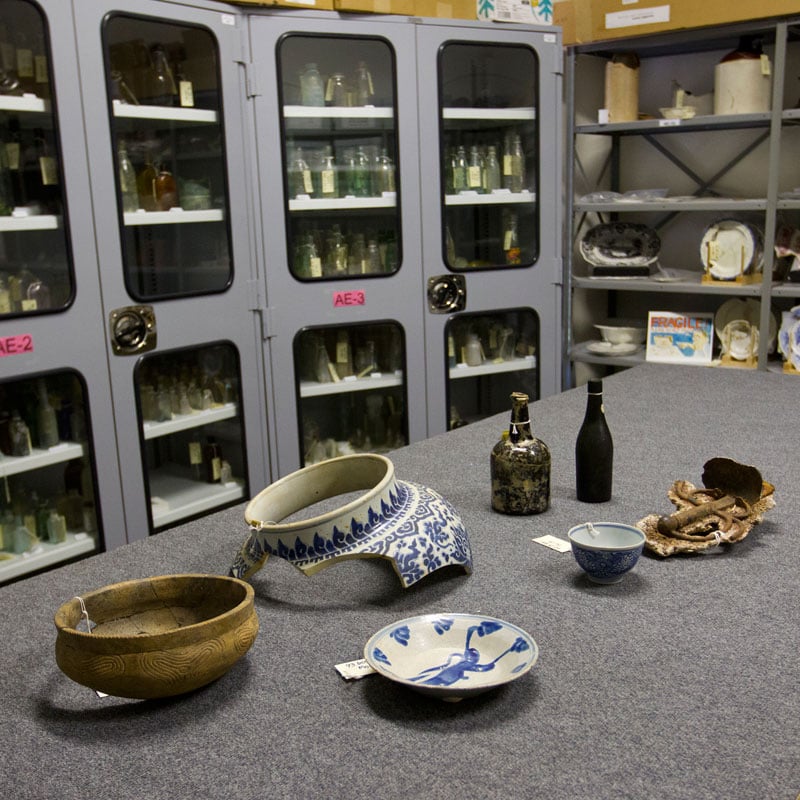 Ancient arrowheads, spear points, swords, plates, clay candlesticks, bottles, pistols, muskets, cannon balls, anchors, ships' rigging, copper pots, wheels and gears, shoeshine stands, petticoats, flags, photos, cigar boxes and baby carriages. All these relics, and many more, are evidence of Florida's long and colorful history. They were dug up, salvaged from ancient treasure ships or simply donated by conscientious families. Once possessed by the Florida Department of State, they're cleaned up, identified, interpreted and inventoried. Many are put on display while others wait in storage.
The Division of Cultural Affairs and the Division of Historical Resources are in charge of these special items. How they work to preserve the past may be something of a mystery to most outsiders, so let's pull back the curtain and uncover the caretakers of Florida's history.
'5M'
The fifth-mezzanine collections room of the Museum of Florida History is like an antique mall, but Henry Flagler's coffee-stained desk from the Ponce de Leon Hotel in St. Augustine is definitely not for sale. Nor is the desk of longtime Florida Secretary of State R. A. Gray. And horror movie fanboys, get your paws off that original "Creature From the Black Lagoon" movie poster. Same goes for the classic cigar box labels, 19th century Florida currency, old quilts, Florida's Confederate flags and many other cultural artifacts safely tucked away on "5M."
5M is the repository for thousands of artifacts either waiting to be displayed at the museum in Tallahassee or at other museums across the state. The collection, and the entire museum, is administered by the Division of Cultural Affairs. Unlike the museum, 5M is not generally open to the public, but strictly a behind-the-scenes preservation and conservation lab. It is just part of the effort to pass the Florida legacy down the generations.
The Museum of Florida History, located in the R. A. Gray Building downtown, opened in 1977 and focuses on the pivotal people and eras important to the state's development and growth. The collection and preservation of these historic artifacts started way back in 1917 by the Florida State Museum in Gainesville (today's Florida Museum of Natural History). But when the Gainesville museum shifted its focus to natural history in the 1980s, some 22,000 cultural artifacts were moved to Tallahassee. Today, about 45,700 items are in the museum's care; some of them are on display, while others wait their turn in the climate-controlled preservation lab.
Unlike archaeological treasures that are either dug up from the ground or the bottom of the sea, the relics kept in this room are basically heirlooms that the state has custody over.
"Our collections come from Florida families," said Kieran Orr, senior museum registrar.
There's a complex process for accepting a donation. The candidate has to meet certain conditions; namely, there has to be a direct link or connection to Florida. Once vetted, it must be voted on, and the state has to acquire ownership rights. Once accepted into the collection, the item is photographed, cataloged, assigned an inventory number and storage location.
"There's a precise way of doing things," Orr said.
Once in the collection, it will go into storage until needed. A particular item may not fit in with a given exhibition currently on display, or it may need special prep work before going out on the floor. The exhibit schedule works three to five years in advance, so some items may be waiting for a while to be seen and enjoyed by the public. To maximize the limited amount of storage space on hand, the staff stores like objects together. Photographs with photographs, furniture with furniture, gowns with gowns, quilts with quilts and so on. Acid-free boxes and Mylar sleeves preserve the delicate leaves of history.
"All these artifacts represent a broad cross-section of Florida life, from folk life to technology; from governors to ordinary people," Orr said.
Speaking of governors, ever since Gov. Francis Fleming sat down for one in the 1890s, every chief executive has had his portrait painted and displayed in the Capitol. In the mid-1950s the state Legislature commissioned a Tallahassee artist to carefully copy each piece through the use of oil-enhanced photographs. In the mid-1980s, the originals were placed in the secure 5M collections for safekeeping. But around the corner from the cabinets where these works of art are kept is stored a cornucopia of items the common Floridian would have encountered back in the day. There's a four-person cigar-making station that has seen better times, a 100-plus-year-old set of benches from the Leesburg train station, a shoeshine stand, plantation desk, wicker baby carriage, agricultural tools, presses, wheelbarrows, washing machines and crab traps.
"What Floridians have done, we have a representation of them. We have such a diverse population," she said, showing a delicate porcelain figurine of Cuban origin, a North Florida cow whip and other items. "We are a great cross-section of cultures in Florida, and this represents some of them."
"It all comes back to preserving the artifacts and making them available to the public," said Museum Director Jeana Brunson.
Historians, authors and curators will often ask to come here and do research, Orr said. "We'll pull the artifact for them to study. We also have an active loan program, but that can take up a year (of waiting). They have to cross a lot of t's and dot a lot of i's."
Lab With a Mission
Bonnie McEwan of the Division of Historical Resources can't help but bubble over with pride and enthusiasm whenever she talks about Mission San Luis and the archaeological wonders that have been dug up at the hilltop Franciscan mission since the first digs in 1948.
McEwan, director of research in the Bureau of Archaeological Research's (BAR) public lands archaeology division, supervises the cleaning, analysis and interpretation of thousands of artifacts that tell the story of the fabled mission site. Her office (commonly referred to as the "arch lab") is located next to the Mission San Luis' visitor center and is the central repository for approximately 500,000 pieces of history.
Without these many artifacts, the mission site could not have been reconstructed.
"This lab is the basis for how we know what we do," McEwan said. "Because it's here that we put it all together, everything that's found during an excavation. Not just architectural features, but material culture and distribution of material across the site. And that's the basis of our interpretation. Of course, it's been the basis for all the reconstructions, too."
Here at the "arch lab," 17th-century items and artifacts are cleaned, sorted, cataloged and analyzed. These include bags and bags of burned clay, remnants of what once were wattle and daub homes and buildings. But there are also native-made pottery and candleholders, delicate glass beads and bottles, European trinkets, thin metal bangles, musket parts and even a single lens from a somewhat ancient pair of European eyeglasses. In all, some half-million items have been counted to date. McEwan said that doesn't include all the bulky material like the burned clay, which is weighed and could fill the scoops of many an earthmover. The clay was an integral part of the construction of buildings erected when the Spanish lived here in the 17th and early 18th century.
Devastating English raids in 1704 prompted the Spanish to evacuate Mission San Luis, and when they left they burned down the village and the fort. That's why so much clay was found in a charred state. A lump of clay might not seem too terribly fascinating to the average person, but to archaeologists it can provide vital architectural clues. For example, you can see the size of the sticks used to make the wattle, which is basically a woven wall made of branches or slats. The clay itself was used for making the daub, which was a lime-clay-straw mix used to plaster over the wattle. This in turn was often coated with a whitewash to protect against the elements. If a 90-degree impression is found in a particular mound of clay, then it probably covered a square post.
"It's really fascinating for us, and has told us a lot about how buildings are constructed," McEwan said as she showed a visitor an example of the material. "You can look at pieces and you can see the size of some of the wattles and evidence of lashing around them, and here is a flat exterior surface and that has the whitewash still on it. So there's a lot of things you can tell. The architects need all of this information when they are starting reconstruction. They want to know all of the impressions we have inside the daub associated with every structure so that they'll know how to, basically, recreate it."
A handful of archaeologists work at the arch lab to clean and sort mounds of artifacts, and there's a huge backlog of material to go through. McEwan said it has to be done because the state wants to rebuild Mission San Luis. In order to do that, the staff has to be "one step ahead of the contractors," she said. But it's a time-consuming process.
"As a result, we have a lot of materials that we need to analyze, and then we can write up and report on," she said. "So, what (the archaeologists) are doing is taking every bag from every unit or feature, every provenance as we call it, and they're having to wash the artifacts and analyze everything and in some cases they are counting, in other cases they are just weighing (if it's building materials like burned clay). And then all that gets put into a computer database."
Once that's done, the interpretation can begin. "We really try to determine what we can say about things," McEwan said. "In the field, a lot of the architectural information is evident where you (have) posts. You can see the size and depth of the post, and a lot of the architectural information can be determined pretty quickly. So, the reconstructions are so dependent on the analysis."
Of course, the Mission isn't the only significant archaeological site in Tallahassee. Across town there is the Gov. John Martin house, home to the site of Hernando de Soto's 1539 winter encampment. Thousands of artifacts spanning 500 years of human occupation were removed from the ground here during digs in 1987. A treasure trove of information, to be sure, but a challenge for researchers, McEwan said.
"The de Soto site is a really difficult site because you have so many components and they are so tightly interwoven and there's a lot of disturbance," she said. "It's very hard to pull all that together. Plus, there, they don't have the benefit of a (large area) like we have here. That's one of the really significant things about Mission San Luis. We have the benefit of looking at the entire town; whereas, most other archaeologists, ourselves included, on various other sites, can only look at what amounts to a telephone booth.
"I think that's what makes San Luis really a model for other programs as well as mission sites because they don't have the benefit of being able to look at an entire mission like we do. So this becomes the model against which other people evaluate their findings," McEwan said.
'We're Like a Library'
The relics found at Mission San Luis aren't the only ones in storage here. The BAR's Collections and Conservation center is located at Mission San Luis as well. This important and massive collection consists of artifacts dug up from state lands and brought up from the depths. There are pieces of machinery from Fort Taylor in Key West, relics from the Civil War troop ship Maple Leaf and rows upon rows of cannon balls, bar shot and other maritime artifacts from Spanish shipwrecks like the San Jose de las Animas.
Many of the items are kept ready for display and exhibit, according to Dave Dickel, collections and conservation supervisor.
"We have basically 12,800 items out on standard loans and another 39,000 that are on research loan, at about a hundred different institutions in Florida, and a few outside Florida," Dickel said. "We're like a library. Not all the books are out at any one time, but all books circulate."
For a history buff, the "stacks" of this library are sacred ground. But the repository isn't some vast warehouse of classified antiquities.
"It's been thought that this is all secret stuff that nobody is allowed to see, and that couldn't be further from the truth," said archaeologist Marie Prentice. "We're very interested in getting this stuff out on exhibit so people can see it."
Even so, you can't just go into the cabinets and drawers and pull something from the Maple Leaf or San Jose to put on your desk at work. It doesn't work that way. You have to have the right credentials to "check out" an item or relic. Their biggest "customer" is the Museum of Florida History but there are "clients" all over the state.
"We look at your level of security and your facility, and your affiliation, so mainly (we don't loan out to private parties)," Dickel said. "You can't borrow something to put in your office. If you are a public venue then you certainly can."
Prentice said that the new St. Augustine Pirate and Treasure Museum is perhaps the only private entity that has artifacts on display that have been borrowed from the state collections.
"They did a pretty good job … they did a tasteful display of our artifacts," she said.
Dickel said a good case could be made for loaning artifacts out to what is basically an "edu-tainment" venue. He heard a good quote once that said archaeology has to be entertainment to survive, and he thinks there's some truth to that. Scholars, he said, can't afford to lock themselves or their artifacts up in the Ivory Tower and say that's the only valid form of research.
"There's definitely an entertainment value (with) archaeology, and I think it's good that's your venue for generating interest in history and appreciating what we have in this state," he said. "And you know, sometimes it's 'history lite,' but it still gets people interested in history."
Cleaning Them Up
The first step an artifact takes toward being put on display involves arriving at the Florida Department of State's Archaeology and Conservation Lab, located in the Museum of Florida History. Here, Historical Conservator Claire Tindal and a team of skilled technicians work to stop the destructive corrosion of time on relics large and small.
Many historical objects they preserve have been retrieved from the depths offshore.
"The majority of these are from Spanish shipwrecks. Those are objects that typically need the most work because of the environment they were excavated from," Tindal said. "The big issue with a lot of maritime objects, especially with regard to iron, are the salts in the water, so this facility was actually built around desalinating a bunch of large objects like cannons, anchors, stuff from different shipwrecks."
One of the "newer" artifacts in the "dry lab" portion of the conservation lab is the copper eagle from the top of the Natural Bridge Battlefield State Monument. The monument was dedicated in 1922, and in recent months was scheduled for cleaning; the eagle was removed for cleaning as well but won't be returned to its old roost. That's because there are some interesting features about the copper sculpture, Tindal said. Most notably is that it was handmade, using a technique similar to how the Statue of Liberty was built.
"It's very thin copperplate as opposed to anything that was cast, so the way they would have done this was with a tiny hammer, (and) it was made in sections," Tindal said. "Each individual section would have been laid over a mold of what it was meant to look like and then hammered into that. And then, when those were all finished, they were brazed together. So it is unique in that it was handmade. We don't know by whom, but it was probably a local coppersmith."
Based on its special construction, and the fact that over the years the copper plating had been shot full of holes and repeatedly patched up over the years, it was decided to retire the sculpture and replace it with a replica.
"When I was doing research into this particular type of sculpture there are only a few of them. Given that it's rare, and given that it's had a rather tumultuous history with people shooting at it, what we decided to do in conjunction with (the Natural Bridge Historical Society) and also the park service is make a replica," she said.
A high-tech approach is being used for that project. The University of South Florida took digital scans and created a 3-D replica on the computer that can then be used to actually recreate the object, Tindal said. "What we may end up doing is a bronze mold or bronze copy from that mold that they're able to produce from that image. The replica will go back on the monument," she said.
Once the original eagle is renovated and restored, it will find a home in a new educational center being planned for the battlefield park. Other artifacts get new homes, too, eventually, Tindal said.
"We do a lot of stabilization and aesthetic work on objects that ultimately either make their way on loan or into the museum or into the collection storage facilities," she said. "Regardless of where they're ultimately going, they'll go initially to Dave or Marie because they do all the paperwork for processing, give proper locations and from there go out on loans to different facilities. Oftentimes we've got a lot of objects on display in the museum, especially the shipwrecks area. Then, if they're not slated for loan or for a museum, they will be placed in collections so they can be accessed if someone has a question and would like to view them."