Hip to Every Sip
Twin brothers bring style, culture and creativity to their coffee and kava bar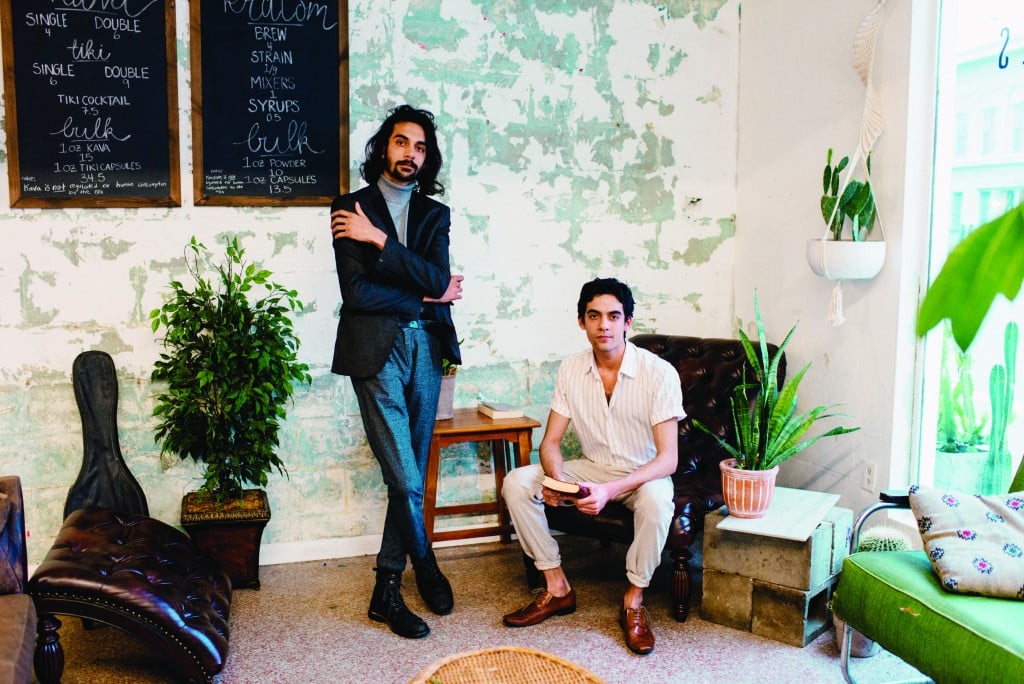 You see Matthew Nazareth sitting on a sofa and jamming on a guitar. Behind him, you may see Michael Nazareth serving drinks and creating conversations.
This is Serenity Culture Company as it appeared before late March, when the coronavirus pandemic forced a temporary halt to drink-in and eat-in services at Florida establishments. It's a coffee and kava bar where the 23-year-old brothers think they've found their niche.
"Business model-wise, coffee has not changed since its genesis," Michael Nazareth said. "We wanted to innovate that. We had to take tradition, light it on fire and stomp it into the ground and say, 'What if we did this differently?'"
Matthew and Michael Nazareth call their shop a "creative space for art, music, studying, networking and community." They thereby see Serenity as a cultural gathering place that brews acceptance, understanding and change.
Here in Railroad Square, Serenity serves coffee, tea, kava, kratom, kombucha and various juices to people of various backgrounds, origins and income levels in conversation and mutual learning.
Born in Orlando to a mother from Alaska and a father who grew up in Tanzania, the brothers come from a family of "inclusive, accepting people," Michael said, and they found themselves constantly exposed to different cultures, communities and people.
Michael recalled his grandmother, who lived in Tanzania. She was Catholic, and Muslim children would go to her house and break fast for Ramadan. "It was an environment with so much division," he said, "but she was able to bring people together."
Each brother sports a hip vintage look that starts with conspicuous black hair.
From there, the twins take style in different directions, from various places.
"I love bringing different cultures into my style," Michael said, "and merging style by doing different things in one look."
He said he also loves "the challenge of looking good on a low budget."
Vintage fashion reflects the brothers' values including sustainability, comfort and meaning.
Matthew described vintage as "the nostalgia comforting our generation." He said he thinks vintage allows us "to grasp to the people we love, helping us take that part of their life wherever we go."
He uses vintage clothing to establish a look that some might call "sweet grunge."
"Alternative earth tones with a modern-minimalistic twist," he said.
His staple pieces include suspenders and multi-functional boots, for work in the shop or to complete his rustic look.
The brothers expressed the importance of their look in a business context.
Michael said he sees himself as a "professional lion."
"I like to feel powerful, diligent and productive," he said.
The brothers say they got introduced to their industry a few years ago as employees at other Tallahassee coffee and kava shops. They opened Serenity in the spring of 2018.
When you walk in, you notice a synthesis between old and new. Vintage sofas and budding plants adorn the shop. Local art decorates the walls. A chess-board coffee table features a koi pond motif.
"Serenity is an embodiment of who we are," Michael said.
"It's what we were taught growing up," Matthew added.
Inside, you recognize the passions of both. Acoustic guitars adorns the shop, ready for any customer to play.
Matthew said he uses music to cope with anxiety and wants to give this same outlet to his customers.
"If I had a panic attack …," he said, "I could put that into the guitar and feel those emotions without feeling like my world was collapsing."
His creativity spreads through his customers, who sang on couches or painted at the bar during our visit early this year. He also has created most of the bar's graphics.
"I try to incorporate creativity in my daily life," Matthew said.
You can see Michael through novels on tables throughout the shop. He writes poetry and reads at least an hour of spiritual, business or personal-growth books every day. That includes the Bible, he said.
"I'm obsessed with the pursuit of wisdom," Michael said. "One of the amazing things that I think people don't realize is all of the knowledge and wisdom you need to live a healthy life are in books."
The men's values and store coordinate with their style, which emphasizes individuality.
"Being able to express yourself is incredibly important to personal growth," Matthew said.
Michael added: "I would never want anyone to copy my style, because I want them to focus on being their genuine self. I want people to look at my style and feel empowered to do that for themselves."