Hilltop Country Store is Well Worth the Drive
Home cookin' well worth the drive; it's all good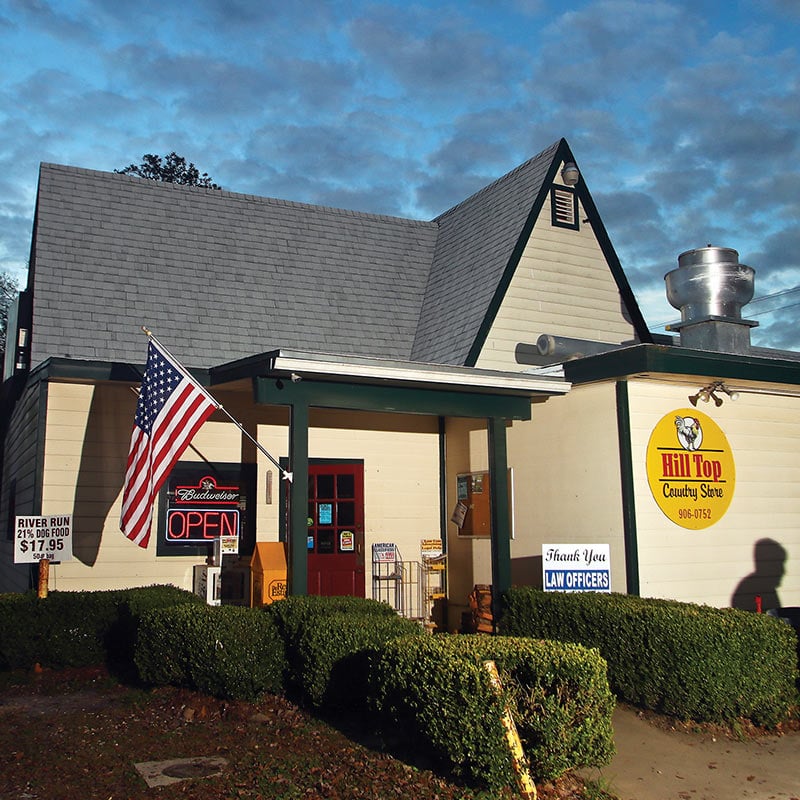 When we were kids, my little sister and I loved to bike to Waltons' General Store. In Smoot, Wyoming (population 100), Waltons' was the place to buy everything you needed if you couldn't make the trek to the big city of Afton (pop. 6,000). The Walton family sold everything from canned goods to barn boots, and they even ran a post office in one corner of the store.
But my sister and I went there for the penny candies.
I'm sure Mrs. Walton groaned every time she saw us skid into the parking lot. It was her fault, though. It all started when I brought a quarter into the store and attempted to buy 25 candies at once, only to be charged 26 cents. Mrs. Walton saw the expression on my face, rolled back her crisp, white sleeves and divvied up my candies into five piles of five. Then she told me to buy one pile at a time. She was like a magician: Now you see the tax; now you don't.
I get a little nostalgic about old-fashioned general stores, which is why, when I stepped into Hilltop Country Store, tears immediately sprang into my eyes. But one deep whiff of the place knocked the sentimental silliness right out of me.
Where Waltons' General Store always was given to the warm aromas of chocolate and horse manure (there was a horse pasture next door), Hilltop Country Store smells like Philly cheese steaks and deep-fried chicken tenders. Yes, Hilltop has all of the wonderful characteristics of an old-fashioned general store — they carry locally made hot sauces, Tupelo honey and plenty of candy — but they are most famous for their mouth-watering lunch fare.
Eric and Misty Brown have been fans of Hilltop cookin' for years. They are such fans, in fact, that when they purchased the store and café from the previous owners four years ago, they kept everything the same.
"It was a good business when (the previous owners) were running it, and we didn't think anything needed to be changed," Eric said. "We did add some of our own things to the menu, but everything else is pretty much exactly the ways it's always been."
Hilltop has been in business since 1997, and many of the hungry diners who go there on a regular basis have been doing so since it first opened its doors. Carolyn and Travis Collins, for example.
"We've been eating here four to five times a week since it was opened by the first owners," Carolyn said. "My favorite is the ham and cheese."
"I like it all," Travis said. "I get the chicken tenders, mostly; but it's all good."
"And they're good people, too," Carolyn said. "After Hurricane Hermine hit, this was the only place within 10 miles where you could come for hot food. They slept up here at night and kept generators running so folks could get something to eat."
Mary Graddick and her friend, Tammy Harrison, have been coming to Hilltop every Tuesday for the past two years. "They have the best Cubans ever," said Graddick. "I call them, and I say, 'This is Mary,' and they say, 'Your usual?' They get to know you, here."
Harrison agreed. "This place is a hidden gem."
"You can tell the regulars from those who haven't been here before," Graddick added. "We call in our food, and then we come in the back door to pick it up. People who don't know this place go in the front door, and then they stand in line, because it's always busy here."
It was good to see how busy an old-fashioned general store can be, because, unfortunately, stores like Hilltop are becoming a thing of the past. In my hometown, Waltons' is now a computer parts store — which is about as far from what it used to be as a store can get. So it brings me an inordinate amount of pleasure to know that there are still places where I can buy anything from canned goods to barn boots — and, of course, penny candies.
I'm willing to bet that the Browns would let a kid and her little sister buy their sweets five at a time to avoid sales tax, too.
Hilltop Country Store
14807 Mahan Drive, Tallahassee
(850) 906-0752
Hours of Operation:
Mon–Wed: 11 am–3 pm
Thurs–Sun: 11 am–8 pm
The kitchen closes at 7:30 pm.
Serving hot sandwiches and burgers, cold deli-style sandwiches, salads, full dinners, plenty of side dishes, and chicken wings, tenders, livers and gizzards. Portions are generous and a kids' menu is available.