High Society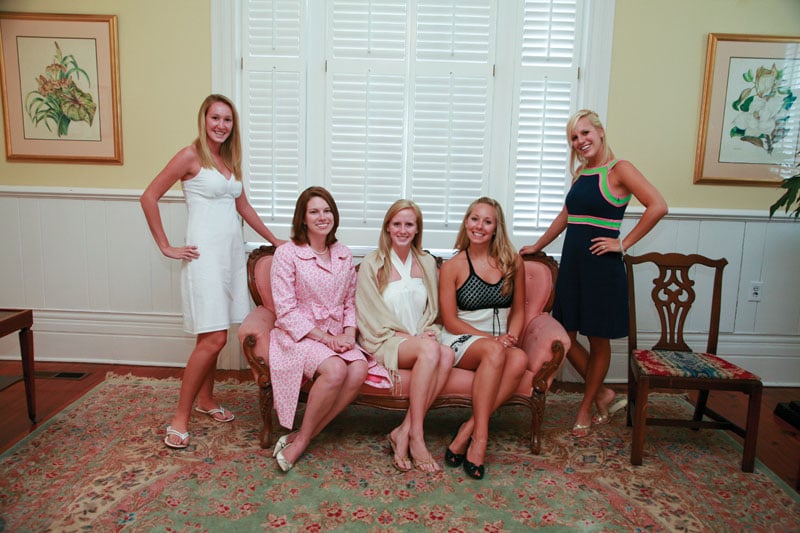 Make way for long white dresses and the lovely women who wear themHigh SocietyOne Group Makes Its Bow in Tallahassee While Another Celebrates a Tradition of Debutantes 
By Virginia Newman
For generations, the introduction of debutantes shimmering in beautiful white gowns and long satin gloves at glamorous balls has been a time-honored tradition in nearly every major city in the United States.
This past summer, a local presentation society was formed to join this prestigious circle and launch an inaugural debutante season in Tallahassee and Leon County. But it is neither the area's first nor longest-lasting presentation celebration. For almost 40 years, the Charmettes have been schooling young African-American women in the social niceties before introducing them to local society.
Click to enlarge.
The First Season
Five young ladies were introduced in June for the first debutante season under the aegis of the Leon County Chapter of the National League of Debutante Cotillions Presentation Society, laying the foundation for a new tradition in local society.
But those who only think of debutantes as elite young ladies in designer dresses on the arms of aristocratic escorts have an old-fashioned concept of what being a debutante is all about, says Leon County society Director Molly Kellogg.
"Debutantes have an exciting presentation season, but that's only part of the picture," she says.
The Tallahassee debutantes selected for the 2008 season represent much more than beauty and proper pedigrees. All are college students with busy backgrounds and ambitious college goals.
National Presentation Society Executive Director Anne Winters says that, historically, young ladies became debutantes so parents could properly introduce their daughters in society.
"Today, however, a young lady creates her own sense of social worth by her intelligence and actions," she says. "Success is measured by her character, honorable qualities, her discrimination and her taste. Each debutante is honored for her community service, academic excellence and role-model qualities."
This first group of Leon County society debutantes was introduced at a tea in June at the Tallahassee Garden Club, along with the society's charter members and board of governors.
The grand ball, when the young ladies will be formally presented, will be staged in classic elegance on Nov. 30. However, the opening tea and subsequent festivities have already signified that this abbreviated inaugural season is setting the standards for years to come. A round of parties, receptions, teas, dances, dinners, events and training classes, which have to accommodate the debutantes' school schedules, is leading up to the long-established conventions of the traditional ball. In the future, the season will last a full year.
The 2008 debutantes are Shannon Allen, a freshman at Florida State University majoring in hospitality and a 2008 graduate of Lincoln High School; Ashlyn Andrews, a sophomore at FSU majoring in education and a 2007 graduate of Maclay School; Jennifer "Jenny" Moore, a sophomore at the University of Alabama majoring in art and graphic design and a 2007 graduate of Maclay School; Elizabeth "Liz" Morales, a freshman at the University of Alabama majoring in education and a 2008 graduate of Maclay School; and Whitney Smith, a junior at the University of Florida majoring in food and resource economics and a 2006 graduate of Maclay School.
The society, director Kellogg says, is made up of mothers, grandmothers, stepmothers and stepgrandmothers of young ladies who are making their debut now or who will make their debut in the future. The society sponsors the young ladies with parties and other events, such as the Presentation Ball.
Charter members of the society are Colleen Andrews, Kathryn Ballard, Tenley Barnes, Maryanne Brooks, Laura Cox, Carla DeLoach, Joyce Estes, Michelle Eubanks, Leigh Ann Greenberg, Gail Greenwell, Katrice Howell, Kelly Kirby, Margaret McCrary, Melissa Moore, Tracy Morales, Candi Nilsen, Dorothy Lee Rodgers, Angie Sellers, Betty Sellers and Dee Ann Smith.
"The debutante society has been many years in the making," Kellogg says. "Our organization in this area began several years ago with the formation of a Leon County chapter of the National League of Junior Cotillions' Pre-Cotillion program. The purpose of the pre-cotillion program is to provide training and practice for children and young people to learn manners and proper social behavior."
With the pre-cotillion program offering instruction in the areas of social etiquette for boys and girls in differing levels from pre-K to high school, the final progression is for young ladies in college to become debutantes. The debutante year emphasizes philanthropic, cultural and social training to welcome the young ladies into a world of civic responsibility and social awareness.
Liz Morales is typical of the 2008 debutantes, coming up through the pre-cotillion program.
"I really appreciate the opportunity to learn and practice social graces, and the opportunity to attend the training and social functions and meet new friends," Morales says. "These are advantages that will last through adulthood."
Each debutante has planned a dress for the occasion that conforms to the society's requirements: They must be pure white with no glittering adornment. The debs will follow a traditional presentation ceremony at the ball, according to Kellogg, which calls for dresses designed so that as each debutante is formally presented, she can perform a curtsy known as the Saint James Bow, or a full court bow. This maneuver is named for the old court of kings and queens in England known as the St. James Court. Dinner and dancing will follow the presentations.
Kellogg, the founder of the local society as well as the director of its activities, is a former president of the Tallahassee Junior League. Although the society is not actually connected with the Junior League, the two organizations share many common ideals.
"It is our desire to mold young ladies entering their adulthood with a high awareness of volunteerism and to increase their community involvement and knowledge of civic activities," Kellogg says.
Therefore, the debutantes also choose a local charity to support with both time and talents during the debutante season. The 2008 charity is Toys for Tots, and donations will be collected at the Debutante Ball.
The general public may buy tickets to the ball by calling (850) 385-6611. Those wishing to know more about the program may call Kellogg at the same phone number.
The National League is headquartered in Charlotte, N.C.
"We are delighted to see our society made available in Leon County," says national director Winters.
Click to enlarge.
Thirty-Seven Years of Debs and Discovery
Retired Florida A&M University administrator Eva Wanton remembers it well. Nearly 40 years ago, she and a group of other prominent African-American women in Tallahassee decided to give young ladies in this community the advantages of becoming Charmettes.
It was a decision that would lead to generations of Charmettes Debutantes being presented to society at elegant balls glittering with glamour. It would also raise monumental amounts of money for local civic and educational projects.
Gwendolyn Baker Rodgers and Frankie Drayton Thomas, two visionaries in West Palm Beach, founded The Charmettes in 1951 as an organization dedicated to enhancing quality of life through commitment to service. The organization's Debutante Balls, held to honor young ladies, were an excellent way to raise funds to provide educational opportunities and financial resources for community programs.
"Leon County became the fifth chartered chapter in the state organization, which has now grown to a group of 20 chapters in Florida and nine chapters throughout the United States and the Bahamas," Wanton says. "The organization's mission statements pay tribute to what two women can accomplish with a little bit of charm and unlimited dreams."
Wanton said that, after a couple of years of organization, the Leon County chapter was incorporated and ready to sponsor its first Debutante Ball in 1971. In March 2008, the chapter presented 15 young ladies to society at its 37th annual Debutante Ball at the University Center Club.
Angeline Taylor, president of the Leon County Charmettes chapter, said in her greetings, "The 15 beautiful young ladies we're presenting this year make up some of our community's best and brightest. They are exceptional students, involved community leaders, active in their churches and trailblazers in their schools and extracurricular activities."
Charmettes member Taylore Maxey, who is Wanton's granddaughter, says, "The Debutante Ball, a traditional rite of passage for young ladies who are at least seniors in high school, culminates a year-long program of study in philanthropic and community service areas by presenting the debutantes to society and celebrating their transition to adulthood."
The 2008 debutantes are Jhazmine Allen, now a freshman at Georgia State University and a graduate of the FAMU Developmental Research School; Charniece Brown, a freshman at the University of Florida and graduate of Lincoln High School; Chynelle Bruce, a freshman at FAMU and graduate of Florida High; Erica Childs, a freshman at the University of South Florida and graduate of Lincoln High School; Mikyba Cooper, a freshman at the University of Central Florida and graduate of Lincoln High School; Ashley Dixon, a freshman at Tallahassee Community College and graduate of Leon High School; Alexandria Howard, a freshman at the University of North Florida and graduate of Lincoln High School; and Marissa Huckaby, a freshman at Florida State University and graduate of Florida High.
Also making their bow in 2008 were VaDon Jones, a freshman at FAMU and graduate of Leon High School; Chelsea Preston, a freshman at FSU and graduate of Chiles High School; Ahjah Robert, a freshman at FAMU and graduate of Chiles High School; Alyssa Rose, a freshman at FAMU and graduate of the International Baccalaureate program at Rickards High School; Aisha Saunders, a freshman at FAMU and graduate of Leon High School; Courtney Thomas, a freshman at FAMU and graduate of Lincoln High School; and, Melanie Warner, a freshman at Hampton University and graduate of North Florida Christian School.
At the Debutante Ball, the debs were surrounded by family and friends as witnesses to the special occasion. Also attending were junior debutantes, who begin their grooming for the ball beginning at age 16.
By long-established convention, the young women wear white ball gowns and carry bouquets of roses. Banks of flowers make an elegant backdrop as the debutantes enter and are met by their presenters, who accompany them in a royal promenade around the ballroom. Then, the debs curtsy to their mothers and take the arms of the young men who have been designated as their escorts.
The formal presentation was followed by dinner with toasts to the honorees, dancing and the announcement of Melanie Warren as Miss Deb of 2008.
Maxey notes that in addition to the festivities, the Leon County chapter of The Charmettes in 2008 contributed many hours of volunteer service to the community and donated approximately $30,000 to community projects. Also, for the past 40 years, The Charmettes have hosted the Ebony Magazine Fashion Fair, which features the latest styles by world-famous designers. More than $5,000 was donated from that fundraiser for FAMU's Scholarship Foundation.
The members of the executive committee of The Charmettes, with Angeline Taylor as president, are Eva Wanton, Taylore Maxey, Bettye Stevens, Eunice Holiday, Jacquelyn Henderson, Odies Knight, Lolita Hawkins, Vernell McCray and Doretha Mungen.
"We're looking forward to future generations of debutantes and decades of community activity," Wanton says.