Here's How Vetrazzo is Bringing Recycled Glass To Your Kitchen
Vetrazzo brings color and sparkle into your home using glass that has been discarded.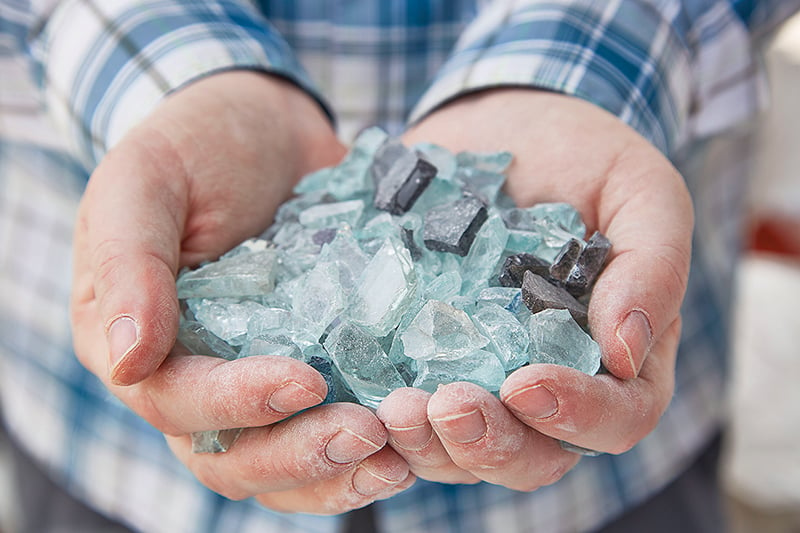 The year is 1996 and Don McPherson, a brilliant glass science student from Berkley, California, doesn't know he's on the verge of creating a revolutionary surface material.
While fiddling around with various glass aggregates, particles and cement binding, the doctoral student discovered he might be on to something and began to narrow down his formula.
As it turns out, the coalescence of those substances creates a colorful, glossy and refined surface akin to marble but far more striking.
Fast forward a couple of years and McPherson's happy accident, dubbed Vetrazzo, is being manufactured at the old Ford assembly plant in Richmond, California, and transforming homes along the West Coast.
In 2007, Polycor acquired it and moved the operation to the Great Georgia Marble Quarry in Tate, Georgia, said Steve Schrenk, digital media director and design consultant at Polycor.
The quarry in Tate, Georgia, happens to be the location where marble for the Lincoln Memorial was mined.
"Since the Vetrazzo atelier is also in Tate, it's produced side-by-side with all the marble," explains Schrenk. "Chips of marble that can't be utilized get swirled into the product, so you're putting little pieces of history into your home. It's a great American story."
Containing about 700 pounds of recycled glass in each slab, Vetrazzo is an extremely green product, diverting heaps of waste from landfills that would otherwise take centuries to break down.
Bursts of cobalt blue may have been from a Skyy Vodka bottle, while splashes of red could be from an old stoplight.
Both Vetrazzo's Residential and Sea and Sand collections are showing up in North Florida homes, where enduring fondness for the Gulf Coast exhibits itself in sea shells, glass floats and nautical items collected over the years.
Ember and Fernando Segura, owners of Spartan Stoneworks in Tallahassee, recently started carrying Vetrazzo after finding it in remnant pieces they collect from large fabricators for use in their smaller custom projects called "calico countertops." Ember Segura said they plan to market Vetrazzo in Tallahassee this spring.
"It offers clients a chance to be playful, capture color and tap into some nostalgia," Segura said. "It can be wonderful for brightening up a guest bath … and fantastic outdoors."
The material captures and reflects light, she said, making it a good choice for use in sunrooms, around pools and on patios illuminated by torches at night.
She also appreciates that it is composed of recycled glass, which aligns with Spartan's work to collect and repurpose remnant pieces.
Segura sees coastal shades of Vetrazzo being very popular among beach dwellers and upland beach-lovers alike.
"If you can't live at the beach, you can have some of the beach here," she said. "Some of the products even include oyster shells."
In the Red Hills, she said, many residents and businesses may prefer richer tones, made with shards of prismatic perfume bottles, stained glass and even broken dishes to supply pops of pigment.
Kitchen counters and islands are good places for Vetrazzo, as its largely glass composition means even the messiest of meals won't leave stains behind.
Aside from being extremely durable, the surface is UV-stable, meaning natural light won't cause any loss of vibrancy.
"It's important to remember this is a handmade product and very artisanal," Schrenk said. "This isn't something mass-produced on an assembly line; a lot of care is put into each piece, and it's going to reflect in your home."