Here We Come A-caroling!
Silent nights are punctured by sounds of the season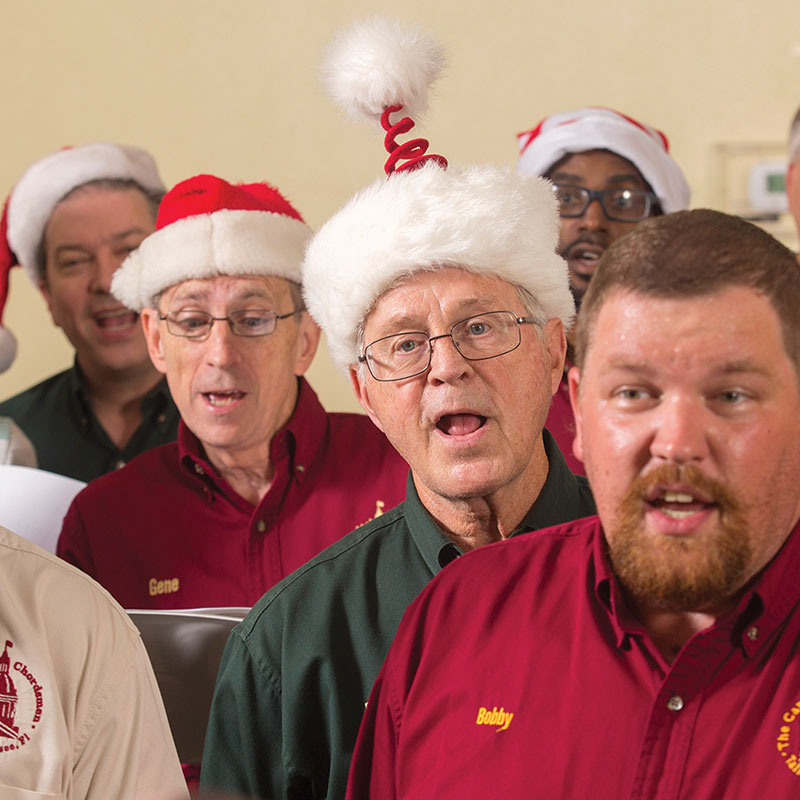 Whether you're wandering the aisles of a department store, driving in your car or sitting in church, chances are good that, during the month of December, you're listening to a Christmas carol. But there's more to your average carol than meets the ear … 
The original meaning of the English word, carol, was to sing while dancing — a common enough activity in pre-Norman Britain, especially at pagan celebrations. The word, wassailing, too, predates Christianity, as does the practice: Peasants who lived in cider-producing areas took to the orchards and made offerings to the trees for a good harvest. Others wassailed at the homes of the wealthy by singing for the homeowners and offering them a drink from their wassail bowl in exchange for food and other small gifts.
With the Norman conquest of Britain came a growth in Christianity. Early missionaries encouraged Christian beliefs where they could, which meant that sometimes they turned a blind eye or even encouraged the combining of pagan traditions with Christian practices. Thus, the Christmas tree, Father Christmas and the concept of Christmas caroling — singing religious hymns outside of people's homes — were born.
Jump forward in time several hundred years to World War II. Until this fragile period in the world's history, most English-speakers would've said that a Christmas carol was a religious song, like "Silent Night" or "Hark! The Herald Angels Sing." But the war years were rough on everyone. Young soldiers yearned for the faces of their families and sweethearts, and secular tunes like "I'll be Home for Christmas" and "White Christmas" echoed their thoughts and sentiments perfectly. 
The postwar years brought about a plethora of romantic Christmas songs, including "Santa Baby," sung by Eartha Kitt, and "Blue Christmas," crooned by Elvis Presley. Girls let their ponytails down and fellas loosened their ties when Brenda Lee sang "Rockin' Around the Christmas Tree" and Chuck Berry belted out "Run Rudolph, Run."
And Christmas music has never been the same.
Gary Gratt, a soloist in Tallahassee, says, "I've been singing in church for years and just enjoy sharing my talent with others. I also sing at the annual Camellia Christmas celebration at Maclay Gardens. … The children enjoy the celebration, the adults enjoy it and it's just a wonderful, relaxed setting for people to come together."
Jay Willoughby and his fellow members of the Master's Men of Thomasville Road Baptist Church also sing at the Camellia Christmas celebration each December and have done so for more than 15 years. "For us, it has been a great way to kick off our celebration of the Christmas season and the birth of Jesus Christ," says Willoughby. "Whether singing familiar carols or new Christmas songs, we have truly enjoyed sharing our music with our community."
---
Tallahassee's Holiday Season Musical Performances
Nov. 13
Tallahassee Bach Parley Presents C.P.E. Bach at 300
3 p.m., St. John's Episcopal Church
tallahasseebachparley.org
Nov. 20
Tallahassee Community Chorus, 'O Fortuna!'
4 p.m., Ruby Diamond Concert Hall
tcchorus.org
Nov. 29–Dec. 2
FSU PRISM 2016
7:30 p.m. (nightly)
Ruby Diamond Concert Hall
music.fsu.edu
Dec. 2
28th Annual Camellia Christmas
6–9 p.m., Alfred B. Maclay
Gardens State Park
floridastateparks.org
Dec. 3–4
FSU College of Music 'Seasonal Celebration'
7:30 p.m. on Dec. 3, 6 p.m. on Dec. 4
Ruby Diamond Concert Hall
music.fsu.edu
Dec. 6
28th Messiah Sing-Along
6:30–9:30 p.m., Faith Presbyterian Church
faithpcusa.org
Dec. 8 and 13
Capital Chordsmen
7 p.m., Tallahassee Senior Center
capitalchordsmen.org
Dec. 9–11
Bradfordville Baptist Church's Singing Christmas Tree
7 p.m., Bradfordville Baptist Church
(850) 893-0893
Dec. 17
Tallahassee Symphony Orchestra's 'Holiday Magic'
8 p.m., Ruby Diamond Concert Hall
tallahasseesymphony.org
Dec. 18
Tallahassee Symphony Orchestra's 'Holiday Magic' Matinee
2:30 p.m., Ruby Diamond Concert Hall
tallahasseesymphony.org
---
Chartered in 1966 as a chapter of the international Barbershop Harmony Society, this year the award-winning Capital Chordsmen are celebrating their 50th season of singing four-part barbershop harmony in Tallahassee, surrounding communities, and the state. The Chordsmen's music honors a rich heritage nourished by roots in African-American barbershop harmonies, blues, jazz, and gospel.