Helping Teens Transition from Foster Care to Adulthood
Guide and Provide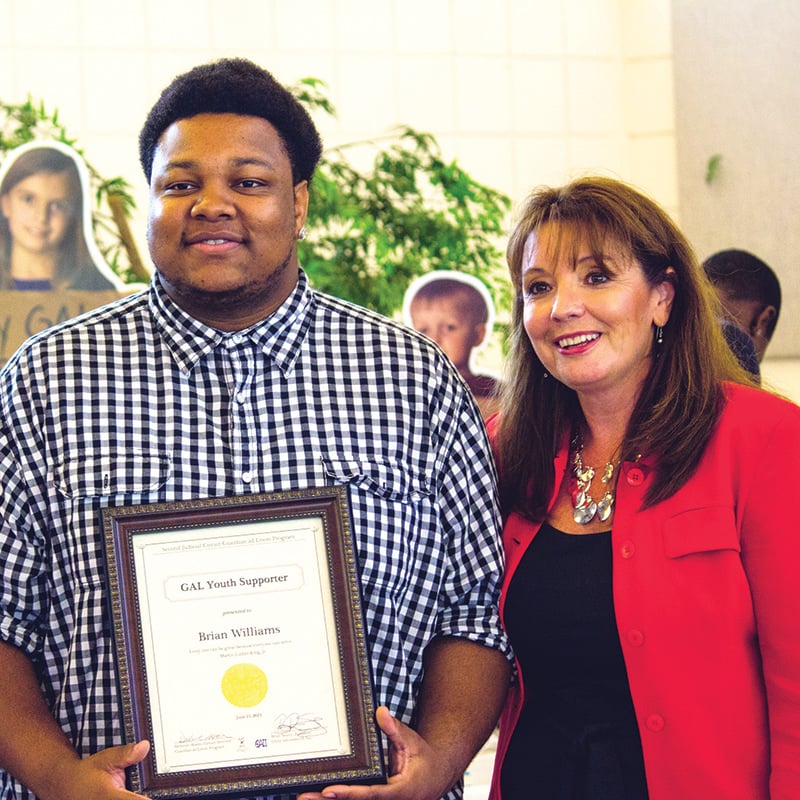 When Angel Patten was 13, her family was homeless, moving from one relative's home to another. Then her mother decided she could no longer care for her eldest child.
Deborah Moore, director of the Second Judicial Circuit Guardian Ad Litem Program and Brian Williams.
gal2.org/David July
"She dropped me at the Wakulla courthouse and told them she wanted to surrender her rights as a mother," said Patten, who has a younger brother.
By the time she was 17, Patten had lived in at least 20 shelters or foster homes and attended numerous schools.
"As a foster kid, you always bounce around," she said. "The longest I lived in a home was nine months and the shortest was two weeks. You hope they find you a place in town because the scariest thought is that you're going out of town where you don't have any resources and don't know anyone."
Patten, now a poised 19-year-old, was fortunate to have a trusted resource in case worker, Dian Lyn, who became her mentor.
"I believe that children can survive and recover from anything if there is at least one strong adult advocate in their lives that they can believe in and trust," said Lyn, now medical foster care coordinator for Children's Medical Services in Tallahassee. "I wanted to be that person for Angel."
"I would not be where I am without her," said Patten.
And here's where she is now: Patten attends Tallahassee Community College, where she's one of the success stories in the school's Fostering Achievement Fellowship Program. In the summer of 2014, she was sent to Washington, D.C., to shadow U.S. Rep. Ted Yoho. And she volunteers at classes for future foster parents "to give them a perspective of what foster kids are going through."
Despite her struggles, Patten said she "was very determined to overcome the obstacles in my life."
The obstacles facing youths who have been in the foster care system are staggering. Many have experienced physical, mental or sexual abuse, homelessness, drug dependency or abandonment.
Until recently, teens would "age out" of the system on their 18th birthday, meaning they were suddenly on their own, with no financial or emotional support.
"It had to be frightening," said State Sen. Nancy Detert, R-Venice, who championed legislation, effective Jan. 1, 2014, that allows young people to remain in foster care until age 21.
While some teens are eager to leave the state foster care system, others aren't ready. Many are still in high school at age 18.
"We don't put our own children out on the street on their 18th birthday, and they've had some security," said Detert, a longtime advocate for foster care youths. "These kids have had to live with a lot of turmoil and problems. They were ending up in jail, homeless, becoming victims of crime or becoming criminals themselves."
Under the updated legislation, even young people who opt out of foster care can return, as many times as they want, until age 21.
There are also programs offering tuition waivers and monthly stipends, with certain regulations. The state's new Postsecondary Education Services and Support (PESS) program is designed to keep young people on track to attend either college or a vocational school on a full-time basis and is available until a student's 23rd birthday.
Advisers encourage all students who have been touched by the foster care system to check on their eligibility. They might get help from another tuition waiver program for students up to age 28 at a public college or vocational program.
Despite additional resources, it's still not easy for young people to make the transition from foster care to independence.
"Having a caring adult in their life is the single greatest thing we can give them when they age out of the system," said Matt McKibbin, Circuit 2 Well-Being Specialist for Big Bend Community Based Care, the lead managing foster-care agency in Northwest Florida. "It can be someone from a church, a guardian ad litem, case worker, tutor or mentor — someone who will pick up a phone and talk to them.
"In my experience, nine out of 10 times, that's the deciding factor" in kids choosing the right path — "knowing that (someone) cares no matter how bad it gets," said McKibbin, who has been mentoring a former foster-care youth for six years.
Ashley Moniece Jackson, center, stands with roommates at the Tree House Scholarship Home, which provides a stable environment for former foster children pursuing college degrees.
Rochelle Koff
Deborah Moore said she "sometimes feels like a mom, sometimes a friend" to Brian Williams, 23, a former foster-care youth who asked her to be his mentor.
"I think the most important thing I've tried to do is to stay consistent in his life and offer him opportunities to help him grow," said Moore, director of the Second Judicial Circuit Guardian Ad Litem Program. "When we are aging out of childhood, we have our families to guide us, and our foster youth don't have families to guide and provide for them."
For dozens of youths who have gone through the foster-care system, that guide is Emily Rattini-Reich. She runs TCC's Fostering Achievement Fellowship Program, and along with helping kids "survive and thrive," she listens to their struggles — once they come to trust her.
"Most of these kids have been in and out of the system for so long, you can understand why they would be hesitant to open up," said Rattini-Reich. "It may be that no one's ever asked them what they want or what their dreams are."
Sometimes that concerned person is a peer. Program participants who make the transition from TCC to Florida State University and Florida Agricultural & Mechanical University often come back as role models.
"These young students need to hear that they can succeed, that they're so much more than what they've been through in foster care," said Rattini-Reich. The program's message: "Don't let that experience define you. You don't have to be a statistic."
Despite their unique backgrounds, most of the roughly 30 students in the program share the need for a support structure and a hand navigating the gaps in their lives.
The fellowship program helps students become self-sufficient and cope with a range of issues, including academics, financial aid, learning to budget and handle money, finding affordable housing, providing emotional support, even their love lives.
"We deal with everything," said Rattini-Reich. "We want to help students overcome the hurdles in their lives."
Those hurdles can be monumental.
"Research suggests only 2 percent of former foster youth graduate with a bachelor's degree compared to approximately 25 percent of their non-foster care peers," said Lisa Jackson, coordinator of the Unconquered Scholars Program at Florida State University.
The program helps students like Kevin Borjas fight those statistics.
"I was intimidated by the program at first," said Borjas, 20, who has lived in more than 10 homes since he was a tot. "These people understand your story and what you've been through. They've been through similar things. And you build a bond. All these kids, they're my friends."
The need for a bond extends to academics as well.
"A lot of kids are coming to college with very strong academic records," noted Jovanny Felix, director of TRIO/Student Support Services at FAMU. "They just need a little direction."
The need for direction often comes down to basics, like where to live.
Some kids aren't able to stay at a foster home or group home and aren't quite ready to live in an apartment by themselves.
There's a need for "quality housing," a place where young people "have the freedom to come and go, but have an adult close by," McKibbin said. "These kids are used to foster parents or house parents."
One example of quality housing is Tallahassee's new Tree House Scholarship Home.
Tree House, in partnership with Children's Home Society of Florida, provides emergency shelter services to children, ages 2-12, but the group recently transformed a vacant shelter home into a residence for up to five young women. It's designed for students ages 18 to 23, who have aged out of the system and are attending a post secondary education program in Tallahassee. A resident adviser also lives in the back of the furnished home in her own room and they all share a kitchen and common living space.
The three young women now living in this Tree House home are ages 18 to 22 and attending college through the state's PESS program, receiving a monthly stipend to help pay their rent.
Tree House sets aside a portion of that rent to give back to the residents when they graduate, said Andrea Carlile, the volunteer president of the Tree House board of directors.
"It's such a unique model," said Carlile. "It would be great to expand it to other places."
Having a resident adviser in the home is the key.
"You could call me a big sister," said the home's former resident adviser, Ashley Moniece Jackson, 24, who aged out of the foster care system herself in 2008. She had lived in more than 15 foster care homes before her 18th birthday, she said.
"I tell them they're blessed to have this opportunity," Jackson said of her roommates. "When I was 18, I was on my own. I didn't have anyone to talk to about the things you face when you turn 18 and go out in the world."
Jackson, a social work major at FAMU, was set to graduate in December and leave Tree House. At press time, the program was looking for her replacement, said Carlile.
Jackson said having an adviser with a background in the foster care system is a "great advantage" for these young women. "They know I genuinely care and come from the same background as they do."
Teaching life skills is a big part of preparing these teens for independent living, said Charles McDonald, executive director of The Children's Home Society in the Big Bend area. The organization partners with local businesses to provide the girls health and fitness training, financial management, cooking classes and other abilities.
The state would like to expand on the Tree House mission.
"There's nothing else like this for former foster-care young adults in the state of Florida," McKibbin said.
He stressed the need for more quality housing for young people who may be 18 or 19 and faltering, who need to get a GED or get into college.
"We want to get them engaged in some kind of activity to live a happy and productive life," McKibbin said.
Too often, these kids end up on the street. There is surely "a problem of homeless youth," said Kevin Priest, CEO and president of Capital City Youth Services, which provides emergency housing.
Priest said 702 homeless youths attended Leon County schools last year.
He said the lack of affordable housing is one factor leading to homelessness for young people who can't cover first month's rent, last month's rent and security payments or don't have a "guarantor" for a lease.
Organizations such as the Guardian ad Litem's First Beginning program and several church ministries are reaching out to these youths to help them find lodging and furnish a place once they find one.
Occasionally, people are willing to take in a young person but they can't afford an extra bed, said Cousins.
"Some of them are left with nothing," said John Cousins, who leads the 240-member iServe Team ministry at Killearn United Methodist Church. The ministry is collecting beds and furniture for former foster-care youths.
"There's way more of a support system out there now," than there was for teens aging out in years past, said Patten.
Sometimes that support comes from other foster care youths who understand the challenges.
The advocacy group Florida Youth Shine brings together current or former foster-care teens and young adults between the ages of 13 and 24.
"They get so much encouragement and support from each other," said Korie Mitchell, lead coordinator for the Tallahassee chapter of Florida Youth Shine. "When a younger kid has a problem, the older ones can say 'I understand you. Let's talk.' They've lived it.
"They're like family," she said. "And that's what these kids need."
Youth Services and Support
Things are changing as more resources for once-forgotten kids who have aged out of foster care sprout up. Here are some of the groups aiming to help young people who are aging out, or have aged out, of foster care:
Capital City Youth Services
The group provides a six-bed Transitional Living Program for teens ages 16 to 19, usually runaways, homeless youth or teens without a guardian. Some aged out of the foster-care system or they're no longer eligible for various reasons, and they haven't found appropriate housing, said Capital City's Kevin Priest.
The program also helps teens determine their next step, whether it's going to school or learning a trade. Teens learn independent living skills including doing the laundry, grocery shopping and managing money. Teens can stay there up to 18 months.
Capital City Youth Services also runs a street outreach program called Going Places for young people ages 11 to 21 in Railroad Square. For some homeless kids, it's a place to take a shower and get a hot meal, said outreach supervisor Taylor Biro.
But the Going Places program recently lost its federal grant of $144,000 and is organizing fund-raisers to replace the money. "We're still operating but it's up in the air," said Priest.
Teens can use the drop-in center's computers, laundry facilities and get clothes, shoes and hygiene products. Counselors help connect youth regain benefits and find services.
Capital City Youth Services: 2407 Roberts Ave.; (850) 576-6000. Going Places Street Outreach, 1017 Commercial Drive; (850) 294-6044.
Children's Home Society
CHS provides programs that intervene to help neglected or abused infants, children and teens. The social services organization has a variety of roles, primarily involving adoption and fostering children. The organization also trains volunteers, including potential mentors and tutors. 1801 Miccosukee Commons Drive; (850) 921-0772.
Florida Youth Shine
Young people drive this advocacy organization. Members are current or former foster-care teens and young adults between the ages of 13 and 24. The group's primary purpose is pushing for the rights of their peers, but they also act as a support group. Contact: korie.mitchell@myflfamilies.com.
Dress for Success
The Tallahassee chapter of this national organization helps provide teens and women ages 17 and over with the appropriate clothes for a job interview. Organizations refer women to shop for business attire in the group's boutique at no cost. If the job candidate gets hired, she can shop for three additional free outfits. Needed: new or gently used business or business casual attire, shoes, purses and accessories as well as financial donations. 2901 E. Park Ave., Unit 2600; (850) 656-0181.
Fostering Achievement Fellowship Program at Tallahassee Community College
The program helps students with myriad issues, including academics, tutoring, financial aid, housing gaps, mental health needs and emotional support. TCC's Emily Rattini-Reich also helps identify former foster-care youth who don't realize they're entitled to a tuition waiver and other benefits. She teaches students how to navigate college and also give back to the school and community. Students attend Wednesday workshops covering a range of topics. (850) 201-9767; rattinie@tcc.fl.edu.
Guardian Ad Litem Program
The Second Judicial Circuit Guardian Ad Litem Program provides a court-appointed volunteer to advocate for children who have been neglected or abused. Anyone who wants to help youths in other ways can also contact the program. One new project, First Beginnings, is designed to help young people venturing out on their own. "Our ultimate goal is to give older youths the opportunity to make their first place feel like their home," said the program's Deborah Moore. Needed: new or gently used furniture, new beds and bedding, bagless vacuums and other household goods. Leon County Court Annex, 1920 Thomasville Road, Suite 208; (850) 606-1218. iServe GAL Sweet Dreams Ministry, 2800 Shamrock St. South; (850) 893-1116.
LifeConnectors
The nonprofit group works with high-performing underprivileged college students aged 18-25 and pairs them with successful mentors in varied fields in the community. The program emphasizes "empowerment, association and direction" as the keys to personal and professional development. About a dozen of the 120 are former foster care youth. There are so many different needs," said Tanya Wilkins, former state child advocate for Gov. Rick Scott's administration. "A lot of people would love to do something but don't know what to do." She's co-founder of LifeConnectors with her husband, David Wilkins, former Secretary of the Florida Department of Children and Families. The group trains volunteers to mentor young people and teach a life skills curriculum. Other volunteers help with tutoring and other needs. lifeconnectors.org
TRIO/Student Support Services at Florida A&M University
The program provides services to about 250 low-income, first-generation or disabled students. About 25 to 30 of those students are current or former foster-care youths. Services include academic advising, tutoring, time and money management, housing needs and counseling. TRIO, with assistance from other university administrators, is also launching a group called Rattler CARES to help homeless students, primarily former foster care youths. The pilot program is expected to start in the spring, said TRIO director Jovanny Felix. 640 Campbell Drive; (850) 599-3055.
Unconquered Scholars Program at Florida State University
The program supports students who have experienced foster care, homelessness, relative care or been a ward of the state. Services include tutoring, work-study, housing and counseling. The program's coordinator, Lisa Jackson, said young people who have grown up in these situations "need that mentorship, connection and advocacy that they would normally get from a parent. It helps them to have each other." Thagard Building, 109 Collegiate Loop, Room 303; (850) 296-6811; Lisa.a.Jackso@fsu.edu.