Helping Out When Disasters Large and Small Strike
The Red Cross Capital Area Chapter Marks 90 Years of Service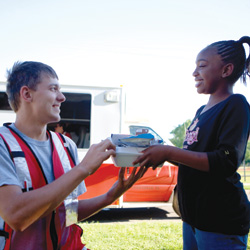 Courtesy Talia Frenkel/American Red Cross
From the national Red Cross photo archive an American Red Cross volunteer hands over a meal from an Emergency Response Vehicle in Tuscaloosa, Ala.
When people hear "Red Cross," thoughts of major disasters such as Hurricane Katrina or the Tuscaloosa tornadoes pop into their minds. What they may not realize is that the Red Cross helps people every day — literally — in their hometown.
For 90 years now, the Tallahassee-based Capital Area Chapter of the Red Cross has attended to about five "microdisasters" every week. Serving eight counties in the Big Bend — Franklin, Liberty, Gadsden, Wakulla, Leon, Jefferson, Madison and Taylor — the chapter is always busy.
Dan Samborn, director and CEO of the local group, said sometimes people in Tallahassee fail to recognize that the local Red Cross is "in their backyard every day helping their neighbors.
"We provide food, clothing, shelter, emergency medicines — anything that you need to get back on your feet — even emotional counseling," said Samborn.
Samborn has been CEO of the chapter for 25 years and said what prompts him to continue working for the Red Cross is hearing the stories from people that are helped.
"They'd be homeless without the Red Cross," said Samborn. "I've heard that over and over again."
Chrys Ivey Goodwin, the fund development director, said the poor economy makes it even more important to help people suffering from a disaster like a house fire.
"Because of the economy, you find many families that are now living together, so it's not just impacting one or two people, it's impacting seven or nine people that are now living homeless on the street," said Goodwin. "Some of them don't even have insurance — if you're renting, for example. So (they) really do have to start over."
Samborn said what makes the Red Cross unique is the selflessness of its volunteers.
"The folks that come on the scene, they're spending two to three weeks of their valuable time helping people they've never met and are never going to see again," said Samborn.
The Facility
Touring the Capital Chapter's new facility, located on Easterwood Drive near Tom Brown Park, you automatically feel safe within its sturdy walls. Only a third of the walls have windows and the roof can withstand winds up to 180 miles per hour.
Completed in March 2010, the facility boasts multiple rooms where volunteers and staff can prepare to immediately respond to any disaster — whether it's a Category 5 hurricane or a house fire. The facility can run on full power for seven days if the emergency should happen in Tallahassee.
The building has a special history, too. After Hurricane Katrina, the Kuwaiti government gave the national Red Cross $25 million to build infrastructure along the Gulf Coast. Tallahassee was chosen as a location to build a new facility, along with Mobile, Ala., Baton Rouge and New Orleans.
Samborn said Tallahassee was selected due to its convenient location — which proved to be of great assistance during Katrina.
"During Katrina, people used our facility as an evacuation route down on I-10," said Samborn. "People were coming through this facility to get emergency assistance. So it is a very strategic location, not only being the state capital, but that it's a corridor through I-10."
The Disaster Command Operations Center is filled with cubicles and computers ready to respond to any national disaster, and the walls hold multiple screens for the staff to keep abreast of disaster news being reported by the media.
Jim Christie, director of Disaster Operations, said the chapter has a satellite system so that if all communication systems are down "we can still stay in contact through satellite phones."
The kitchen is well stocked, its high walls filled with a wide variety of non-perishable snacks and drinks. "The ready room," a large warehouse, holds even more, including the Emergency Response Vehicle (or, as the volunteers like to call it, the "ERV"). Almost identical in appearance to an ambulance, the ERV is the go-to vehicle when volunteers need to be dispatched to help victims in crises. Many times it's used to carry "comfort kits" volunteers give out to victims that include a toothbrush, soap, a razor, moisturizer, deodorant and a washcloth, among other items.
Stuart Abbey, a Disaster Action Team volunteer who runs the ERV, said the vehicle provides many useful functions when aiding in a disaster.
"We can put a cone of light in a parking lot that is roughly the size of a football field so that people are not afraid to come to the shelter," explains Abbey.
The Volunteers
With only four fulltime staff members, the Red Cross is always looking for volunteers.
"You can volunteer to do specific things like case management, mass care sheltering or mass care feeding," said Goodwin. "You can learn logistics (or) how to drive emergency response vehicles. We have a lot of nurses and counselors and a lot of retired people that begin doing things, because you can choose to deploy and go on massive disasters."
Sheila Kosier has been volunteering with the Red Cross since 2001. She joined after her husband passed away and was looking for something to do to fulfill her "need for nurturing." Right away, she was dispatched to New York City to help victims of 9/11.
"It changed my life in a totally different direction," said Kosier. "I didn't realize I was quite as resilient, had as much energy and had as much ability to actually work with people who were so severely offended. I didn't realize I had that."
Abbey began his involvement with the Capital Area Chapter five years ago when he decided to help save animals after Hurricane Katrina. After his service, he decided to take some classes at the Red Cross and found a passion for helping others.
"As soon as I finished taking class, a series of tornadoes went through Georgia and I got sent up there," said Abbey. "The experience of being the first person to come up to a home that's been ruined and providing people with some sort of relief, some immediate kind of help, was something I'll never forget."
For Pat Kitchen, a nurse-volunteer, her memorable and most touching moment came in Iran where she helped a handicapped couple escape massive flooding in the White Mountains.
"There was a real situation about whether we could get funding and a place for them to stay, and we managed that by practically writing a legal brief," said Kitchen. "But I felt good about that, that they had a place to stay that was stable."
The need for funding is vital. The organization runs multiple fundraisers, from events in Railroad Square Art Park to fashion shows. And it can always use individual donations to fund the micro disasters that seem to go unnoticed.
The Red Cross tries to give victims a preloaded debit card with enough money for a few nights in a hotel room, food for three days and a change of clothing.
"There have been times where we can only give them two nights because we have been running low on resources here," said Goodwin.
Samborn reflects on his commitment and the Tallahassee chapter's 90th year, saying he is inspired every day by the commitment and enthusiasm he witnesses in the volunteers.
"Red Cross volunteers have what I like to call this 'passion for compassion,'" said Samborn. "No other volunteer in any other organization has that drive."