Hello Kugel
An Introduction to a Jewish Home Cooking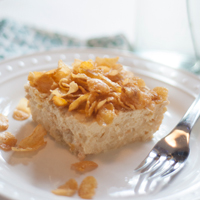 Photo courtesy Saige Roberts
An introduction to Jewish home cooking.
Egg noodles, dairy and creativity will put you one step closer to the culinary expertise of a Jewish chef.
Visit a Jewish family for a special meal, and chances are very good at least one of the dishes on your plate will be the noodle pudding known as kugel.
A product of successful culinary experimentation throughout the centuries, kugel has become a dish of many faces linked together with a common heritage.
Kugel is a versatile dish, usually made around Jewish celebrations like Shabbat, the weekly day of rest and spiritual enrichment. It can be served hot or cold, sweet or savory, with starch or without. It works as a side dish to accompany a meal. One can make a heavenly dessert kugel with apples, raisins and sugar, or dinner dish for the family by adding meat or broccoli.
Many Jewish families have their own special recipes that have been passed from generation to generation and, like so many comfort foods, a person's favorite is usually the way bubbe used to make it.
This recipe from Betty Kramer won Temple Israel's cooking contest by a landslide in the kugel category. Try it yourself, or have a taste March 10 at the annual Jewish Food Festival, where it will be served along with matzo ball soup, kosher hot dogs, deli sandwiches, sweets and many other samplings of Jewish cuisine.
Party Noodle Kugel
» ½ pound egg noodles
» 6 tablespoons melted butter or margarine
» 6 eggs
» 1 pound farmer's cheese or cottage cheese
» ¼ pound cream cheese
» ½ pint sour cream
» 1 cup sugar
» 2 cups milk
» 1 teaspoon vanilla
» Raisins
» Cornflake crumbs
» Cinnamon sugar
Directions:
Boil noodles, drain and toss with melted butter. Place evenly in buttered oblong pan. Using mixer, beat well rest of the ingredients except cinnamon sugar and cornflake crumbs. Pour mixed ingredients over the noodles. (Mixture will be loose. Don't panic!) Sprinkle top with crumbs and cinnamon sugar. Bake uncovered at 350 degrees for 1 hour.
Kugel Additions
» Apples
» Bread
» Cabbage
» Cheese
» Cottage Cheese
» Matzoh
» Noodles
» Onion
» Potatoes
» Spinach
» Sugar
» Zucchini