Heather Mitchell
New Head Seeks to Share the Good Word about United Way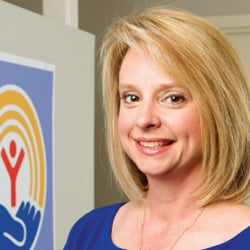 Scott Holstein
Heather Mitchell, United Way
When Ken Armstrong announced he was stepping down as head of United Way of the Big Bend after 16 years in the position, the board of directors didn't have to look far for his successor — she was right down the hallway. At age 40, Heather Mitchell is the agency's youngest president and CEO and the first female in its 68-year history.
Mitchell's family moved to Marianna when she was 15; her parents and sisters still live and work there. She came to Tallahassee to attend Florida State University, and after doing a college internship in the press office of Gov. Lawton Chiles, she began working there. In a bit of Tallahassee one-degree-of-separation, her boss there was Ron Sachs, who will be serving as chairman for the 2012 United Way campaign.
Why do you think you were chosen for the position — without a search?
I am beyond humbled that I was chosen for this position. I have been with UWBB for almost six years now and during that time have been allowed to create new programs, enhance existing ones and create my own strategies for my department. I also have been blessed to have run three other nonprofits — all preparing me for this job. It is nice to see that this organization decided to first look within to see if there was talent and want a current employee to move up. They have placed great faith in me, and I don't plan to let them down.
We hear a lot about United Way, but many people aren't sure exactly how it works.
United Way is not an easy organization to understand because we do so much. Health and human services are the focus of our 42 partner agencies. Other organizations do a great job on the environment, animals or the arts, but we try to be focused and targeted. We really have two roles in the community: The first is that emergency room. It's providing food to a family who needs it, it's providing shelter to that domestic violence victim, it's providing afterschool programs for kids — those needs you need to have taken care of immediately. But we also have what I like to call preventive care and that comes through our two strategic initiatives, Whole Child Leon — it seeks to make sure kids are ready for school when they hit the door for kindergarten — and BEST, which provides free tax preparation and money management education.
What do you think is one of the biggest misconceptions about United Way?
People think our 17 percent administration fee is ridiculously high. The Better Business Bureau says it should be between 33 and 35 percent. I think 17 percent to raise and distribute and monitor $6 million is not a bad thing.
The latest campaign raised $5.8 million. How does United Way decide what agencies get funding?
We have a unique partnership, now in its 17th year — unlike any other in the nation — with the city and county. We put our campaign dollars into a pot of money; they put their dollars in. All the money stays local. Giving out the money is a totally nonpolitical process. Between 100 and 150 private individuals participate in a huge grant process.
We don't say "Here's a check; do what you think is best." Our partner agencies have to show us a program they want funded, and why is it important. We require audits. We want to see it is a viable, sustainable organization, doing with the dollars what they say they are doing with the dollars. There's a lot of accountability.
Don't you get tired of asking for money?
I think that I'm not asking people for money, I'm asking people for help. I'm asking people to invest in their community by helping someone in need. Some people call that fundraising; I call it providing help and I love it. I wouldn't do anything else.