Healed And Healing
Life coach Felicia Dilbert sows confidence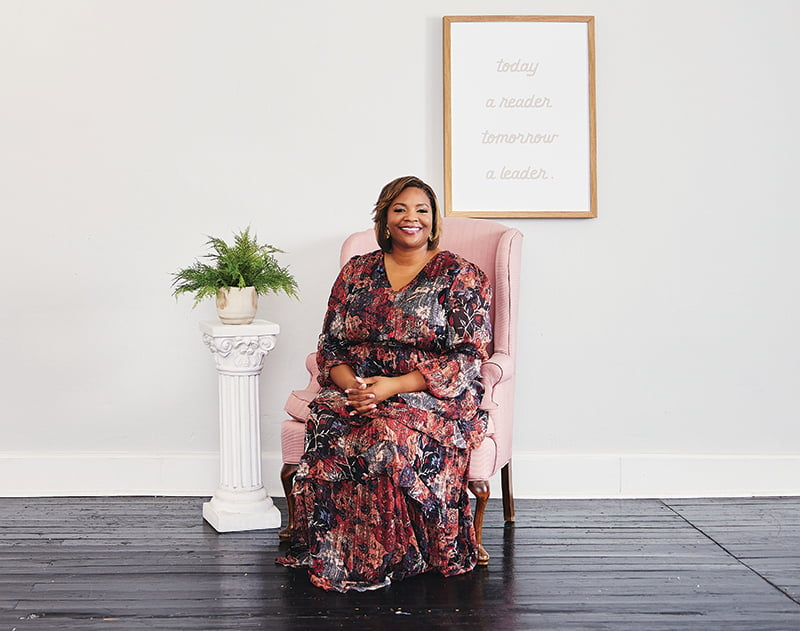 Something — she's not sure what — compelled Felicia Dilbert to answer a call from an unfamiliar number.
"You are on my mind, and I want to pray with you," said a woman with whom Dilbert had worked years earlier.
Dilbert, newly diagnosed with Type 2 diabetes, was hospitalized. She had lost her mother and chief support to lung cancer a few days earlier. Dilbert's health had been in decline since her mother received her diagnosis, and her will to go forward was waning.
In response to the phone call, however, Dilbert reversed course. Tears streamed down her face, and her breathing eased.
"I saw life in a new way, and I began to heal," Dilbert said. She counts the phone call as a miracle, one among several she says she has experienced in her life.
Dilbert, for most of her life, has battled anxiety and depression. Her difficulties went untreated for many years.
She is better now. A therapist has been helpful to her. She made peace with her father. She believes that healing occurs over life, not overnight.
"In 2020, my father called me and asked me if I would talk to my husband and prayerfully consider moving in with him to be his caregivers in what I refer to as the dream house," Dilbert said. "When I was a little girl, I prayed that there would be room for me in the dream house, the house he promised my mama he would build for her."
That house for a time became a home to Dilbert and her husband, Louis.
"I prayed for the strength to honor him unconditionally in actions and words," Dilbert said. "Four months before he died, he thanked me for everything that I had been doing. We became the best of friends that day."
For a woman on the mend, it was a beautiful healing.
Dilbert has gotten around to accomplishing something most people only think about doing. She has published a book, Beautiful Healing: Seven Love Letters for the Truth Seeker's Soul. It's a book, she said, about not giving up.
In the love letters entitled Unraveling, Releasing, Love, Truth, Peace, Worth, and Embrace Your Path, Dilbert candidly discusses the trials that made her who she is today — a self-assured, compassionate, caring woman bent on helping others. Her open, authentic writing style is like sitting with your best friend and talking about life's challenges over a cup of coffee.
Dilbert radiates genuine Southern charm. Her first 15 years were spent in Pelham, Georgia. She moved to Thomasville and then Tallahassee, where she currently resides. Dilbert was a spiritual person growing up and learned how to pray from her grandmother. Every morning, she would pass by her grandmother's bedroom and hear her talking to someone.
Her father was a hard-working entrepreneur who expected his children to earn college degrees. She graduated from Valdosta State University with a degree in communication and later earned a master's degree in education from the University of Phoenix.
Dilbert cites in her book a letter of recommendation written for her by one of her college professors.
"She always tells me that I am her role model, but what she doesn't know is that she inspires me to be the best me that I can be," the professor wrote. "I have never met anyone like Felicia, and I have the feeling I never will."
When Dilbert had an opportunity to accept a job as a life coach, her mother insisted that she take it. She knew it was her daughter's calling. Too, it was consistent with a kind of ministry that Dilbert had been envisioning for years.
Today, Dilbert, as a presenter, author and coach, emphasizes inner beauty and the confidence it can inspire. But as a young girl, she was captivated by the beauty of women in magazines, including Ebony and Essence. The one-time homecoming queen learned all she could about cosmetics and later worked as a makeup artist.
Dilbert knows the pain and suffering people feel when losing a loved one, experiencing a bad relationship, dealing with a troubling health diagnosis, being bullied or striving to be perfect in a world that bombards people with unrealistic ideals. She helps women replace feelings of inadequacy and unworthiness with confidence and positivity.
Dilbert holds certifications in life coaching from the Professional Counseling and Coaching Academy and Florida State University and in diversity and leadership from Valdosta State University. She worked as a life coach at FSU.
Dilbert said about her husband, who heads up the Department of Military and Veteran Affairs at FAMU, that he is almost perfect. Asked to name the last time he messed up, Dilbert said he went to vacuum her car and neglected to gas it up when doing so.
Both Felicia and Louis have dreamt about having boy-and-girl twins. They are so confident that the twins are in their future that they have already named them — Oliver and Olivia.
One can reasonably expect that the children will be positive from day one.
Steve Bornhoft contributed to this story.
---
Love Letters
Felicia Dilbert's book, Beautiful Healing: Love Letters for the Truth Seeker's Soul, includes sections devoted to truth, peace, worth and other essential topics.
---